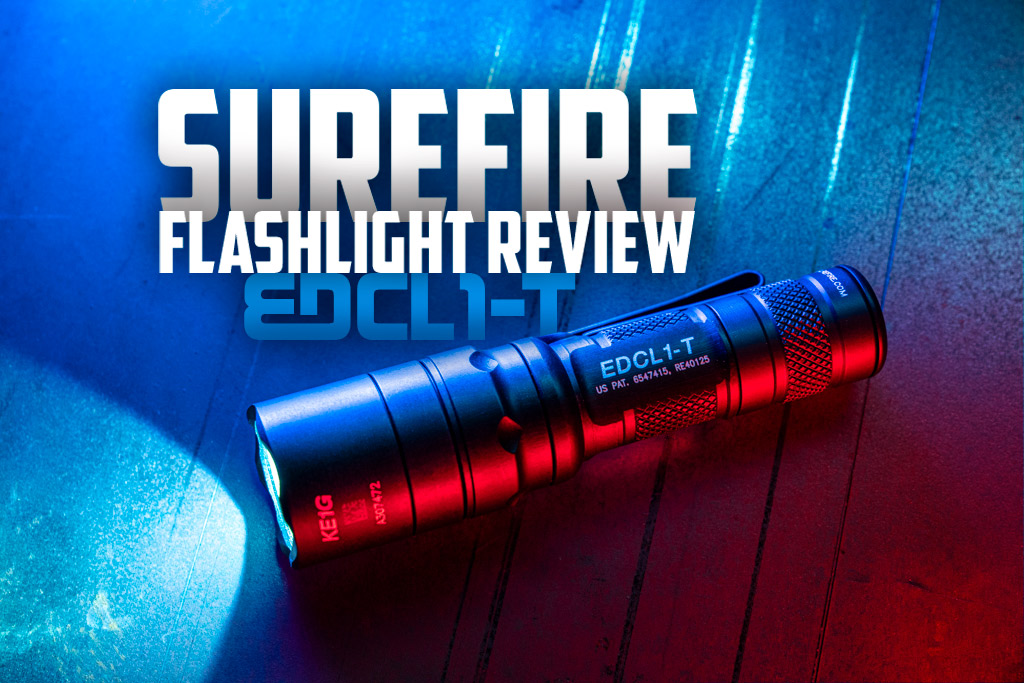 SureFire EDCL1 T Flashlight Review
Disclaimer: This page contains affiliate links, meaning we receive commissions for any purchases made through the links on this page.
From the same manufacturer that produced the E1B-MV Backup Flashlight comes the EDCL1-T Everyday Carry Light, an upgraded version of their best-selling dual-output light with MaxVision technology. If you own the E1B-MV, I'm betting you'll also be a fan of this everyday-carry version. Although both lights are similar in weight and size, the SureFire EDCL1 T packs more of a punch, for only a few bucks more.
The EDCL1-T delivers a higher lumen outlook and over twice the beam distance, thanks to a Total Internal Reflection (TIR) lens that shapes the light into a versatile beam. It throws plenty of light but is also optimized for the situational awareness you'll appreciate in an everyday-carry flashlight. The dual-stage tactical tail cap is another important difference compared to the click tail cap of the EB1-MV.
Take a look at the specifications for the EDCL1-T:
| | |
| --- | --- |
| Manufacturer | SureFire |
| Part Number | EDCL1-T |
| Weight | 3.3 ounces (w/battery) |
| Dimensions | 1.13" diameter x 4.5" long |
| Color | Black |
| Material | Aerospace aluminum |
| Power Source | 123A Lithium battery (one included) |
| Battery Life | 1 hr. (High) 45 hrs. (Low) |
| Output | 500 lumens (High); 5 (Low) |
SureFire EDCL1 T Features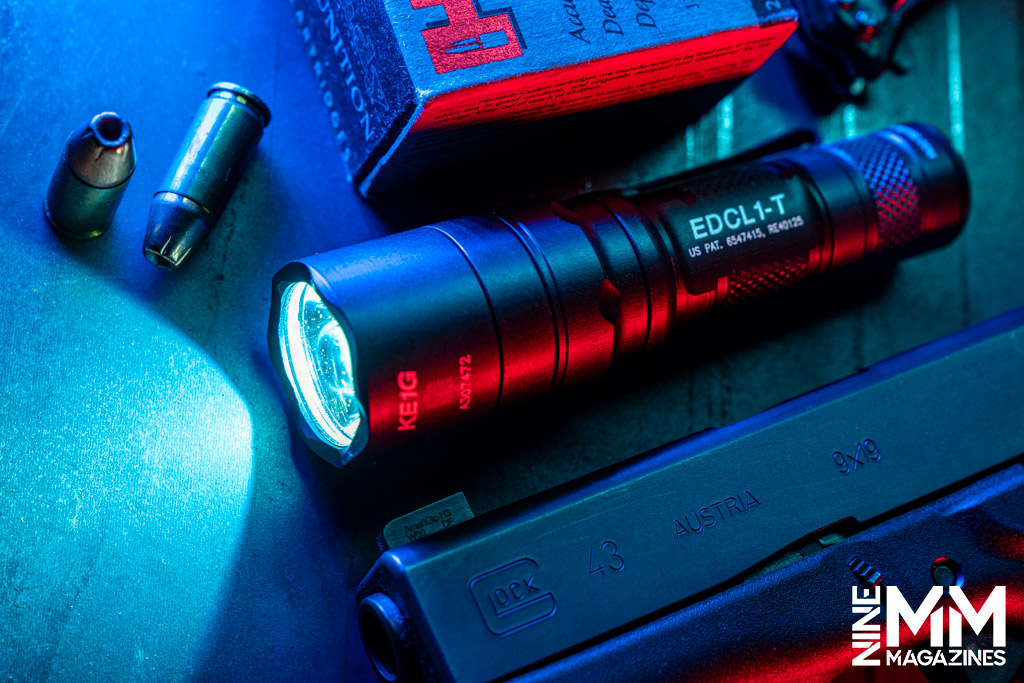 I was favorably impressed with the E1B, and nothing has dampened my enthusiasm for this upgraded version. The SureFire EDCL1 T includes many features also shared with its big brother, the Surefire EDCL2 T:
Dual output: A single 123A Lithium disposable battery powers two outputs: 500 and 5 lumens.
Lightweight and compact: At just over three ounces, about an inch in diameter, and 4.5″ long, the EDCL1-T fits conveniently inside your pocket or purse when you're on the go.
Focused beam: The TIR lens produces a concentrated beam with enough surrounding light to help with peripheral vision.
Durable: The EDCL1-T is made with high-strength aerospace aluminum and finished with Mil-Spec hard-anodizing. It quickly passes a 10-foot drop test.
Dual-stage tactical tail cap: Press the tail cap switch all the way in for high output and press it lightly for 5 lumens of light. Twist the tail cap for constant low on and twist it even more for continuous 500-lumen light.
Pocket clip: The flashlight has a stainless-steel two-way pocket clip, allowing the flashlight to be carried bezel up or down.
Weatherproof: An O-ring and gasket seal the EDCL1-T, giving it a wide temperature tolerance and built-in short-circuit protection.
Knurled design: The flashlight's body and tail-cap are knurled for a secure grip.
Long battery life: The 123A disposable battery can last up to 45 hours on low 5-lumen light.
What's Not To Like?
The dual-stage tactical tail cap isn't for everyone. In fact, it feels like it slows the operation of the flashlight down. The quick press "gas pedal" concept works as advertised, giving you a half-press low setting, and a full-press high setting. However, if you need continuous light, you'll need to use both hands. The tail cap twists 180 degrees, and the halfway point gives you continuous light at 5 lumens, while the full twist (about 2 rotations) gives you all 500 lumens. Those looking for an EDC pocket light will likely prefer a standard click cap, as to not wear out their hand, or have to stop what they are doing to twist the cap for continuous light.
Surefire Comparison: EDCL1-T VS E1B-MV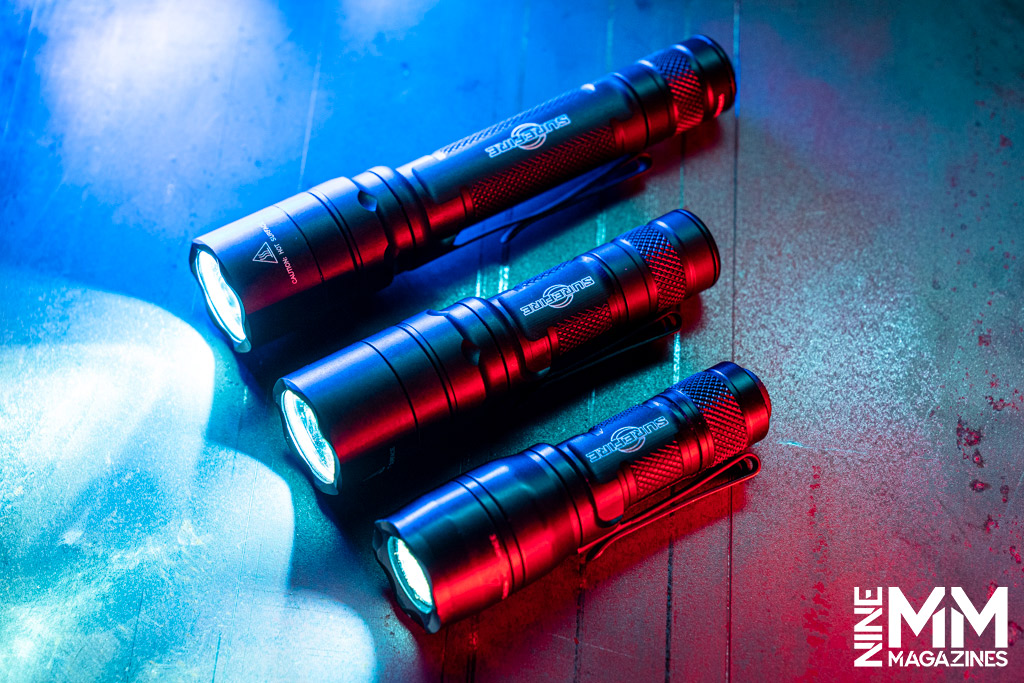 Model

SureFire EDCL1-T

Surefire E1B-MV

Power source

123A lithium battery

(Included)

123A lithium battery

(Included)

Output

500 lumens (High)

400 lumens (High)

Battery Life

1.0 hrs. (High) 45 hrs. (Low)

1.5 hrs. (High) 50 hrs. (Low)

Length

4.5″

3.87″

Bezel Diameter

1.3″

1.13″

Weight

3.3 ounces

2.95 ounces

Material

Aluminum

Aluminum

Price

$139.00

$127.52

Switching

Dual Stage Tactical Tail Cap

Click Tail Cap

Beam Distance

191 yards

94 yards
SureFire EDCL1 T Flashlight Questions

What type of holster is available for the EDCL1-T?
Only after-market holster options are available at this time. However, the flashlight has a two-way pocket clip that works well for everyday carry.
What is the beam pattern for the EDCL1-T?
The beam is narrow and far throwing with sufficient surrounding light to aid your peripheral vision.
Is there a user manual?
Yes, see the SureFire website.
Does this model have a strobe function?
The EDCL1-T does not have a strobe function. In my opinion, of all the features on tactical flashlights, the strobe function is the least useful.
Can I use the 18650 batteries in this flashlight?
No. Stick to the SureFire 123A lithium battery included with the flashlight.
Is It A Good Weapon Mounted Light?
The EDCL1 T model is a good companion for your non-dominant hand while holding a handgun. It's not the sort of light you'd want to mount directly to a pistol, there are better options for that already on the market. The size, weight, and beam pattern do make it an attractive option to mount on a shotgun. The tight beam pattern and 500 lumens of light would easily help you see and identify targets at 25-yards and beyond. Mounting the EDCL1 T on a rifle hand guard would also work in a pinch. It's small enough that it wouldn't get in the way of basic operations. It's also bright enough that it would be useful for target identification at standard engagment distances, with, or without an optic.
Should You Buy The SureFire EDCL1 T Flashlight?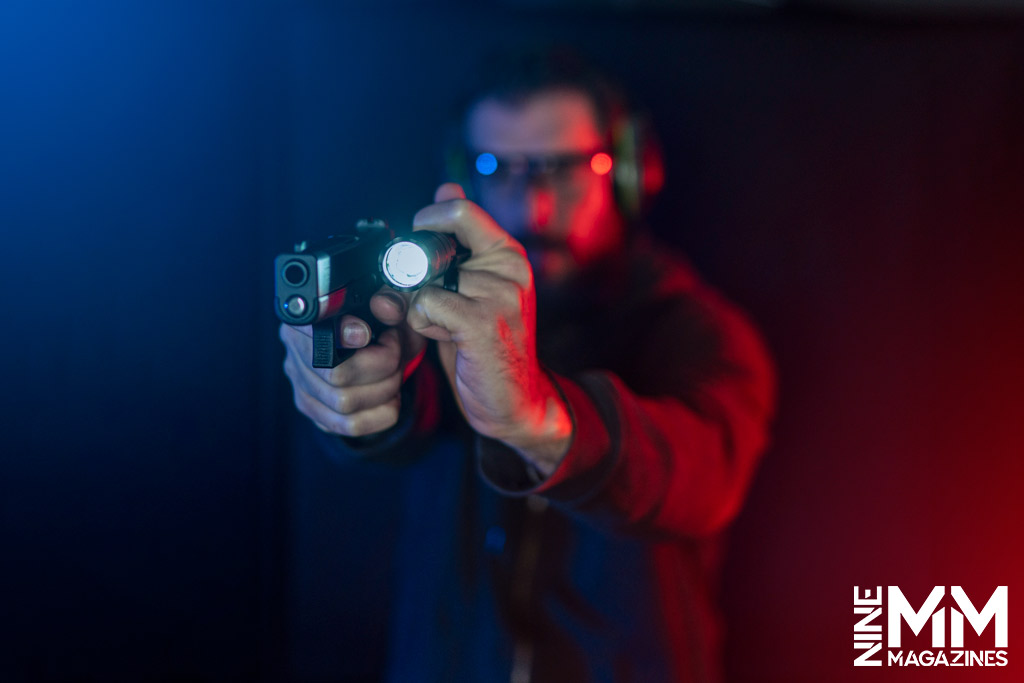 I field the same question on each SureFire model I review: Is this flashlight worth the investment? How can I justify the price for such a small flashlight? With so many budget light options on the market, I understand that, and I've even considered listing its price tag as one of its "cons." However, I don't believe that reasoning is accurate or fair.
Although I am as budget-minded as other buyers, I believe that basing your cost of ownership strictly on the upfront price can be an expensive mistake. Many people who initially complained about the SureFire price tag are getting years of durability and service from their products. They also aren't having to buy a new flashlight every year, thanks to the rugged build quality, and manufacturer's warranty.
How Useful Is It?
The EDCL1-T is made in the USA and is backed by a lifetime guarantee. Its rugged aluminum body resists corrosion and hard use, while its weight (3.3 oz.) and length (4.5″) make it an ideal light for carrying at all times. In my opinion, if you can live with the dual-stage tactical tail cap, it's an almost perfect EDC light for a variety of applications. I love the focused and long-distance beam the TIR lens produces. It's awesome for lighting up nighttime trash can prowlers or convincing trespassing strangers to do a quick 180 from a distance.
The low 5-lumen setting is handy as well. Don't expect it to give you enough light for any tactical situations. However, it's great if you need to look at something in a car at night, without blinding the driver, or other passengers. If I can nerd out for a moment, I would have loved this flashlight as a kid. I could have read Sgt. Rock comics all night, using the low setting, without my parents ever suspecting a thing.
Should you buy this everyday-carry flashlight? Some adjectives others and I use to describe it are durable, powerful, convenient, lightweight, compact, and versatile. This flashlight is the one if you're looking for something easy-to-carry, offering a focused beam pattern out to almost 200 yards!
Take the price out of the equation; and the decision is a slam-dunk, no-brainer, or whatever other slang you choose. I'll call it an intelligent choice to buy for those who appreciate quality and performance and leave it at that!
Overall rating of the SureFire EDCL1-T Flashlight: 4.5/5