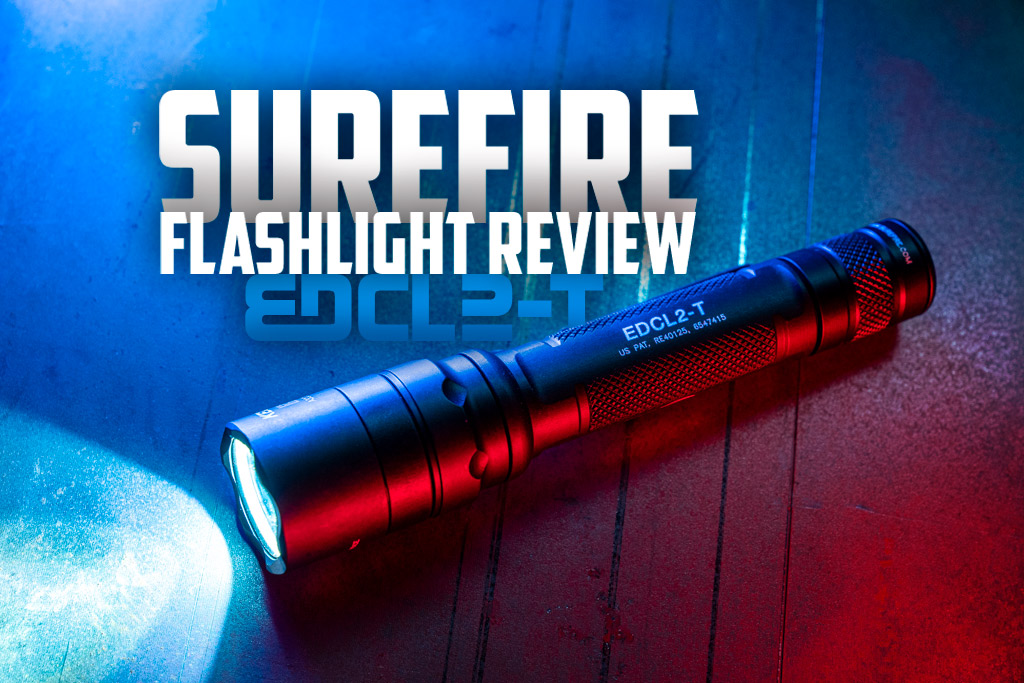 SureFire EDCL2 T Flashlight Review
Disclaimer: This page contains affiliate links, meaning we receive commissions for any purchases made through the links on this page.
The Surefire EDCL2 T flashlight is a part of SureFire's EDC products collection. If you're unfamiliar with Every Day Carry (EDC), the concept is to have the tools you need every day on you at all times. Having previously reviewed the EDCL1-T and E1B-MV Backup from this collection, I can attest that SureFire is the real deal regarding tactical lights. 
SureFire successfully markets its products to law enforcement professionals, military personnel, die-hard hunters, shooting sports enthusiasts, and those extreme outdoorsmen and women requiring tactical tools and products that hold up under the most demanding conditions.
As a member of this elite family of flashlights that have become the favorites of "those who go into harm's way," the EDCL2-T is expected to live up to higher standards in reliability, durability, and performance to command a higher price tag. Does this light do that? Let's first look at its specifications and then decide where it stands among its first-rate siblings:
Let's have a look at the specifications for the SureFire EDCL2 T:
| | |
| --- | --- |
| Manufacturer | SureFire |
| Part Number | EDCL2-T |
| Weight | 4.1 ounces (w/batteries) |
| Dimensions | 1.13" diameter x 5.75" long |
| Color | Black |
| Material | Aerospace aluminum |
| Power Source | (2) 123A Lithium batteries (included) |
| Battery Life | 1 hr. (High) 60 hrs. (Low) |
| Output | 1,200 lumens (high); 5 (low) |
SureFire EDCL2 T Features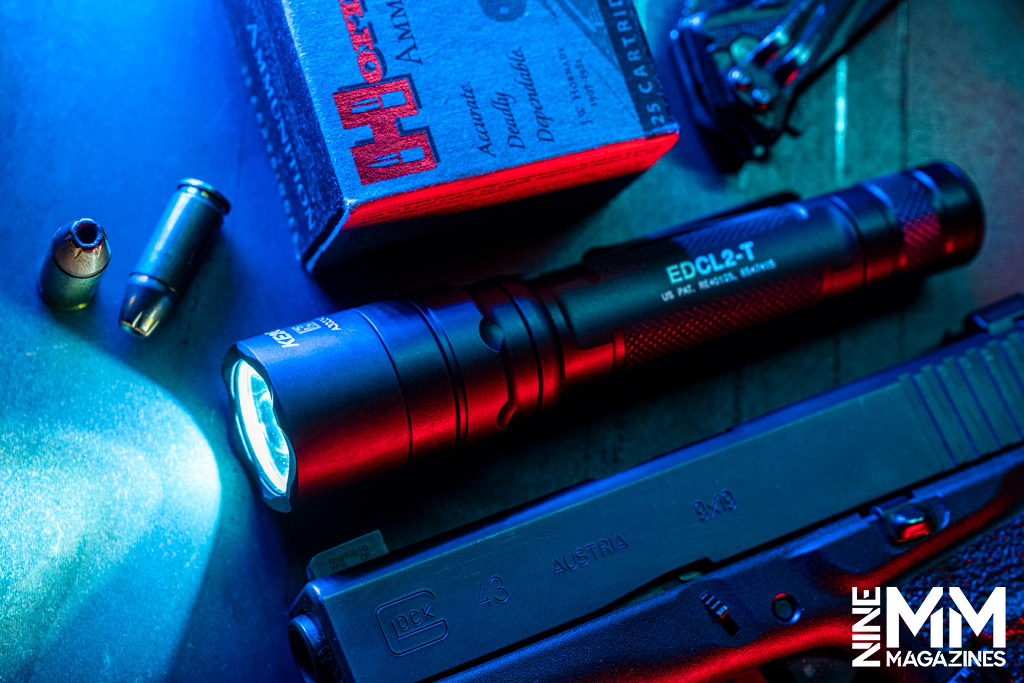 The EDCL2-T is a longer, slightly heavier, and much brighter version of the EDCL1-T. It delivers the same benefits that make the SureFire flashlights popular among professionals and outdoor sports enthusiasts.
Having used the light for several weeks, here's what I like: 
Dual output: Two 123A Lithium disposable batteries (included) power two outputs: a blinding 1,200 lumens on high and 5 lumens (perfect for reading a menu in a candlelit restaurant!) on low.

 

Lightweight and compact: Although it's 5.75″ long (1.25″ longer than the EDCL1-T), you can still carry it inside your pocket or hang it on a belt without noticing the extra weight.

 

TIR lens: Just like the shorter model, the CL2 features a concentrated, albeit brighter, beam with some peripheral light.
Durable: At the risk of sounding like a broken record, the EDCL2-T is durable and made of high-strength aerospace aluminum with a Mil-Spec hard-anodized finish. Sidewalks, driveways, and hardwood floors do not phase a SureFire light.
Pocket clip: A stainless-steel two-way pocket clip allows you to carry the bezel up or down. I clipped the light to the bill of my cap, but it's a bit too heavy for that.
Knurled design: The knurling on the body and tail cap give it a secure grip.
Lanyard: Unlike the EDCL1-T, this model uses a lanyard to hang the light with your keys.
Weatherproof: An O-ring and gasket seal the EDCL1-T, giving it a wide temperature tolerance and built-in short-circuit protection.
Long battery life: The 123A disposable batteries can last up to 60 hours on low 5-lumen light.
What's Not To Like?
The dual-stage tactical tail cap is, in a word, laborious. The Surefire "gas pedal" concept works well. A half press gives you 5 lumens of light, a full press gives you 1,200 lumens. The issue is on this light, you either get a dim working light or the brightness of the sun. This difference in illumination could be annoying if you use the light professionally. If you need a constant light, you'll need to keep twisting the tail cap until you get low light first and high output next. This operation requires two hands and is more sensitive than you'd expect it to be on a flashlight that's advertised as a tactical solution.
That being said, once you have the tactical tail cap in the correct position, it's ready to go. The twist method works well for occasional constant light use, but I believe a light press for low light and a firm press for bright light, both of which would leave the light on continuously, would be more convenient for someone using the light in their daily work. However, adding a 3rd party solution, like a Thyrm Switchback gives you additional control in manipulating the light.
Surefire Showdown: EDCL2-T VS EDCL1-T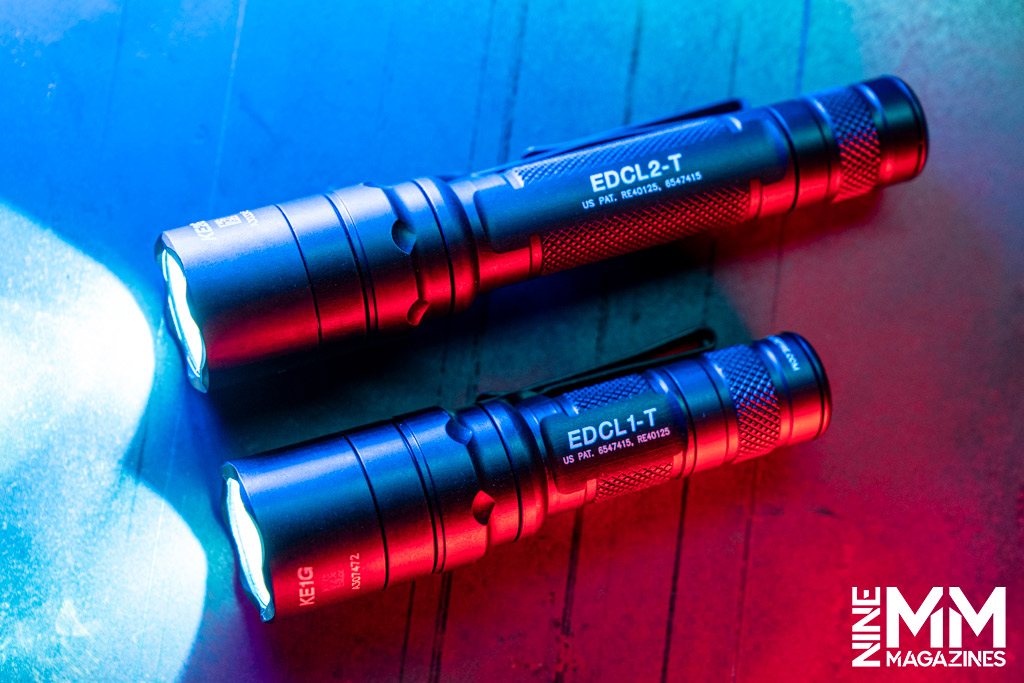 Model

SureFire EDCL2-T

SureFire EDCL1-T

Power Source

(2)123A lithium batteries

(Included)

123A lithium battery

(Included)

Output

1,200 lumens (High)

500 lumens (High)

Battery Life

1.0 hrs. (High) 60 hrs. (Low)

1.0 hrs. (High) 45hrs. (Low)

Length

5.75″

4.5″

Bezel Diameter

1.13″

1.13″

Weight

4.1 ounces

3.3 ounces

Material

Aluminum

Aluminum

Price

$145.50

$139.00

Switching

Dual Stage Tactical Tail Cap

Dual Stage Tactical Tail Cap

Lanyard

Yes

No
SureFire EDCL2-T Flashlight Questions

Can you pocket-carry the EDCL2-T flashlight?
Yes, however, it is longer, and heavier than the EDCL1-T model. Depending on how much light you need the EDCL1-T may be a better pocket-carry option.
Can you use the 18650 batteries in this flashlight?
Some users say a smaller version of the 18650, the 16650, works. However, SureFire recommends sticking with the two SureFire 123A lithium batteries included with the flashlight.
How many candelas are with the EDCL2-T?
SureFire indicates this light has a maximum of 11,300 candelas.
Where is this flashlight made? 
The EDCL2-T is designed and manufactured in the USA with international materials and components.
Is there a user's manual? 
Yes, see the SureFire website.
Can I remove the belt clip? 
Yes. You can tap it off using a flat-nosed screwdriver. 
Is It A Good Weapon Mounted Light?
The benefit of the EDCL2 T model is the ability to harness a 1,200-lumen light in the palm of your hand. However, its size and weight make it less than ideal to mount on a semi-auto pistol frame. You'd be better off holding the handgun in your dominant hand, and the light in your non-dominant hand, using the Rogers technique. The amount of light the Surefire puts out could give you an advantage at close range, assuming you're able to deploy it quickly with your pistol.
I'd also be hesitant about trying to lock it down on a standard 16-18-inch shotgun handguard. I've put a lot of shells down-range with a variety of lights on shotguns, and I can tell you they all take a beating. The extra length of the Surefire EDCL2 T could be a hindrance on the forend of your shotgun, when compared to other Surefire models which are more compact and lightweight. You'll be able to clearly see and identify targets at 25-yards, but again, it may be more light than you need for practical applications.
Where the Surefire EDCL2 T makes the most sense as a weapons-mounted light is on the handguard of a rifle. The 1,200-lumen light can easily light up targets out to 75-yards, and possibly beyond, depending on your optic setup. The light is well-balanced on the forend of a rifle and doesn't get in the way of basic operations. The low setting is perfect for viewing maps, or documents, and the high setting makes a lot of sense as a patrol light for lighting up the night when needed. If I were in the market for a good WML for the AR-15 platform, the EDCL2 T would be on the shortlist.
Should You Buy The SureFire SureFire EDCL2 T Flashlight?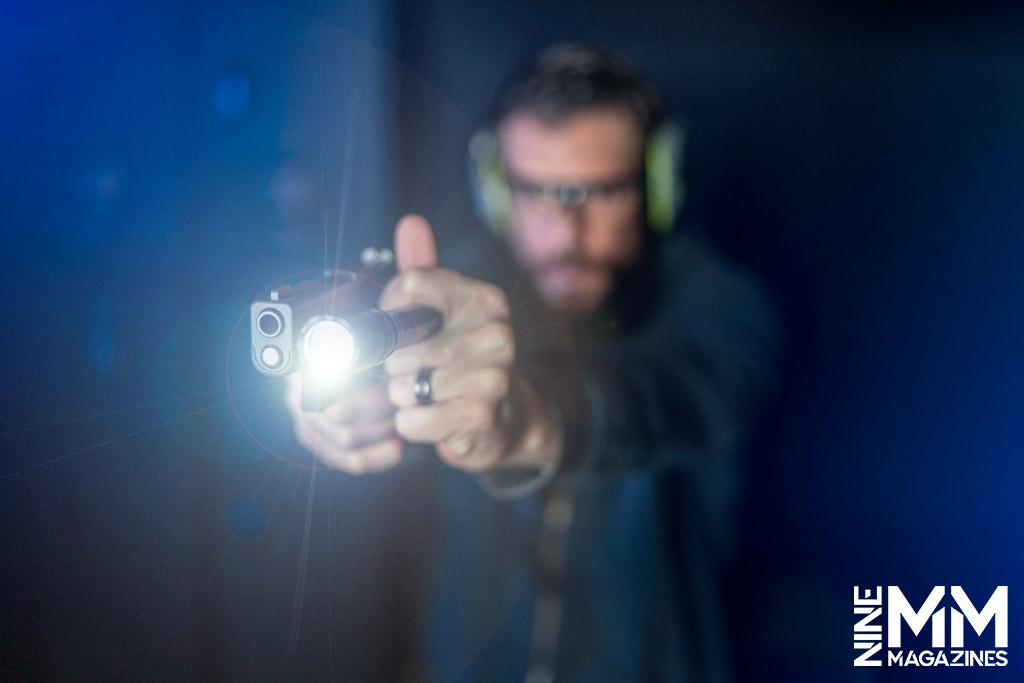 The short answer is Yes! If you need a 1,200-lumen flashlight for tactical applications, the Surefire EDCL2 T is the one to get. Its build quality is excellent, and it works as advertised. It's also a great flashlight for the glovebox of your car, truck, or SUV. Truckers and dock workers will also love this flashlight. With the press of a thumb, you can go from reading paperwork to illuminating deep, dark spaces inside of trailers and warehouses.
Even though I realize many of you might consider SureFire lights overpriced, I beg to differ. With a brand like Surefire you get the quality and reliability that you pay for. So spend the money now for a quality flashlight and avoid the regret of having to replace it sooner than later. Others who followed this philosophy have gotten years of service and durability from a SureFire product, and you can expect nothing less from an ECDL2-T flashlight!
Overall rating of the SureFire EDCL2-T Flashlight: 4.5/5