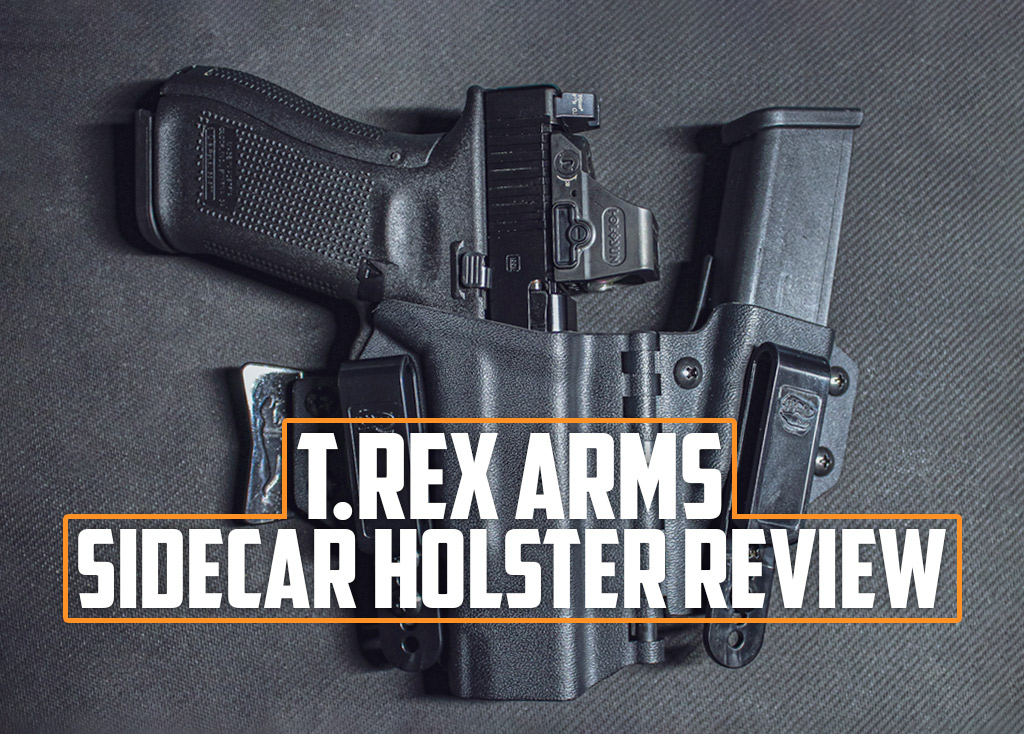 TREX ARMS Sidecar Holster Review
Disclaimer: This page contains affiliate links, meaning we receive commissions for any purchases made through the links on this page.
The original TREX ARMS sidecar holster was a one-piece design with the holster and magazine pouch infused together. Debuting in 2015, this setup only allowed you to carry your gun appendix style. The new sidecar holster by T.REX ARMS uses the T.REX ARMS Spine System. This modular hinge system enables you to swap accessories, remove the additional accessory for carrying just the gun at a 3 o'clock or 4 o'clock carry position, and adjust clip heights and tension to your liking. The new design also is more compatible with optics and suppressor-height sights and can be ordered weapon light-ready.
I'll take a look at this new version of the TREX ARMS Sidecar Holster and go over some key changes. If you're in the market for a sidecar holster, I'll do my best to answer your questions, and point you in the right direction. Let's start with looking at upgrading from the original TREX ARMS sidecar holster.
5 Reasons To Upgrade: TREX ARMS Sidecar Holster
Change Carry Positions
The most significant benefit of the new holster design is the ability to change carry positions. You can carry it appendix or carry it on your side without having to purchase two holsters. The T.REX ARMS Spine System allows you to easily detach the current attachment and replace it with a tuckable clip instead. Now you have your holster, the Raptor claw that improves concealment, and two belt clips instead of one for added stability. Just position the pistol-only holster where it's comfortable, and you're good to go.
Easy Accessory Swap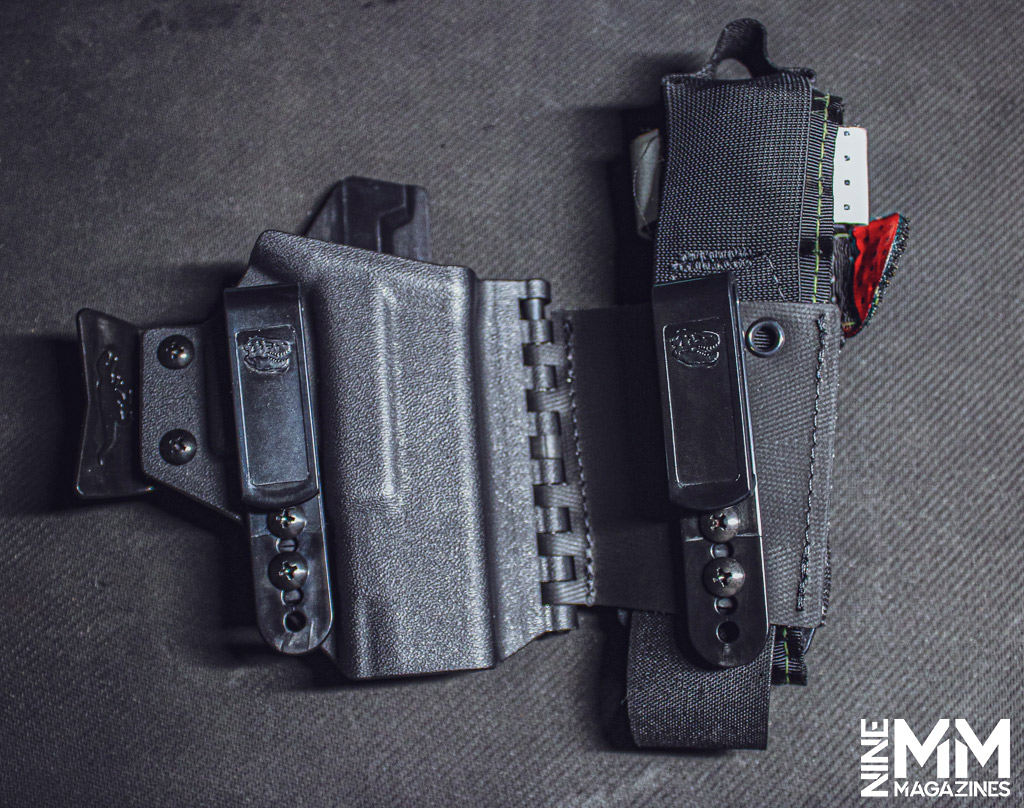 Whether you are a law-abiding, gun-toting civilian, work in law enforcement, or are in the military, having the option to switch out gear is beneficial. The new sidecar holster by T.REX ARMS allows you to attach a pistol magazine, tourniquet, rifle magazine, or handcuffs to your handgun in less than 30 seconds. Each accessory attachment is available for a separate purchase, so you can buy only what you need or plan to use.
Before this new sidecar holster design, you would have to purchase different holsters for different setups because it was all molded as one piece. And if you're anything like me, you probably have a box or drawer loaded with any number of holsters ready to be used. My clothing changes throughout the year as temperatures change, and I like to move my holster to different positions depending on what I'm wearing. I also will choose to carry a spare magazine, tourniquet, or other accessories depending on what activity I'm going to do or where I'm traveling. All of this variability means a holster for every occasion, and the cost adds up quickly. So as mentioned before, I can change my carry position and my accessory without having to buy separate holsters.
Adjustability
The original one-piece sidecar holster was molded with a flexible angle for a comfortable appendix carry position wrapped around your stomach. The T.REX ARMS Spine System allows you to flex the holster and attachment inward or outward to the most comfortable position for you.
The tuckable clips have 5 holes to allow you to adjust the height of the holster and attachment. Because these clips are separate, you can lower one and raise the other for a more comfortable cant angle of the sidecar holster.
The new sidecar holster by T.REX ARMS also comes ready with an extra space in the teeth. This allows you to move your attachments up higher or lower depending on where you want them. If you drop your attached magazine lower, it will prevent the magazine from digging into your stomach as much when appendix carrying.
Light Compatibility
One of the lessons I teach in my classes is knowing what aftermarket support and holsters are available for the gun, light, laser, and optic combination that you want to carry concealed. It can be challenging to find a holster manufacturer that can make a proper retention holster custom to your setup. The new sidecar holster by T.REX ARMS is compatible only with the following weapon lights: Modlight PL350, Streamlight TLR-1/TLR-1 HL, TLR-7/TLR-7 A, or Surefire X300U/X300V.
You should have at least a light attached to your carry gun of choice for low light and dark conditions. While the weapon light options are limited, it is still valuable that T.REX ARMS can make custom holsters with your choice of gun and weapon light.
One Holster, Many Configurations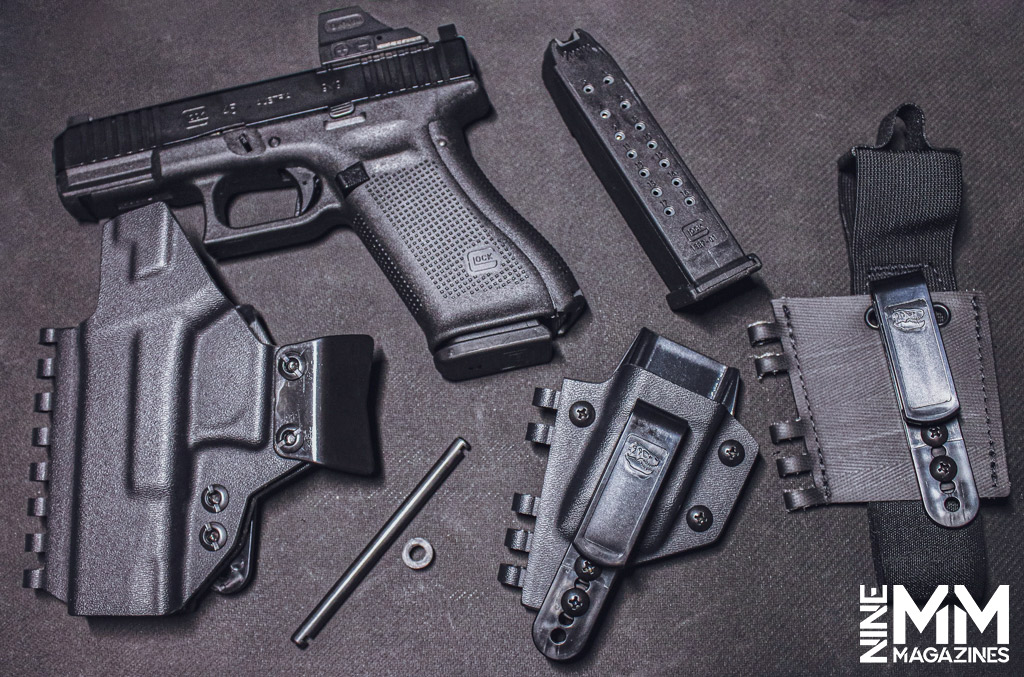 I love wintertime because I can carry larger-capacity guns with a lot more ease of concealability. While this means I will need a different holster for the new handgun, I may not need to buy any additional accessory attachments or additional clips. If the magazine sizes vary, the only other purchase will be a pistol mag attachment to fit the new gun's magazine. The innovative T.REX ARMS Spine System means you can mix and match holsters and attachments for every handgun you want to carry. Plus, T.REX ARMS sells replacement hardware and clips separately if you ever need to replace a part on the holster.
EDC Considerations
If you EDC a gun (and hopefully medical gear), you already know comfort is a big issue. If you can't wear your concealable holster all day comfortably, you'll be tempted to leave it at home more often. So how comfortable is the new TREX ARMS Sidecar Holster? After spending a few days with it on, I'd say its as comfortable as the comparable Tier1 Axis Elite. Which is right in line with the original TREX ARMS Sidecar Holster. Is it as comfortable as the PHLster Enigma Chassis System? No. But keep in mind, they are designed for two different EDC purposes.
With the new TREX ARMS Sidecar Holster, you'll need to decide which loadouts are most important to you. Different situations call for different gear. With the TREX ARMS Sidecar Holster, you'll have to option to stack a variety of gear in your accessory wing. Including spare magazines, a tourniquet, cuffs, AR mags, and more. If you have a need to change up your EDC, or have specific gear requirements for your job this holster is a great option. 
Swapping Attachments
If you're more of a visual person, you can watch the installation video:
The process of switching out attachments is easy and doesn't require a tool if you don't have one on hand. Here's how to change attachments on the new sidecar holster by T.REX ARMS:
You can use a car key to punch the spine rod up or down until it starts to come out of the hinge. If you're at home, a more manageable tool would be a Phillips head screwdriver. 
Once you've started to get the spine rod out, there are grooves on both sides of the spine where you can use a coin, your car key again, or any flat surface as leverage to pull it out the rest of the way.
Carefully remove the attachment away from the holster, so the teeth separate.
A friction washer towards the middle of the Spine System will come out once the spine is removed and the attachment separated. Be sure not to lose this or order spares, as this washer is what keeps the sidecar holster tight but flexible enough to bend it to you.
Should You Buy The New TREX ARMS Sidecar Holster?
Sidecar-style holsters aren't for everyone. They tend to be more comfortable with certain body types than others. That being said, they do provide a versatile platform for everyday concealed carry for many gun owners. The new TREX ARMS Sidecar Holster has taken that versatility to the next level. Introducing the ability to swap out multiple accessories easily for your EDC loadout. 
The ability to change the retention and the ease of concealment makes the holster stand out in a crowded marketplace of EDC options. Combine that with the excellent lifetime warranty, and customer service that T.REX offers, and it makes the purchase decision easier. Plus, owner Lucas Botkin has made the spine attachment system open-source. Meaning any holster manufacturer can use the design to build custom attachments compatible with the system.  
If you're tired of buying a holster for different carry positions and different attachments, the new sidecar holster by T.REX ARMS is an excellent investment to make. When ordering, always be sure that you choose the correct firearm, weapon light, and dominant hand as each one is made to order.
My overall rating of the new TREX ARMS Sidecar Holster: 4.5/5

Kenzie Fitzpatrick is a competitive shooter, firearms instructor, published writer in the industry, and the host of the Reticle Up podcast.