PHLster Enigma Chassis System Review
Disclaimer: This page contains affiliate links, meaning we receive commissions for any purchases made through the links on this page.
The PHLster Enigma Chassis System is not a concealed carry holster or a belt. It's an innovative, new (patent-pending) product of its own genre. PHLster has been manufacturing holsters for a long time while working on prototyping and developing the Enigma for the last two years. They are well known in the industry and their products generally get excellent user reviews. The Enigma has simplified concealed carrying, no matter what clothing someone is wearing.
The main issue with carrying concealed is the complexity of it. Depending on your attire, you may need to own several holsters to be able to conceal your firearm correctly. Another issue is the complete lack of usable belt loops on modern-day clothing. Women's clothing specifically is often made of thin material that can't support any size of firearm safely. As a female who carries concealed, the Enigma is the solution for carrying a gun dressed in leggings, jeggings, and even those pesky skinny jeans that lack real belt loops.
So what makes the PHLster Enigma Chassis System a revolutionary product? Let's take a look at the details below:
What's Included?
The chassis system includes a 48-inch adjustable belt, a magnetic quick release buckle, a faceplate that attaches to the holster of your choosing, and a leg leash. Plus all the hardware needed to link it all together. The 48-inch belt adjusts all the way down to where the buckle touches the other side of the faceplate, which allows petite size concealed carriers to be able to use the Enigma. The chassis system is extremely lightweight and completely assembled, isn't more than a few ounces. The best part about the Enigma is that it is entirely ambidextrous for both right and left-handed shooters.
When the Enigma was first released, there was one standard model. The light-bearing enigma model was released soon after to help support the additional weight and size of lights. PHLster is offering the Enigma Express to make it even easier. They pre-assemble the Enigma with a Skeleton Holster, so there's no setup hassle. Just be sure to order the right holster that fits your gun model.
PHLster also released the Enigma Sport Belt that adds more back support to the nylon belt and comes in three different back panel sizes. The total belt length adjusts to 46 inches. The back panel is specific to the distance from your 3 o'clock to 9 o'clock position. The small is 14 inches, the medium is 18-inches, and the large is 24-inches. You can also add the Sport Belt to an existing Enigma Belt, or connect it to another Sport Belt for added length.
How Does The PHLster Enigma Work?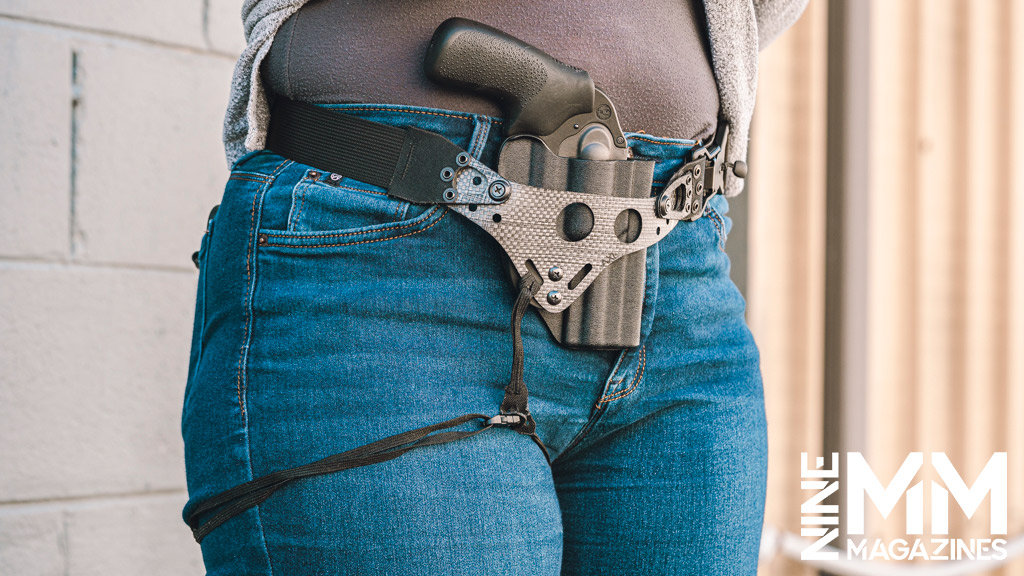 The Enigma is a 12-way adjustable concealment system designed to fit multiple body shapes, both male and female. Its chassis system wraps around you and snaps into place with a magnetic buckle, keeping your gun close to your body. The leg leash is a very lightweight, unobtrusive design that snaps together around the outer side of your thigh. 
The purpose of the leg leash is to keep the chassis system in place when you pull up on your gun to draw it out of the holster. Without the leg leash, the holster's retention on the gun can cause the wearer to have a hard time pulling the gun out. The leg leash prevents the entire chassis system from moving upwards when the gun is drawn. 
With the Enigma, you can wear any pants or shorts you want. The Enigma is designed to sit low around your waist with your choice of pants covering the chassis. It fits well under your waistband without covering up the gun's grip. When I say you can wear the Enigma with anything, I mean everything. From basketball shorts, business slacks, leggings to regular denim jeans, and everything in between. You no longer have to adapt your wardrobe to fit your methods of concealed carry. No matter what you feel like wearing, you don't have to sacrifice your safety for style. 
Holster Compatibility
The PHLster enigma chassis system is not compatible with any market holster. The chassis system is designed to attach to holster shells that use a ModWing, DarkWing, Raven Concealment wing, or other IWB concealment wing using a 5/8-inch hole spacing. The easiest route to go if you're brand new to concealed carry, or just bought a new gun to carry, is to buy the PHLster holster that fits your model gun. By buying their holster, you know that it will be compatible when you get your Enigma.
If you are interested in other holster manufacturers or already have a holster for your concealed carry gun, some companies make compatible holsters for the Enigma chassis system. These companies include JM Custom Kydex, Henry Holsters, and KSG Holsters. Some companies like Eclipse Holsters, Dark Star Gear, and Holsterco make holsters that will fit, but they require the purchase of a Fixed Retention Kit accessory along with your Enigma.
Is The PHLster Enigma A Gimmick?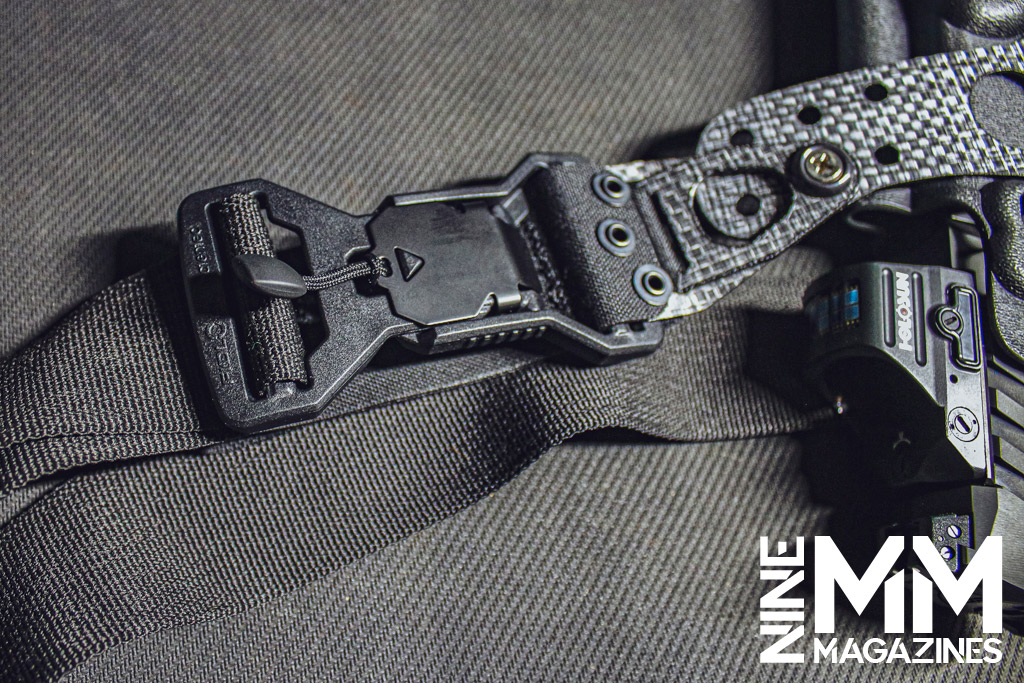 When I first received the PHLster enigma chassis system, I questioned the material of the faceplate. It seemed too lightweight to be sturdy to hold a fully loaded firearm, compact or not. After three months of testing the Enigma, I was mistaken on my assumption that it would not be durable. PHLster made the faceplate with ultra-light high-strength woven polymer laminate, and it looks as new as the first day I bought it.
I mostly wore the Enigma with 5.11 pants, and a variety of shorts, and leggings. I wore it in hot and cold temperatures, hiking up a mountain, and while driving for several hours. During the testing, it was my everyday carry at home and in public. The leg leash prints slightly through leggings, but not enough to be noticed by most civilians passing by. What impressed me most was the comfort during rigorous activities while keeping the gun on me. I managed over a ten-mile hike with over 4,000 feet of elevation change without a single issue with the Enigma. I chose to tuck in my base layer shirt in colder temperatures and wore the Enigma over it for less rubbing of the holster.
One of the tips I learned early on about guns and gear is to use a thread locker on more permanent setups you want to stay together. In the first few weeks of using the PHLster enigma chassis system, test out the different holes to adjust your gun to be higher, lower, or canted before using a thread locker. Once you find the combination that works for you, use a light amount of thread locker on the screws to set your Enigma up for long-term use.
Enigma VS Other Holster Systems
The Enigma concealed carry system is in a class all of its own. The closest product you can compare it to is a belly band. Belly bands do not retain holsters as well as a belt. The Enigma replaces the need for a belly band or a belt by attaching directly to a proper retention holster.
You can also compare the Enigma to a shoulder holster setup. A shoulder rig uses a proper retention holster to keep the gun in place and allows the wearer to pull the gun out without pulling the rig or holster with it. The leg leash of the Enigma functions much the same way.
Maintenance & Quality
Just like any other holster or concealed carry method, the PHLster Enigma chassis system needs routine maintenance and checking for wear and tear. Always check to make sure you haven't lost any hardware on your Enigma. The belt of the Enigma may need replacing after long-term use or from over-tightening, causing stitches to come undone.
PHLster Enigma Pros:
No External Clips Or Specific Belt Sizes:
When you buy a traditional holster, there are many clip and wing options. Clips range from 1.5 inches long to 1.75 inches and will be one long clip on the holster or two skinny clips. Wings are designed to push outward against the inside of your belt to decrease printing when carrying a gun. When shopping for a holster, it's always essential to ensure your belt is compatible with the clip sizes. With the Enigma, there is no need to ensure compatibility between clips and your belt or to even worry about clip options at all.
Lightweight & Breathable:
The PHLster Enigma Chassis System is more breathable and comfortable to wear all day than belly bands that trap moisture and sweat. The material of the Enigma is more lightweight than most leather belts and even belly bands that require more, thicker material to support a firearm. The Enigma doesn't pull on clothing and prevents muzzle poking. 
Eliminates Printing:
One of the most complicated challenges to master when carrying a gun is not printing, no matter what clothing you wear. The Enigma sits deep in the waistline and allows the grip to sit lower than most holsters clipped to a belt. The faceplate that rests against clothing also helps eliminate printing.
PHLster Enigma Cons:
Limited Aftermarket Support:
The Enigma has limited options for aftermarket support or holsters it can attach to. Do not use a non-compatible holster, or it will compromise your ability to carry the gun properly. If you have to use the fixed retention kit with your holster, make sure to test everything out before carrying daily with the system.
Leg Leash:
The leg leash is not made with a flexible material like the belt. It can be slightly uncomfortable if set too tight around the thigh. When drawing your firearm out of the holster, it takes time to get used to the leg leash. Be sure to test drawing from concealment to get used to the tugging of the leg leash before carrying daily with the Enigma.
Additional Considerations:
The PHLster Light Bearing Enigma model was designed around the Surefire X3000 Light  and Streamlight TLR-1. If you choose to use a PHLster Floodlight holster with your Enigma, it is only compatible with the following lights: X300 Ultra, A/B, attached or TLR-1, TLR-1S, and TLR-1 HL. If you carry a different light on your gun, you may need to change weapon lights. Or confirm that the Light Bearing Enigma will hold up your current holster setup.
Price VS Value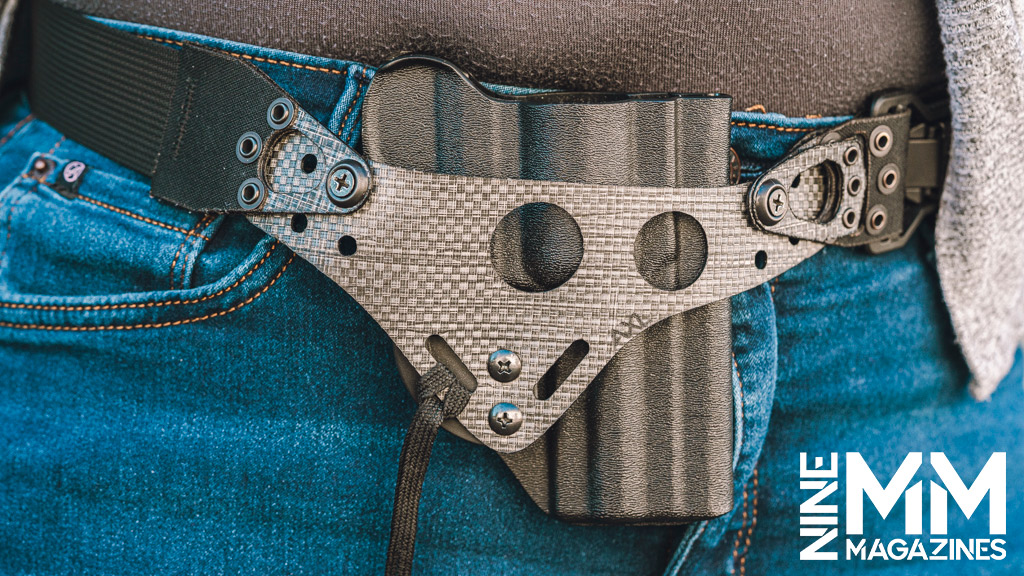 The PHLster Enigma Chassis System alone is not a cheap product. The investment can cost just as much, if not more, than a good holster. The value, however, of the Enigma is bar none. You should never skimp on your personal safety. It's an investment that could save your life or your friend or family member's life one day. 
When it comes to carrying daily, I used to wear a different holster depending on what outfit I would wear that day. When traveling, I'd pack my Comfort Concealment belt, a sidecar holster, and a holster and magazine pouch setup. The hassle and headache of switching my gun and magazine around is now a thing of the past. I know that I can always wear my gun with this one product, no matter what clothing I choose to wear.
The Enigma is $90-$95, while the Express is $149, ready to go out of the box. To compare, a quality belly band can cost between $60 and $90. A high-quality sturdy carry belt can cost from $50 to upwards of $100. Not to mention the additional holster you'll need to purchase. The Enigma is the best investment to carry with any style of pants and properly retain a pistol.
Reviewer Experience
I have dedicated my life to teaching concealed carry classes. This requires trying as many products as possible to help advise people on what may work for them. There is nothing worse than having five different holsters, three belts, and being uncomfortable wearing all of them. If you are uncomfortable, you're less likely to carry a gun. 
I have tested and worn leather holsters, Kydex holsters, and a blend of both. I have tried the Comfort Concealment belts, belly bands, and the Enigma Chassis System . I'm never without a firearm on my body and make sure to test gear in more rigorous situations than most. I've witnessed guns falling out of holsters. From "one size fits most" holsters made with zero retention, to civilians struggling to release their weapon from a holster that requires a thumb press or finger pressure to unlock the retention. 
I have trained for years with both full-size and compact pistols with external safeties and those that don't. I don't trust my personal safety to just any brand and any holster. If I don't trust it to work for me, I would never recommend it to anyone else. The PHLster Enigma Chassis System is a product I use, recommend, and I can honestly say it has made concealed carrying that much easier.
PHLster Enigma Installation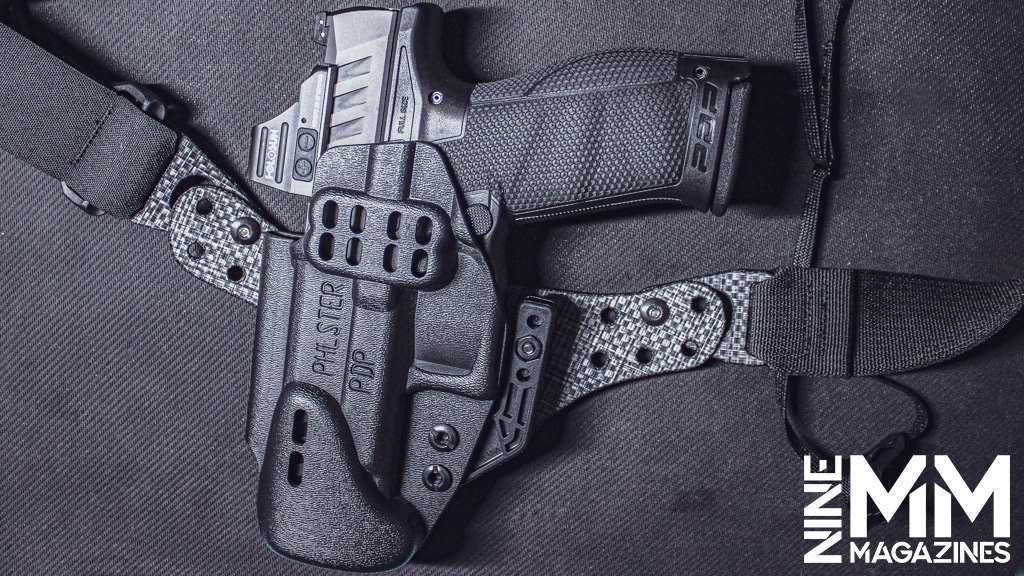 The biggest challenge with the PHLster Enigma Chassis System is setting it up from scratch. There are plenty of videos available that walk you through the process. Be aware it does require tools and a vice grip or pliers to install. The setup can vary if you're using a non-PHLster holster.
The Enigma Express will come set up either by itself or with a PHLster holster already attached. This depends on if you already have a holster that works with the system. Even though the Enigma Express comes pre-assembled, you may need to modify it to fit you. If you choose to set up the Standard or Light Bearing Enigma, the process takes about 20-30 minutes to complete and requires basic tools like a Phillips head screwdriver and Allen keys.
Step-By-Step
The first step is to thread the leg leash onto the chassis system to be on your dominant shooting hand side using a girth hitch knot. The second step is to disassemble the IWB concealment wing hardware from the holster of your choosing. The faceplate will attach through wing systems using 5/8-inch hole spacing. The holster attaches to the bottom two holes on the faceplate and is bendable to wrap around your body more naturally.
The end of the belt, already sewn with a loop, attaches to the strong hand side of the faceplate. Next, the other end of the belt attaches to the buckle that says "Fidlock patented" by threading a loop so you can adjust the length of the belt. The remaining buckle piece attaches to the second mounting loop that attaches to the weak hand side of the faceplate. 
There are six holes on either side of the faceplate that allow you to customize your Enigma setup. Whether you purchase the Enigma Express or build your own, try the different attachment points to figure out what works for you. Once you figure out the attachment points to your faceplate, consider using a thread locker to keep all the hardware in place. Both the leg leash and belt adjust to fit around your body and thigh.
Should You Buy The PHLster Enigma?
If you're like me and have a box of holsters, belly bands, and other carry gear, switching to the Enigma will be a gamechanger for you. When it comes to concealed carry, simplicity is key. The PHLster Enigma Chassis System will simplify your life. It adds comfort to carrying concealed and gives you the freedom to wear what you want without losing your gun. In my opinion, that makes it well worth the investment.
My overall rating of the PHLster Enigma Chassis System: 5/5

Kenzie Fitzpatrick is a competitive shooter, firearms instructor, published writer in the industry, and the host of the Reticle Up podcast.