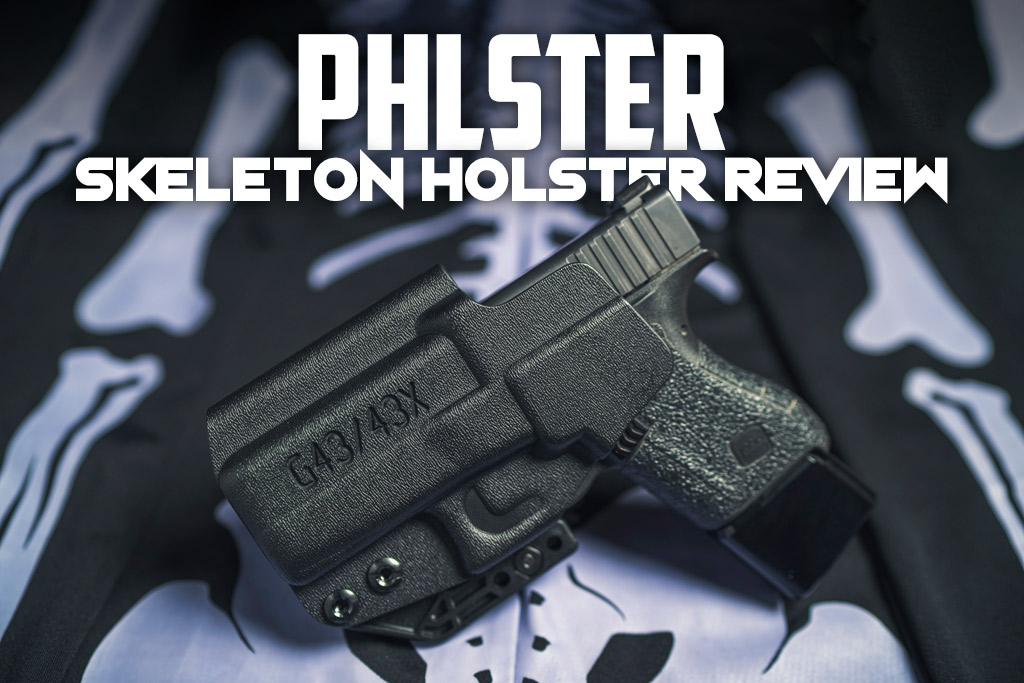 PHLster Skeleton Holster Review
Disclaimer: This page contains affiliate links, meaning we receive commissions for any purchases made through the links on this page.
The PHLster company made a name for itself among the best-known Kydex holster manufacturers in the industry. PHLster got famous for its Enigma Chassis, which does not require a belt to carry a gun. They also produce the Floodlight holster that you order by the type of weapon-mounted light rather than by gun model. In 2021, the PHLster Skeleton holster underwent a significant revision to become compatible with the Enigma. 
Floodlight & Pro VS Skeleton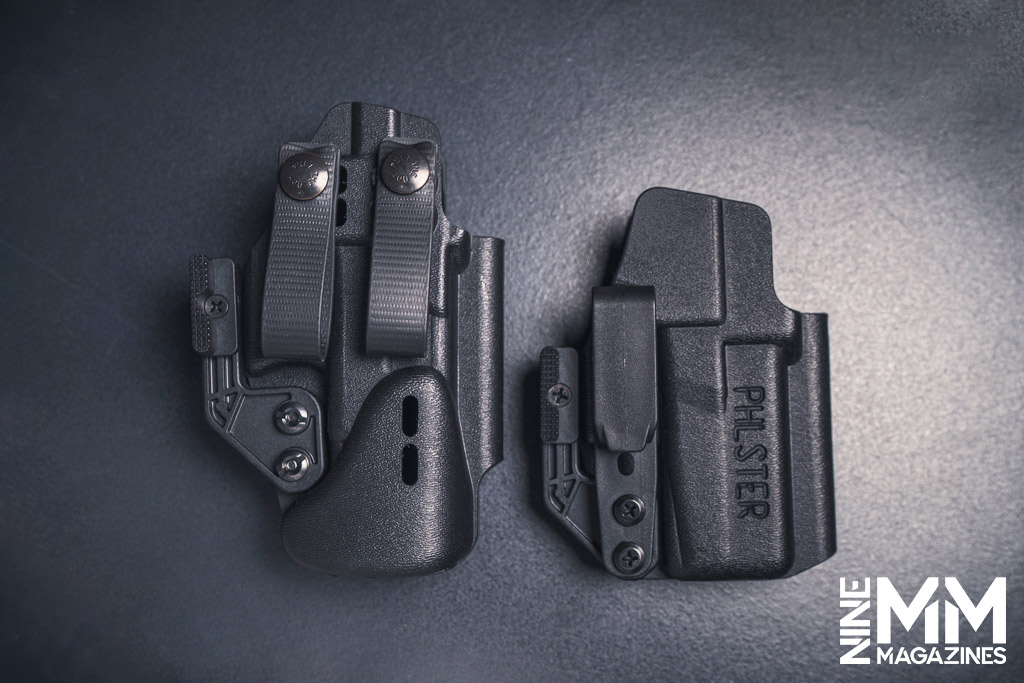 The Floodlight and Pro Series holsters by PHLster are bulkier and designed to fit many gun models with one holster. They created the PHLster Skeleton holster for the opposite purpose. They reduced the size of the holster to make it a more slim, true-fit length holster. The Skeleton is still compatible with the Engima and optimized to conceal better in form-fitting clothing. PHLster kept the ambidextrous design, accommodating both left-handed and right-handed shooters. Finally, the holster fits both slide-mounted optics and suppressor height sights.
| PHLster Holster Model | Compatibility | Suppressor Sights Ready | Optic Ready | Mounted Light Ready | MSRP |
| --- | --- | --- | --- | --- | --- |
| PHLster Floodlight | Universal holster for service-grade pistols | Yes | Yes | Surefire X300U A / B weapon light, Streamlight TLR-1/TLR-1 HL, Modlite PL350 | $128.00 |
| PHLster Pro | Sig P320, Glock 43/43x/48, Glock 26/19/17/34, Sig P235/XL, Walther PDP | Compatible | Compatible | No | $88.00 |
| PHLster Skeleton | Glock 19, Glock 43/43X, Glock 48, Sig P365/365X, Sig P365 XL, Springfield Hellcat/Pro, S&W Shield 1.0/2.0, S&W Shield Plus, Walther PDP-F | Yes | Yes | No | $59.00 |
Skeleton Improvements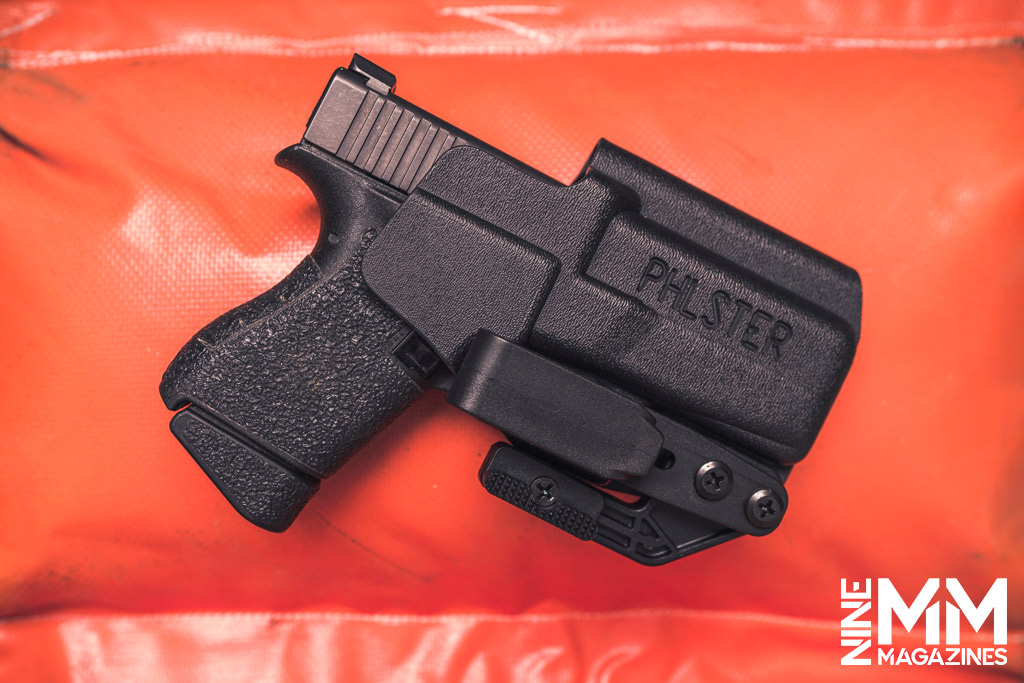 The pictures in our review of the Pro Series holster show the amount of material extending below the Enigma chassis and belt line. This material can cause printing and make it less comfortable to carry a gun. The Skeleton design has less bulk below the belt line, so the bottom of the holster sits even with the Enigma chassis. They also replaced the TuckStrut on the original Skeleton holster with an Enigma-compatible Modwing.
The muzzle of the Skeleton holster is form-fitted to the firearm with a smooth and radiused closure. This contrasts with the more open Pro Series that accommodates threaded barrels and comps. If you use the Grip Hook to carry on a regular belt, the Skeleton holster prints less in yoga pants and other thin or lightweight material than does the Pro Series holster.
Because the PHLster Skeleton model holster is form-fitted for specific firearm models, the holsters will only fit one firearm – with a few exceptions. The Glock 43 and 43x have one holster design; that one and the Glock 48 are MOS compatible. The S&W Shield Plus 4" fits both the 4" and the 3.1" Shield Plus models. The Walther PDP-F fits ONLY the 3.5″ model, not the 4″. The Hellcat Skeleton models do NOT work for the Hellcat RDP versions. The PHLster website mentions a few other warnings about firearm fit. Make sure you read it thoroughly before making a purchase.
Pros
Customer Education
PHLster goes above and beyond when it comes to customer education. Many holster manufacturers offer wings, clips, or other mounting hardware. However, they often do a poor job of providing clear installation and adjustment instructions. In contrast, PHLster has dedicated a video series to the installation of hardware and the fundamentals of carrying a concealed gun. On top of that, the holsters and accessories manuals on their website are some of the clearest and most graphically pleasing I've ever seen.
Optics Ready
More and more people are moving away from iron-sighted pistols and are carrying slide-ride red dots on their carry guns. I now believe every holster should come optic-cut ready just in case someone adds a red dot to their gun later. Since the retention doesn't change when you remove material to accommodate the red dot, it's a win/win to have an optics-ready holster from the get-go.
Price Point
The cost of the Skeleton holster is just $59, no matter what firearm model you have. This model holster is what I would call the base model for PHLster. It uses the same quality Kydex as for all their holsters, has adjustable retention screws, and allows different clip options. It's also compatible with the Enigma chassis system. If you ever want to go belt-free, you don't have to purchase another holster to use the Enigma.
Cons
Not Light Compatible
Some people prefer to carry a gun with a light attached to the rail of their weapon. Less common lights also make it hard to find a compatible holster. Unfortunately, the Skeleton holster is not light-compatible. For that, you'll require the Floodlight holster, which is more expensive and only suitable for a few specific light models.
Limited Availability Of Firearm Models
If you're into a less popular firearm, you may find the Skeleton holster is not available for your model. The biggest challenge with niche firearms is finding aftermarket accessories and holsters for them. The most popular concealed carry firearms are made by Glock, Sig Sauer, Smith & Wesson, Springfield Armory, and a few by Walther. Sadly, the PHLster Skeleton holster is only available in a limited number of firearm models.
PHLster Skeleton Holster: Buy?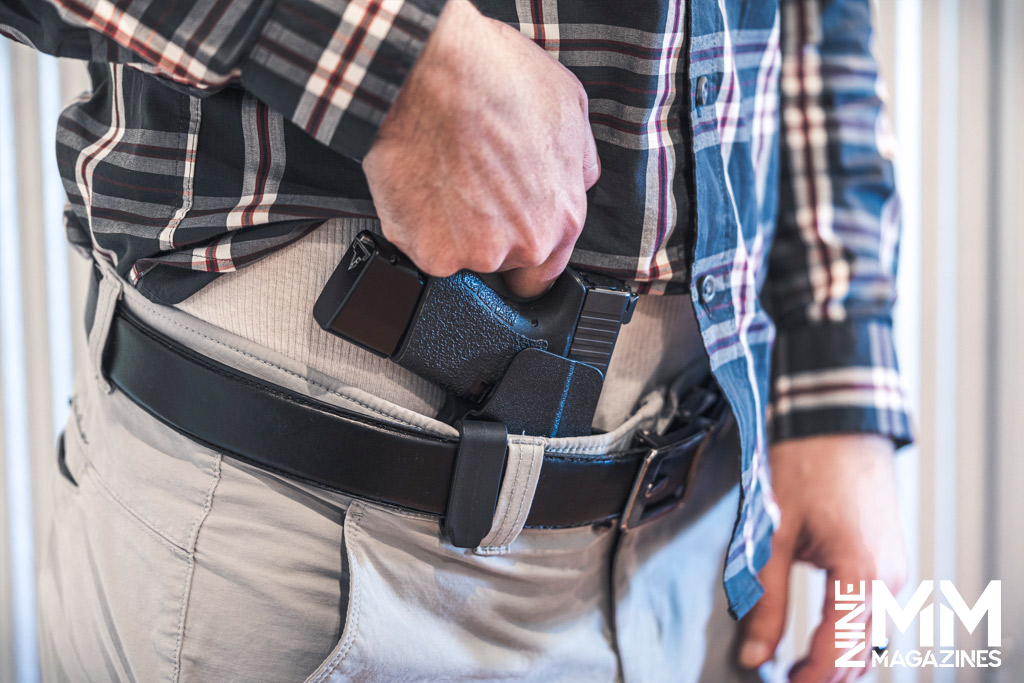 You can't go wrong with a PHLster Skeleton holster. The holster is slim and more comfortable than most bulky holsters. It's compatible with the Engima chassis system, has adjustable retention, and can use different clips in place of the Griphook. As a bonus, the return policy for a PHLster holster has 30-day window with original packaging and in original condition. If your holster arrives damaged or is incorrect, they'll cover the cost of return shipping. It's important to find the right holster for you – one you find comfortable enough to wear a gun daily. 
Because of the slim design, this holster is lightweight and doesn't add extra bulk to an already bulky firearm. Better still, it has deep concealment that allows you to grip and draw the gun correctly, without much printing through your clothing. Fortunately, the Kydex material doesn't deform or deteriorate. The PHLster Skeleton holster has made it comfortable for me to carry my P365XL with a Romeo red dot mounted on it. I set the retention to how I prefer it, and overall, I am pleased with the holster's fit.
In closing, I recommend the PHLster Skeleton Holster to my students and anyone looking for a quality, simple holster design for daily gun carry.
My overall rating of the new PHLster Skeleton Holster: 4.5/5

Kenzie Fitzpatrick is a competitive shooter, firearms instructor, published writer in the industry, and the host of the Reticle Up podcast.