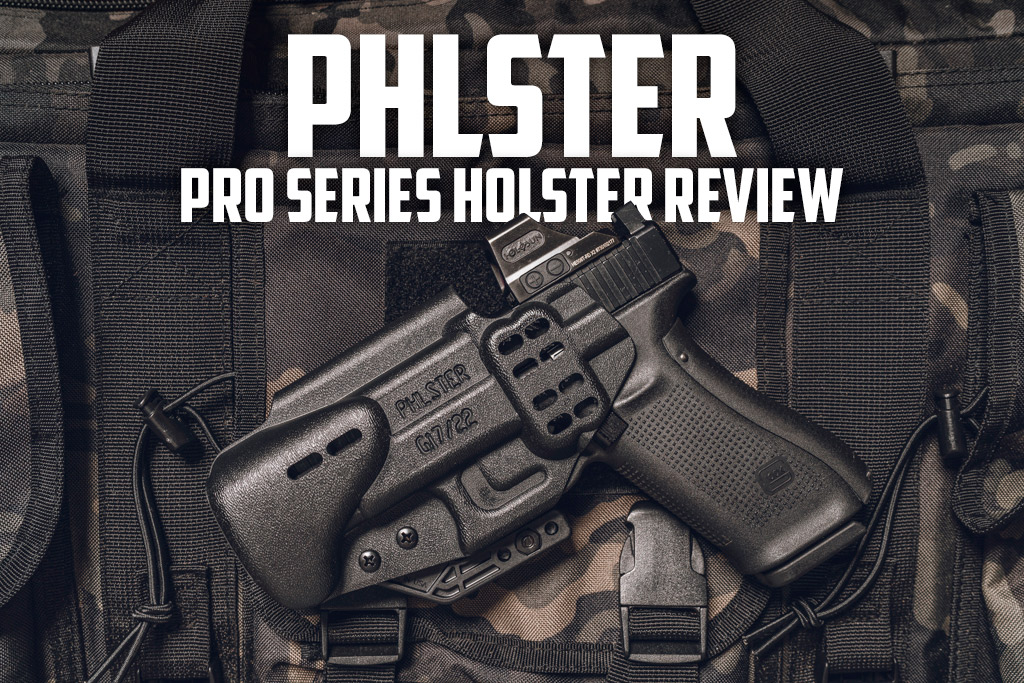 PHLster Pro Series Holster Review
Disclaimer: This page contains affiliate links, meaning we receive commissions for any purchases made through the links on this page.
If you're in the market for a quality gun holster, PHLster is a great company to take a look at. With a variety of models, such as the PHLster Pro Series holster they've got what it takes to cover your EDC needs. In this article, I'll be taking a look at the Pro Series holster and discussing its design and intended uses. By the end of the article, you should be able to make an educated decision about which PHLster holster model is right for you. 
PHLster designed the Pro Series with a rounded, ergonomic muzzle that reduces hotspots and adds comfortability to carrying concealed. This extra space allows for threaded barrels and comps on the end of the muzzle as well. Similar to the Floodlight model, the Pro Series holster is ambidextrous. Plus, it can accommodate multiple belt attachments. As usual, it comes standard ready for slide-mounted optic or suppressor height sights.
 Let's take a look at some of the features of the PHLster Pro Series holster below.
PHLster Pro Series Ergonomics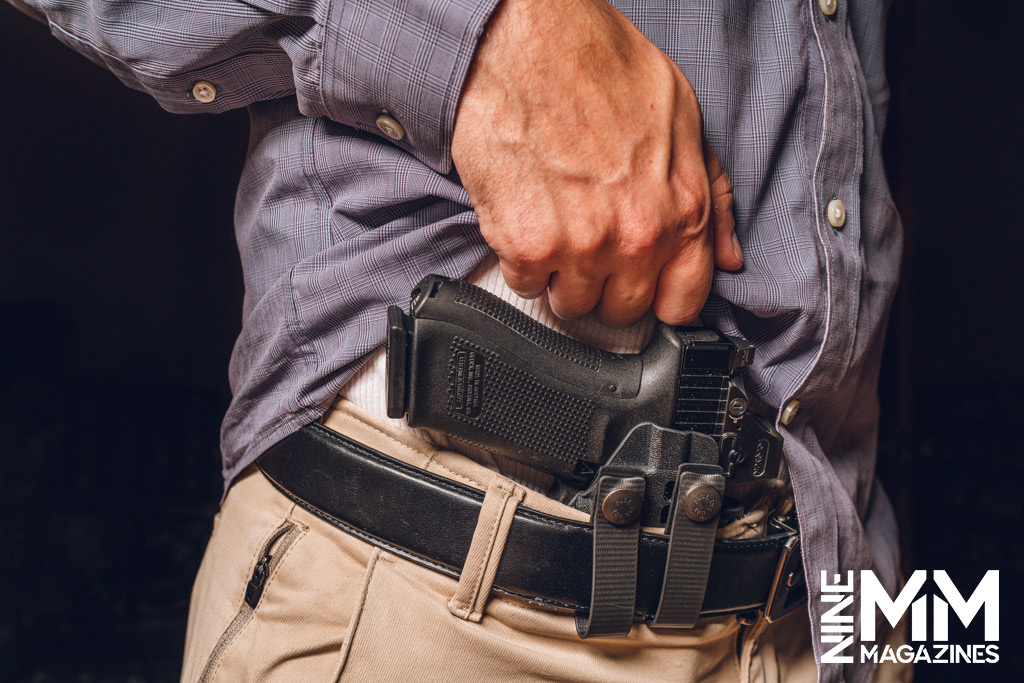 PHLster offers the Pro Series holster standard with adjustable IWB loops and an adjustable ModWing. They also offer the optional upgrades of a TuckStrut, pair of Grip Hooks, or a Discreet Carry Concepts Monoblock Clip. PHLster also advertises that this model holster can accept any IWB hardware available. So if you already have the hardware you prefer, you can attach it to this holster design. For someone with multiple holsters like me, that's a win-win feature. 
The holster features a built-in wedge, with multiple clip attachment points, and as I mentioned, it has additional holster length when compared to other PHLster models. Why is that important? The open rounded ergonomic muzzle works well for holstering longer guns, or guns with aftermarket barrel accessories. When placing a gun with a longer barrel in the holster, you immediately notice the fixed retention that keeps your weapon secure. It's also ambidextrous for the lefties out there. So how does it feel to carry it? I'll address that below. 
Feel of the PHLster Pro
When comparing the holster's open ergonomic muzzle to a minimalist muzzle profile, I found it to be a bit too wide for my personal preference. I'm a female who generally wears form-fitting clothing. I noticed the rounded shape of the muzzle showing through my leggings and jeans. To correct the printing, I used the Pro Series holster with the Enigma Concealed Carry Chassis because I found it too bulky to conceal by itself with my normal clothing. I personally would always choose a minimalist design when carrying a gun on a regular belt to avoid printing.
PHLster Holster Comparison
| PHLster Holster Model | Compatibility | Suppressor Sights Ready | Optic Ready | Mounted Light Ready | MSRP |
| --- | --- | --- | --- | --- | --- |
| PHLster Floodlight | Universal holster for service-grade pistols | Yes | Yes | Surefire X300U A / B weapon light, Streamlight TLR-1/TLR-1 HL, Modlite PL350 | $128.00 |
| PHLster Pro | Sig P320, Glock 43/43x/48, Glock 26/19/17/34, Sig P235/XL, Walther PDP | Compatible | Compatible | No | $88.00 |
| PHLster Skeleton | Glock 19, Glock 43/43X, Glock 48, Sig P365/365X, Sig P365 XL, Springfield Hellcat/Pro, S&W Shield 1.0/2.0, S&W Shield Plus, Walther PDP-F | Yes | Yes | No | $59.00 |
One thing that should be noted about the Pro Series holster models is that one holster fits the Glock 43, 43x, and 48. There is not a different holster made for each model. The same goes for the Glock 26, 19, 17, and 34 model. The Pro Series holster will always be sized for the longest gun model it is compatible with. For example, the specific sub-compact Glock holster will be sized for the Glock 48 since it has the longest slide. Be aware that there will be extra space if you're using it for the Glock 43 or 43x, which PHLster states is normal.
PHLster Pro Series Holster Install
The Pro Series holster comes ready out of the box. If you want to change the attachments or hardware, this is an easy upgrade to make with a screwdriver. Or, If you just want to stick it on your belt and go, all you need to do is adjust the holster retention for your gun. Since I used this holster to attach to the Enigma Concealed Carry Chassis, I removed all of the hardware. 
The installation for that project was a little more challenging, but thankfully, they made a video for it as well. This PHLster holster is also made with Kydex, but with an increased smooth surface area. The smooth surface adds comfort when carrying and you can add your own foam wedges to the holster if you prefer.
Construction/Build Quality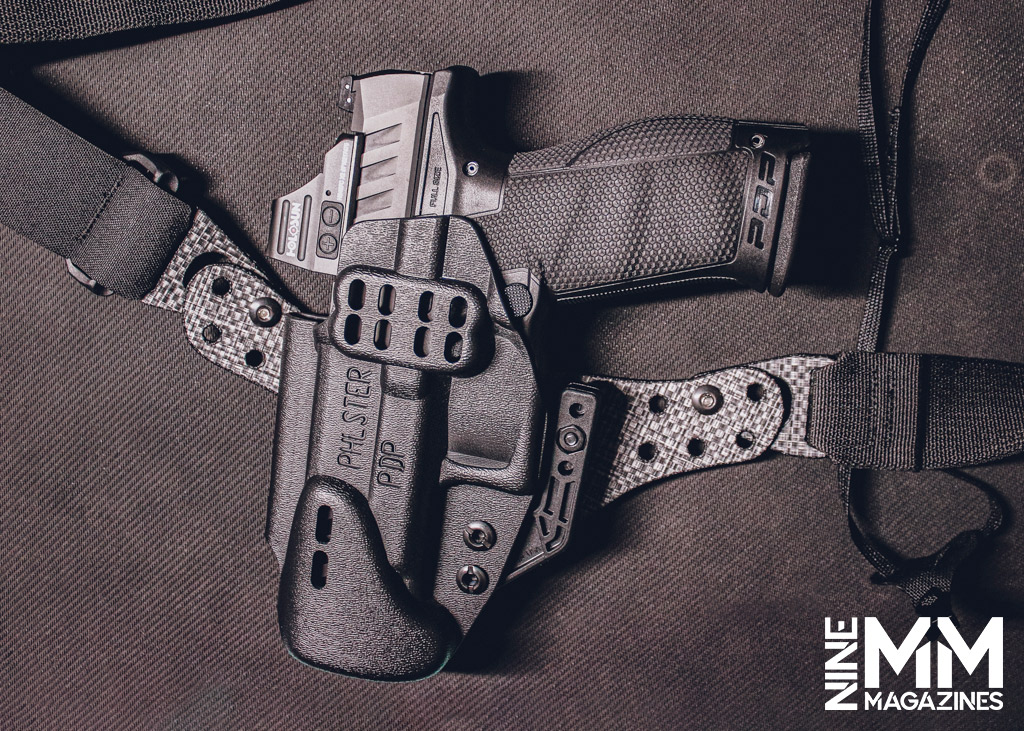 The holster is well made and uses high-quality materials in its construction. It feels like the kind of holster you'd only have to buy once and could wear daily without concern for wearing it out. If I had to point out any flaw, I'd say it is lacking in the feeling of an exact custom fit for certain compatible gun models. That being said, the added length of the holster can make it easier to conceal with the right clothing. The sweat guard is a little bit better on the Pro Series than on the Floodlight model, which is nice since both are ambidextrous. The shape of the holster, along with the ability to run two clips/hooks, provides a very well-balanced, secure, concealed carry experience. 
Comfort Level Achieved
The Pro Series holster is not your typical Kydex holster design. I'm very used to molded holsters that are the exact outline and shape of the firearm it was molded for. The PHLster Pro holster was intentionally designed as a blended concept. It keeps the shape of the gun with some well-thought-out ergonomic features. PHLster manufacturers the holster with a smooth surface area, wedge, and a rounded muzzle area to reduce hotspots that are usually uncomfortable for concealed carriers. I have to say, mission accomplished as it is comfortable to concealed carry with.
A common upgrade people make to this holster after purchasing is adding their own foam wedges to smooth contact spots for added comfort. After carrying the holster, and wearing a few different outfits, I think that solution makes sense. You can also swap out the holster's wings, or swap the loops for hooks to customize your carry experience. With a little fine-tuning and the right clothing, the PHLster Pro Series holster is a great everyday carry option.
PHLster Pro Series Holster Pros
Adds value by fitting multiple gun models in one unique design

Compatible with Enigma Chassis and PHLster Flex System

Durable IWB loops

Ambidextrous holster 
PHLster Pro Series Holster Cons
Additional hardware is needed to change the carry or concealment method

Is bulkier than similar size minimalist designed holsters

Holster may be wider and longer than the muzzle of your carry gun
Compared To The PHLster Floodlight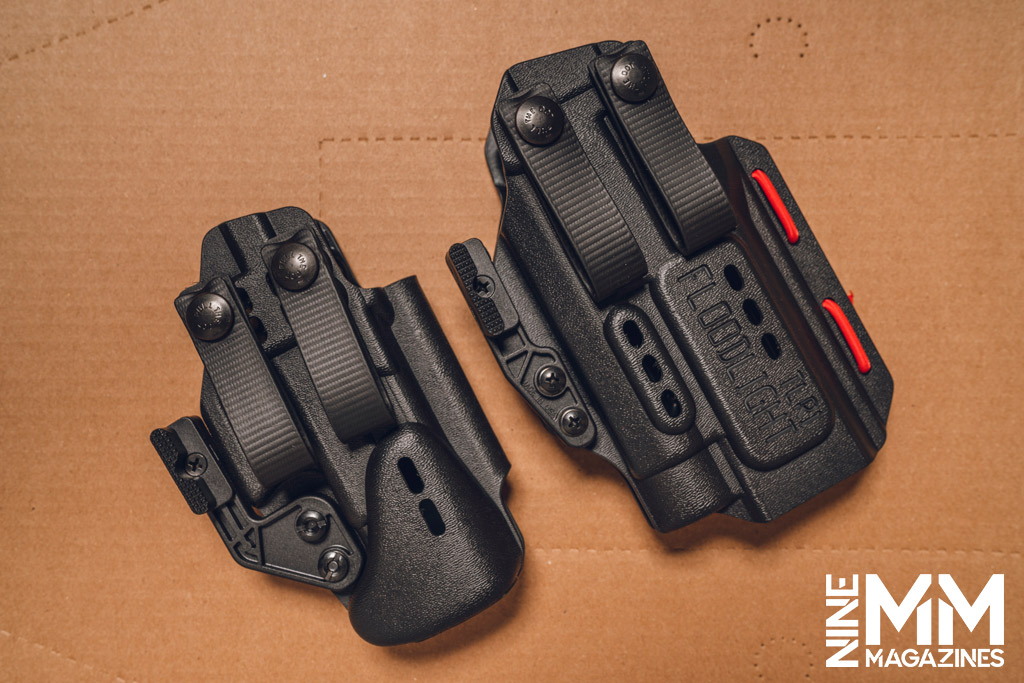 The obvious difference between these two holsters is the PHLster Floodlight is a light-bearing holster model while the Pro Series is not. The Floodlight is also ordered by what light you use on your gun vs. the Pro Series where you order by the model gun you have. The Floodlight allows you to adjust the retention, which is on the light instead of the gun. Finally, the Pro Series holster is much less expensive than the Floodlight model holster.
The positive aspect about both holsters is they are both ambidextrous, can be worn in different carry positions, and can use different hardware such as loops or clips. Both holsters are also compatible with PHLster's Enigma system. The Floodlight holster is compatible with the light-bearing model Enigma and the Pro Series with the regular Enigma chassis.
A Lot Of Holster For The Money
The pricing of the holster is similar to the Floodlight model. The Pro Series holster is one holster that can fit multiple gun models, so there's no need to purchase multiple holsters for each. This PHLster holster is priced at $83.99 and comes with a lot of options for different IWB attachments. As well as the ability to make personal upgrades you can DIY to the holster. Once again, I think the value and quality are worth the price.
Is The PHLster Pro Series Worth It?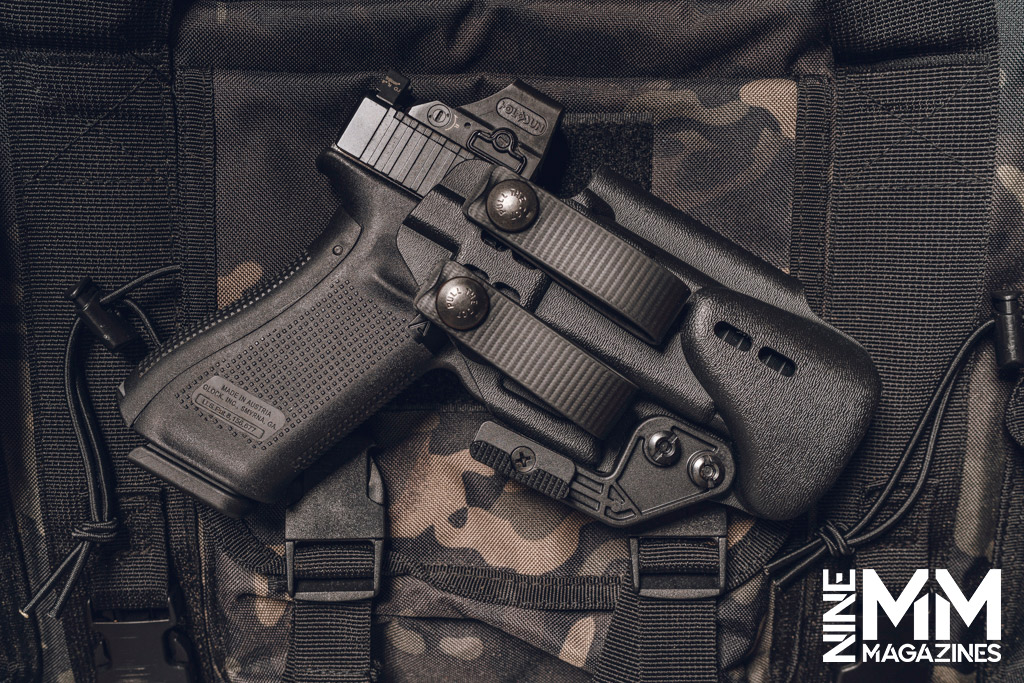 I own a lot of holsters, most of which I've paid for. Why? First and foremost, I am a firearms instructor and a resource to anyone looking to carry a gun concealed. I do not give recommendations on gear or products I haven't personally used. Or at the very least, discussed the products with a credible source I trust if I can't get my hands on the product. 
For every holster I own, I spend time drawing from concealment. I've tested the amount of concealability of the holster, and worn it for days at a time to really get a feel for the comfort level. I give honest reviews whether I pay for a product or it's asked of me to test it. After all, when it comes to self-defense, the only thing I care about is whether or not a holster will do its job. It's important that the gear works if the time ever comes for me to use my gun. I would trust the PHLster Pro Series holster I reviewed to do its duty consistently.
As an added bonus, the return policy for a PHLster holster is a 30-day window with original packaging and in original condition. If for any reason your holster arrives damaged or is incorrect, they will cover the cost of return shipping. That, plus their excellent warranty on all holster products makes buying products from PHLster a no-brainer. I'd recommend the PHLster Pro Series holster to anyone looking for a high-quality, no-nonsense, everyday carry solution.
My overall rating of the PHLster Pro Series Holster: 4.5/5

Kenzie Fitzpatrick is a competitive shooter, firearms instructor, published writer in the industry, and the host of the Reticle Up podcast.