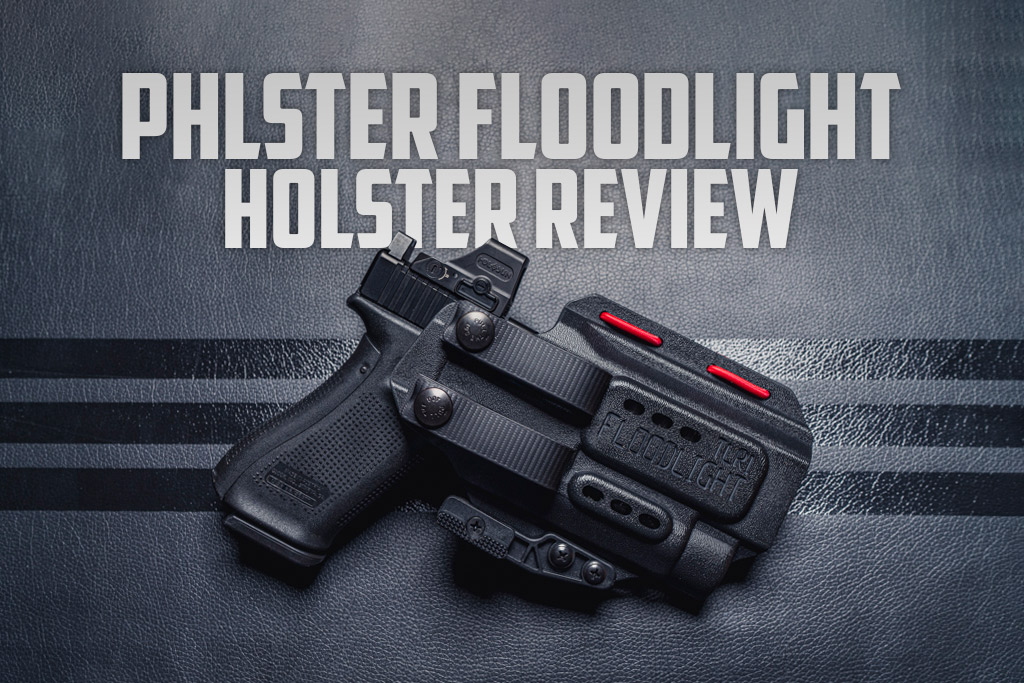 PHLster Floodlight Holster Review
Disclaimer: This page contains affiliate links, meaning we receive commissions for any purchases made through the links on this page.
The PHLster company we know today started out like a lot of popular brands got started, in a garage. What started out as a YouTube channel sharing successes and failures, turned into a budding business for owner Jon Hauptma. PHLster now manufactures concealment holsters, medical gear, spare parts and accessories, as well as the PHLster Floodlight and Enigma Chassis. 
In this PHLster holster review, I was able to test out a PHLster Floodlight holster and PHLster Pro Series holster. They look almost identical, but there is a key difference. The Floodlight holster is designed for use with weapon-mounted lights. The Pro Series is designed for use with firearms only. The Pro Series holster is also compatible with the PHLster Enigma concealed carry chassis system with a few modifications to install it on the chassis.
PHLster Floodlight Holster
The Floodlight holster is compatible with most service-grade pistols with an attached weapon light. There are simply too many pistol lights available on the market today to be able to make a holster for every kind of light with every kind of handgun manufactured. PHLster only makes holsters for use with a Surefire X300U A/B weapon light, Streamlight TLR-1/TLR-1 HL, or Modlite PL350. 
What is extremely unique about this holster is the retention is on the light and not the gun. When you shop for a holster, instead of choosing a gun/light combo, you only need to choose which light you plan to use. PHLster advertises the holster can be used with a wide variety of full-size pistols, but they provide a confirmed fit list on their website.
How Does It Work?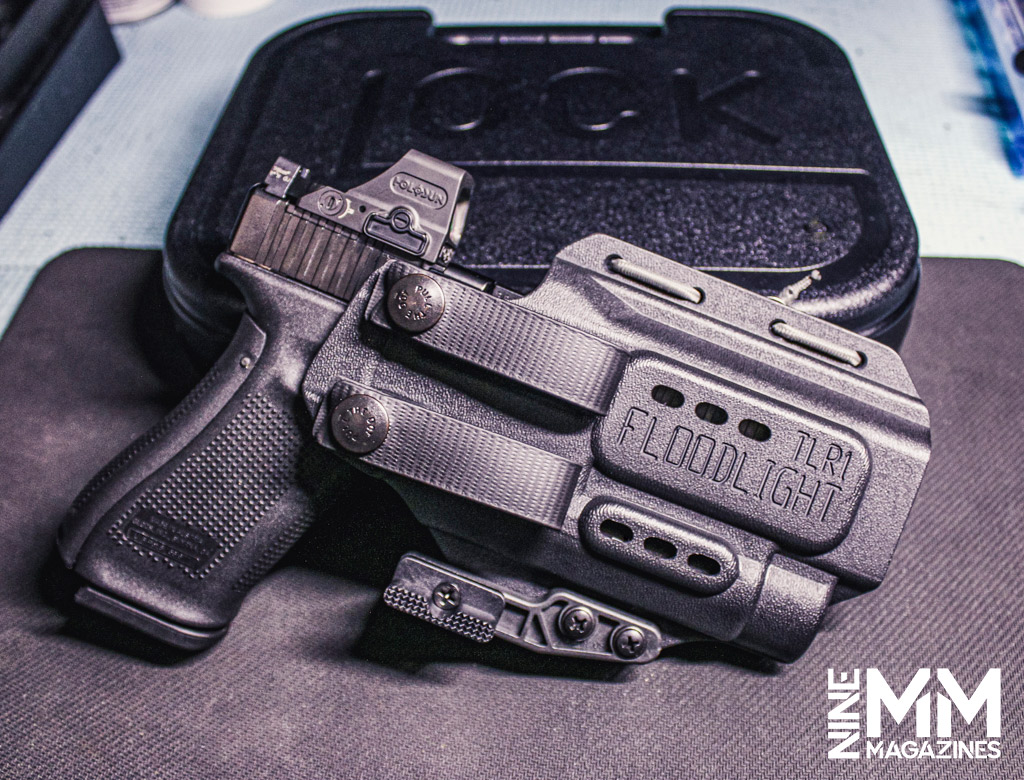 The PHLster Floodlight holster is completely ambidextrous. It has holes drilled in both sides of the holster for easy concealed carry style change-ups. It includes IWB soft loops and belt clips. The holster allows for adjustment of the retention, slide-contact on the gun, ride, and height. The two retention adjustment screws allow customers to tighten/loosen the amount of effort it takes to draw the gun from the holster. 
Be sure to set this up to your draw strength, but without losing proper retention that keeps the gun in the holster. Another unique aspect of this holster is PHLster uses a shock cord that connects the two halves of the holster together. Why is that great? If you switch between guns that have different slide dimensions, you can easily reduce or increase the amount of space available to fit each gun properly. 
Lastly, PHLster's holsters are already cut and ready for suppressor height sights, slide-mounted optics, and muzzle devices. This makes changing and upgrading your pistol easy without having to buy another holster. You can run your stock, or custom pistol in the same holster, saving you time and money. 
Holster Installation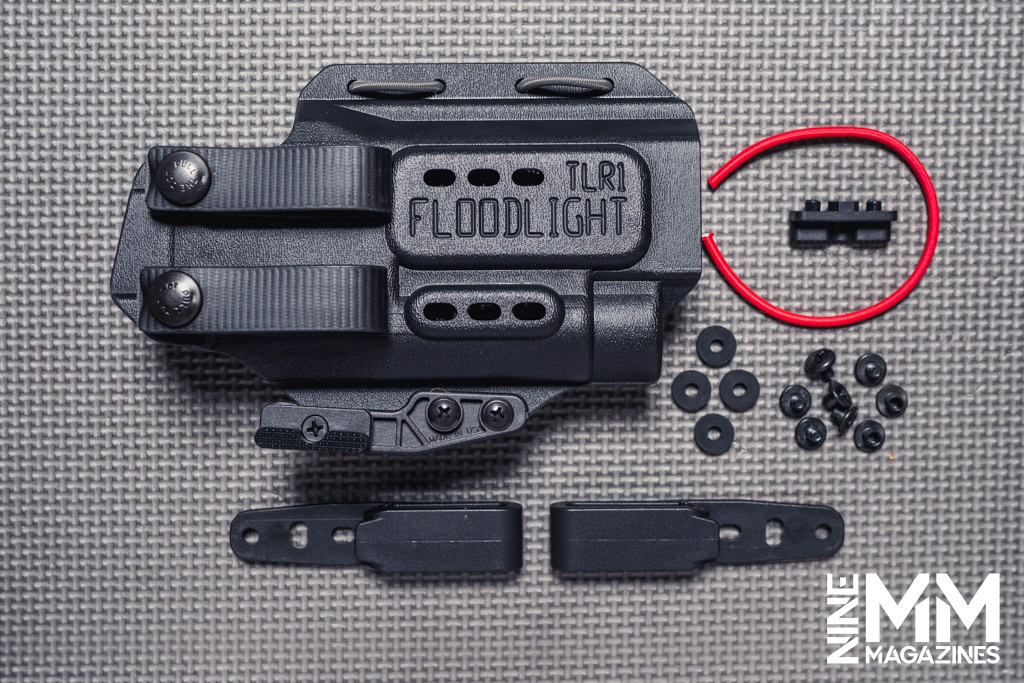 PHLster goes above and beyond when it comes to customer education. While many holster manufacturers will offer additional wings, clips, or other mounting hardware, many times they don't do a good job of providing clear installation and adjustment instructions. 
PHLster has dedicated an entire video series not just to the installation of hardware, but also about the fundamentals of how to carry a gun concealed. The holsters and accessories manuals provided on their website are some of the clearest and most graphically pleasing that I've seen.
Many holster clip attachments are designed for specific belt sizes, most commonly 1.5-inch belts. What I love about both the PHLster Floodlight and Pro Series holsters is that they come with soft, IWB loops that can fit wider and even thicker belts. What else I found valuable about the belt loops is that the snaps only come off one way. 
You have to pull down from the top of the loops instead of up. I tried to break the loops and snap them off by pulling upwards and the loops didn't budge at all. These loops are extremely sturdy and will not be snapping off unless you want them to.
Materials & Construction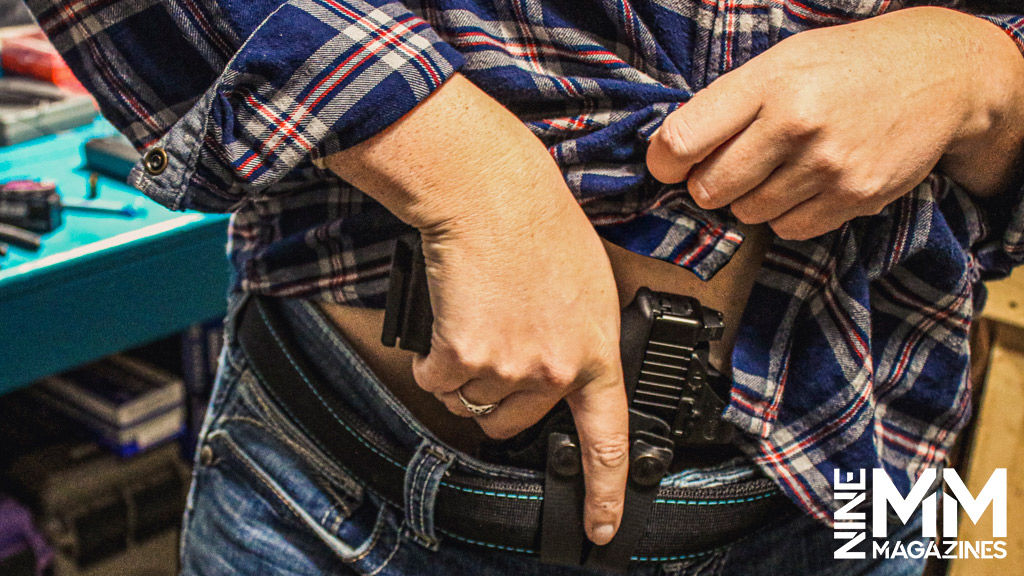 The Floodlight holster is made of Kydex and is molded extremely well. I tested the holster mostly IWB and played with the adjustment of the shock cord as well as the retention. The shock cord provides an entirely new way of adjusting retention for your draw. I'm neutral on whether I prefer the cord or screws. 
I think all concealed carry holsters, and competition holsters for that matter, should have more than one retention screw. Having two provides a backup screw, in case one comes loose, but also adjusts the retention in two different directions on the light. PHLster provides two and with a lot of flexibility in terms of adjustments. 
The retention being on the flashlight rather than the trigger guard is something not many holster manufacturers are doing. So, that sets PHLster apart from the rest. In my opinion, it is a high-quality Kydex holster with some new innovative updates that provide the customer with a variety of configurations.
PHLster Floodlight Pros
Complete adjustment for the perfect custom setup to you

Most full-size pistols fit in the holster with the chosen light

Easy to adjust retention

Durable IWB loops

Ambidextrous holster
PHLster Floodlight Cons
Not guaranteed to fit some pistols

Limited to specific weapon light models

The price may be too high for some 
Compared To The PHLster Pro Series
The biggest difference between the pro series holster and the floodlight holster is the fit of the gun in the holster. PHLster issues a warning when purchasing the pro series holster. Buyers should be aware that the holster may be longer and wider than the muzzle of your gun. To me, that's not a custom-molded or fitted holster to one specific firearm. If it were, there would be no need for the extra material. When it comes to concealed carry, a full-size firearm is already bulky enough. It isn't the most comfortable thing in the world, so I want to minimize the bulkiness of the holster as much as possible.
The other difference between the two holsters was the retention. The Floodlight holster offers adjustable retention while the pro series holster does not. The unique aspect of the Floodlight holster is that usually, retention pressure is on the gun, whereas with this holster, it's on the light. The Floodlight holster does accept a wide variety of full-size pistols. However, each floodlight model is specific to the light you choose, since that's where the retention is on.
The other difference is the price point. The Floodlight is much more expensive than the Pro Series holster, but it accommodates a light and allows customers to adjust the retention to their preference. Both holsters work with slide-mounted optics and suppressor height sights. The Floodlight accommodates muzzle devices and the Pro Series holster works with threaded barrels. The best way to choose the right holster for you is to know exactly what you want to carry before choosing one or the other.
Is The PHLster Floodlight Worth It? 
Most Kydex holsters available today that are custom-molded to fit specific firearms start around $50. These typically are set up to a specific width belt clip and may or may not offer two retention screws. The majority of manufacturers also do not offer a holster that fits a variety of guns. If you change guns during seasons, you will have to buy a holster for each gun model. 
Usually, when you see a "one-size-fits-all" holster, it's a sleeve or lacks proper retention. These do not compare at all to the PHLster Floodlight which allows for retention adjustments on both sides of the holster while still being able to fit a wide variety of pistol models.
A Good Investment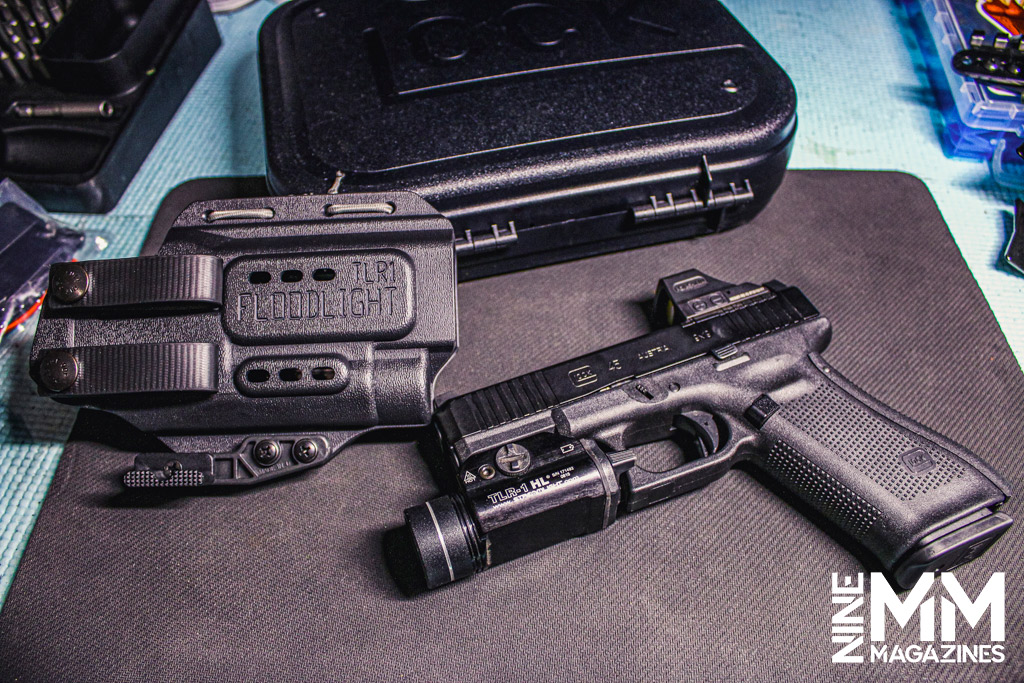 Most holsters between $50 and $100 include a custom Kydex print or color, come with different attachments, and may or may not include a magazine pouch. With so many holster brands out there, it's difficult to navigate the market and pricing structures. If you're looking at the value you get for the investment and quality, PHLster remains one of the top options.
As you look at holsters above $100, you start to get into more complex holster designs. Many that allow for various carry methods, are ambidextrous, come with additional attachments, are serious about retention, and essentially, add a lot more value to the design. The PHLster Floodlight is set at $124.99, considering its compatibility with multiple firearms, you may only need one holster to service several of your firearms. I think the price is right for the value of this specific holster model.
My overall rating of the PHLster Floodlight Holster: 4.5/5

Kenzie Fitzpatrick is a competitive shooter, firearms instructor, published writer in the industry, and the host of the Reticle Up podcast.