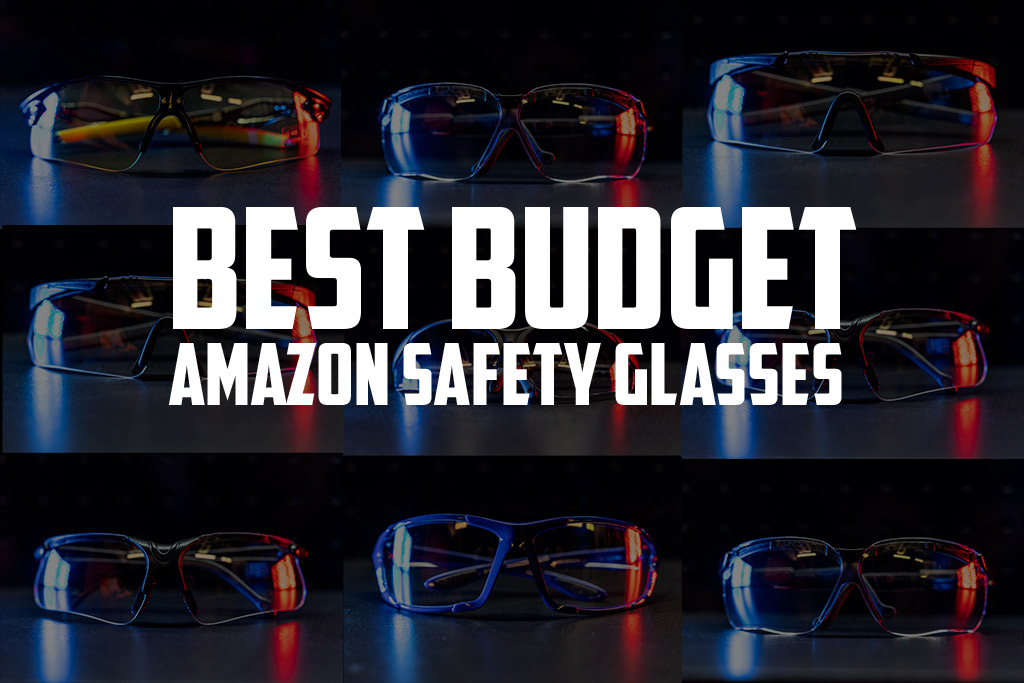 Best Amazon Safety Glasses
Disclaimer: This page contains affiliate links, meaning we receive commissions for any purchases made through the links on this page.
Your vision and hearing are the most important things to protect when on the range. When it comes to protecting them, the number of products on the market can be overwhelming. Just because something is highly rated, doesn't mean it's a great product. We reviewed the highest-customer-rated Amazon safety glasses to help shooters find the best affordable eyewear on the market.
Don't just purchase any pair of clear lens glasses to wear to the range. It's important to use ANSI-certified or ballistic rated eyewear especially if you are shooting at steel targets or near them. Proper safety glasses should always wrap around the side of the eyes to prevent frags and other flying objects from hitting any part around the eye. Safety glasses also block dust, dirt, debris, chemicals, and even liquids from entering the eye. Ballistic-rated eyewear has been tested in the harshest of conditions for military-grade impact protection. They have been tested for fragmentations and high-speed impact.
Look for the following markings on Amazon safety glasses to ensure they meet the proper standards:
Z87+ markings
Z87-2+ marking (for impact-rated Rx lenses)
MIL-PRF-31013 (spectacles)
MIL-DTL-43511D (goggles)
If any of the markings are missing or the packaging doesn't have any safety ratings on it, your eyewear is most likely not safe to be used for shooting. One thing to note is if you have an Rx for shooting lenses, ask the lens maker if they meet the standard for impact-rated Rx lenses.
Caldwell Adjustable Pro Range Glasses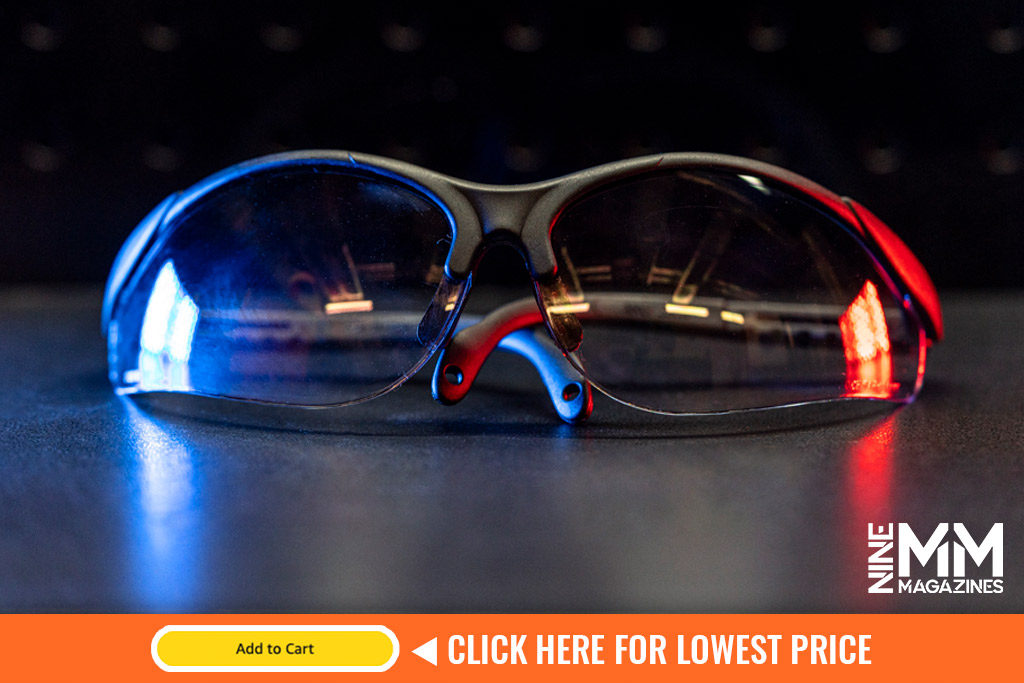 Caldwell is known in the firearms industry for making shooting gear from bench rests, targets, range gear, shooting bags, to hearing and eye protection. These glasses are ANSI Z87.1 certified and sit comfortably under earmuffs.
One of the biggest benefits of these glasses is they don't rest on your face allowing airflow through the top and bottom of the frames. This keeps the lenses from fogging up. The glasses are very lightweight and the nose adjusts as well as the temples for length.
These range glasses provide a clear field of view for easy target acquisition. For indoor use, the lenses do have a bit of glare coming off of them, but for the price, these make a great value purchase.
Price:

  Comfort:

  Safety:

Howard Leight: Genesis Sharp-Shooter Glasses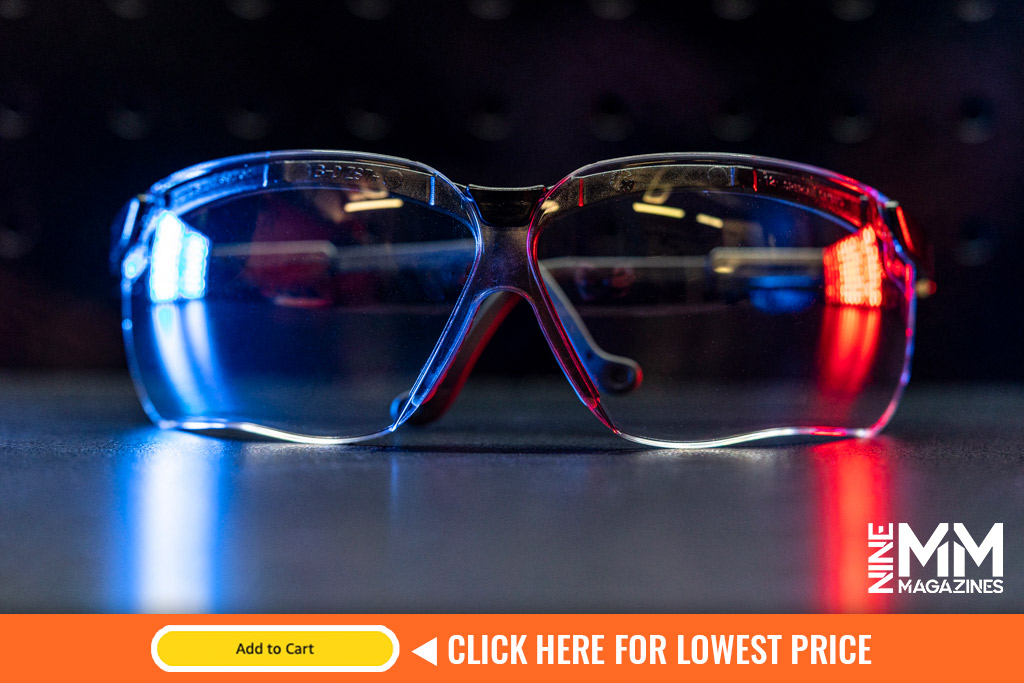 If you're unfamiliar with Howard Leight, they take safety glasses seriously as well as ear protection. Their electronic ear muffs are top-notch quality and these frames sit comfortably under the muffs. These glasses are ANSI certified and made in the USA.
The temples are adjustable for length and to move up and down as well, but they do feel a little flimsy when moving them. If these glasses are to last you a long time, be gentle when adjusting them as too much aggression feels almost like you can break them.
Similar to the XAegis glasses, these lenses also have a bit of glare to them. This is especially true if you're wearing them inside at an indoor range, the lenses reflect light easily.
The top of the frames sit gently against my forehead and can cause the lenses to fog up when in warmer environments or those with more humidity. The nose piece is very comfortable and the total field of view is wide making these a good pair of glasses to use when shooting aerial clays with a shotgun.
Price:

  Comfort:

  Safety:

iLumen8 Shooting Glasses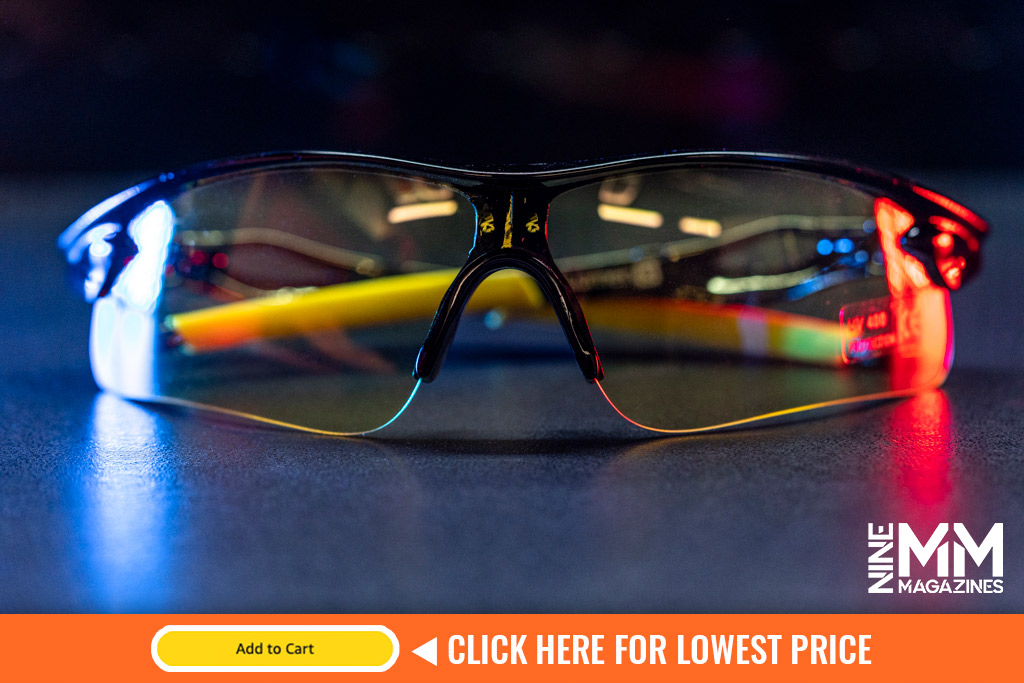 I highly recommend spending a little extra and purchasing these Amazon safety glasses. Out of all of the best-rated shooting glasses on Amazon, these were by far the most comfortable.
These provide a wide field of view for shooting any type of firearm and targets. They are lightweight and look less like safety glasses and more like sunglasses. The only downside to these is the nose piece is not adjustable.
These come in one pair or a two pair that provides a second pair with a yellow tint lens. This setup also comes with a carrying case for both pairs if you go with the two-pair option. Keep in mind, these are not ANSI Z87 rated, the lenses are made of Poly-Carbonate (PC) material which is listed as being high-impact resistant.
Price:

  Comfort:

  Safety:

Smith & Wesson: Major Full Frame Shooting Glasses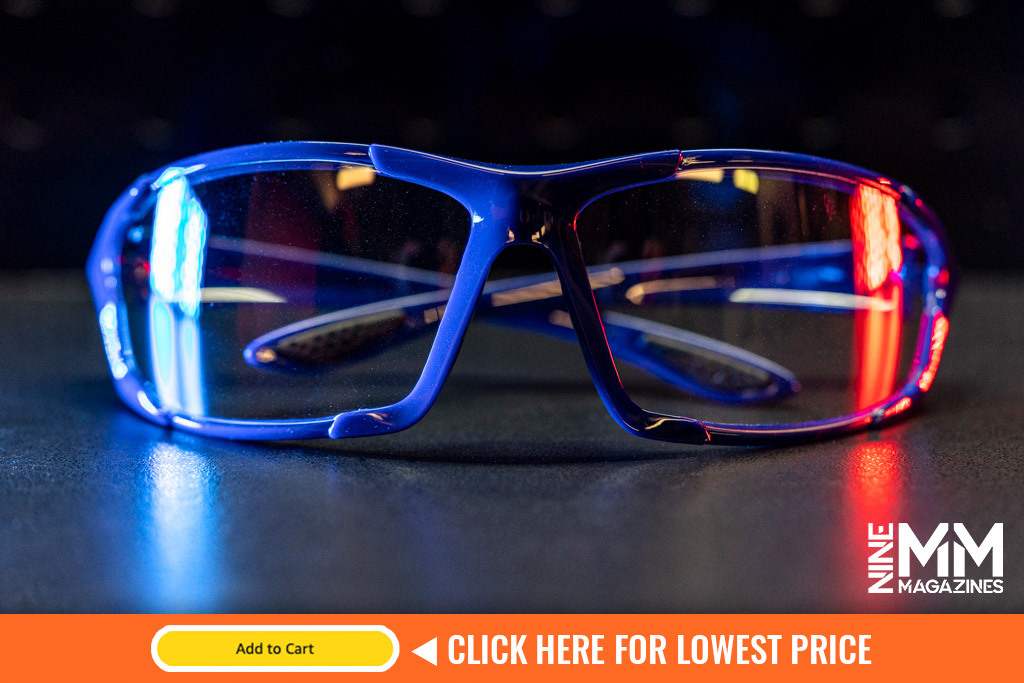 Most unisex shooting frames fit my head comfortably. When I say these glasses squeezed my templates, I mean they were really tight. You don't have to worry about them falling off your head, but they were not comfortable for extended periods of wear. These would be a great pair of frames for kids to use or adults with smaller head sizes. The good news is that these Amazon safety glasses are ANSI Z87+ certified.
One of the first things I noticed is that my peripheral vision was completely blocked by the blue border of the frame. These also sat really close to my face causing the lenses to fog up immediately. These do have a soft nose piece that is comfortable and come with a soft bag case to store them in when not in use. It's hard to beat the price on these, but there are more comfortable options available.
Price:

  Comfort:

  Safety:

XAegis Shooting Glasses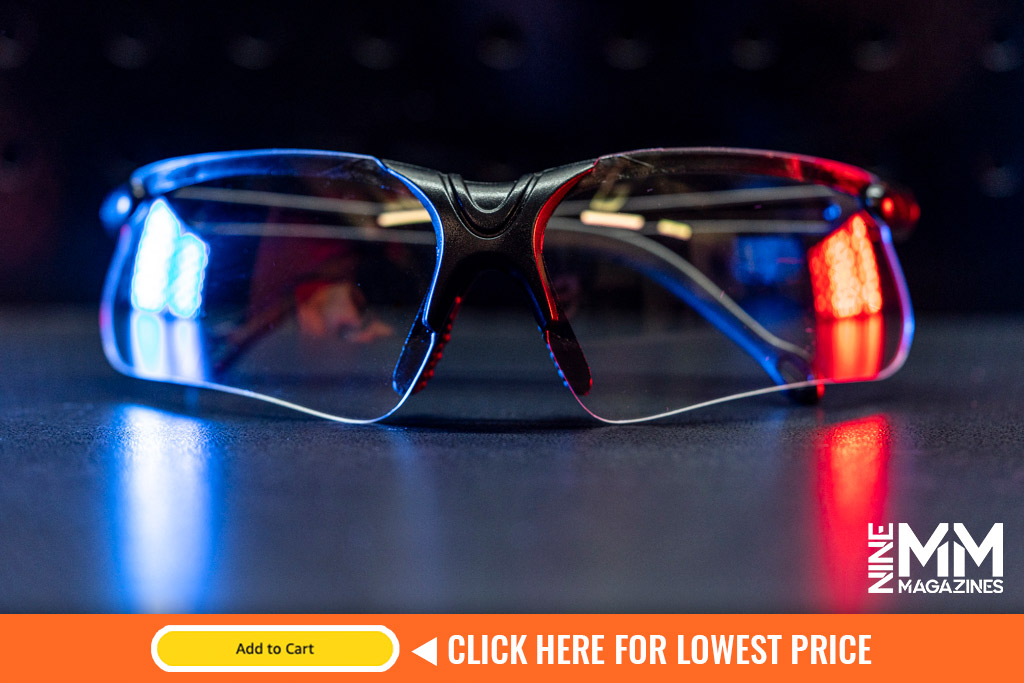 These Amazon safety glasses would be a good use for pistol or rifle shooting. However, they are not recommended for shotgun skeet, trap, or clay shooting. The reason for this is the nose piece is large and the top of the frame-blocks a wide field of view.
When wearing eye protection, the pieces that matter most other than the lenses are the frame comfortability and the nose piece as these can cause irritation over time. This nose piece is comfortable to wear for hours, but it can be a distraction in the way of your target view.
The top of the frame is also comfortable as it features a padding strip that sits comfortably on your forehead. One of the drawbacks to this feature is this strip sits on your skin blocking airflow through the frames. This causes the lenses to fog until you pull the frames away from your face, which is not something that is recommended when shrapnel and other objects can fly into your eyes.
The glasses are very lightweight and come with a handy carrying case. While I almost always wear custom in-ear protection, these do work great with ear muffs which can cause a lot of headaches if the temples of the glasses push too hard against the side of the head.
The biggest issue with these glasses is that the lenses have a lot of glare to them. I suspect this is due to the low-quality material used to produce the lenses. However, if you rarely visit the shooting range and are looking for a cheap pair of safety frames to use, the lenses don't make these a deal-breaker. These are also not ANSI certified but are made of polycarbonate lens for high impact resistance.
Price:

  Comfort:

  Safety:

XAegis Tactical Eyewear Shooting Glasses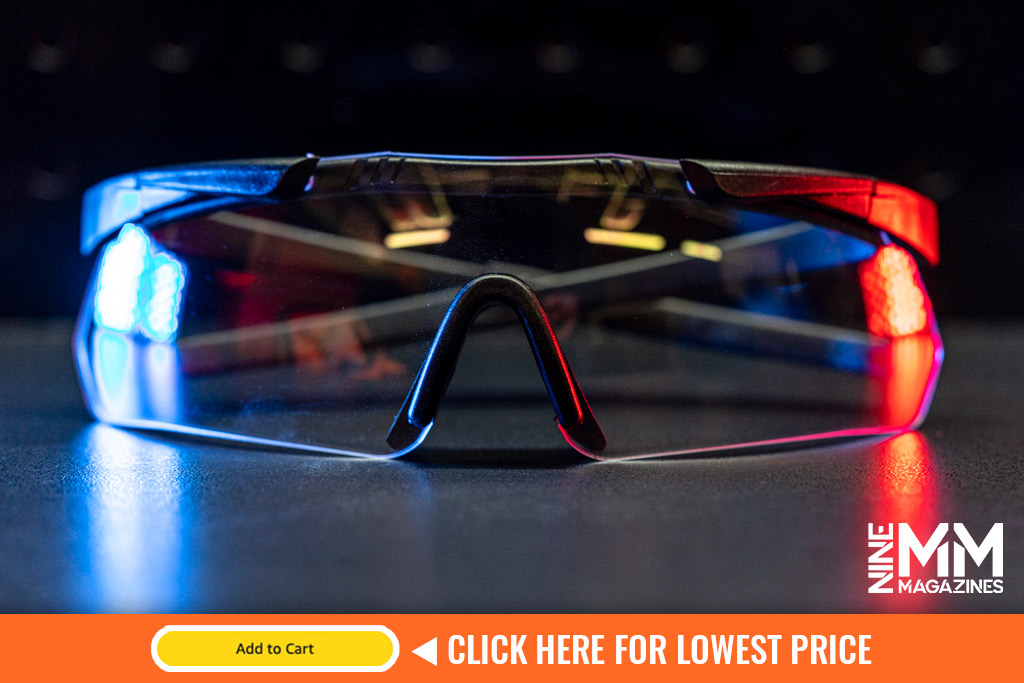 These glasses come with a large carrying case, a microfiber cloth, a sunglasses leash, and 3 interchangeable lenses. The included options make this the best bang for your buck. They are compliant with ANSI Z87+.
For testing purposes, I installed the clear lens to try in an outdoor and indoor environment. To install a different lens, you remove the noise piece, flip-up two pieces on the top of the frame that is holding the lens in, and then pull the lens down and out of the frame. The process took a little bit of work as one of the hinges was stuck (possibly because it was the first time it had been removed).
One of the things I noticed is that out of all of the popular frames I tested, this nose piece was the hardest. It is made out of hard plastic since it is part of the disassembly process. It left dimples on my nose after a few hours of wearing them. On the flip side, the temples of these frames are soft and made of rubber. Because there is only one lens rather than two, the field of view looking out of the lens is wide making it great for long-range shooting or aerial shotgun shooting.
Price:

  Comfort:

  Safety:

Best Amazon Shooting Glasses
When making an eyewear purchasing decision, determine how often you'll be using the safety frames. Also consider what targets you'll be shooting at, and what's important to you. If you're a shotgun shooter, I recommend frames that have the best open field of view. You don't want parts getting in the way of your peripheral vision. If you shoot at indoor ranges, you want a higher-quality lens that doesn't reflect or cause glare. However, if you shoot at an outdoor range, you want frames that pass airflow through them to not fog up. Finally, if you shoot at steel targets or near them, always wear ANSI-certified glasses for full protection.
Kenzie Fitzpatrick is a competitive shooter, firearms instructor, published writer in the industry, and the host of the Reticle Up podcast.