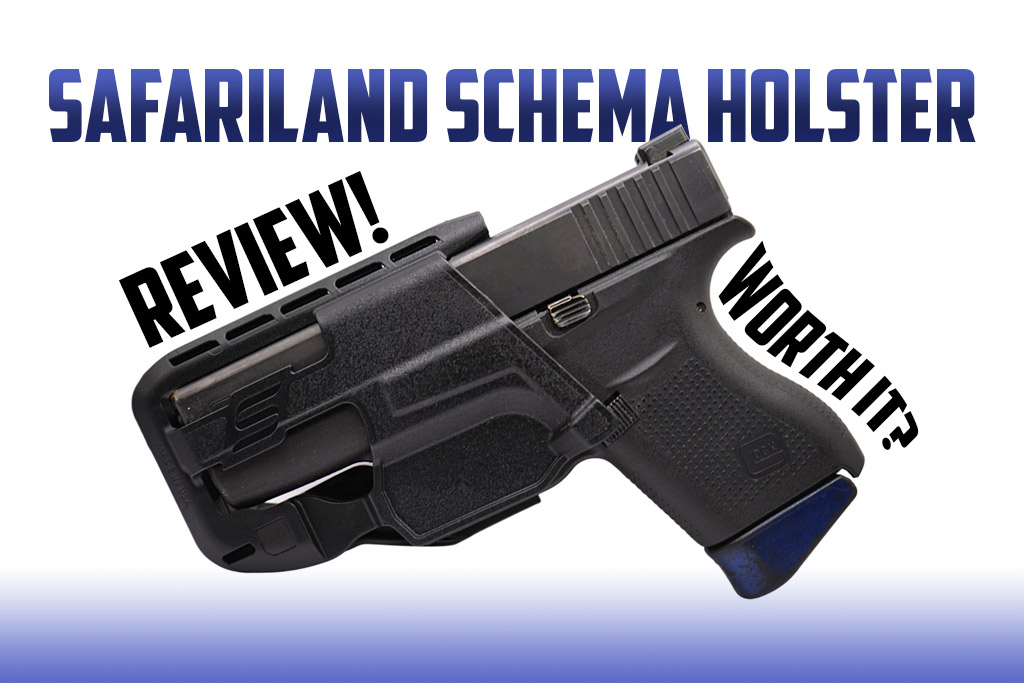 Safariland Schema Holster: Hands-On Review
Disclaimer: This page contains affiliate links, meaning we receive commissions for any purchases made through the links on this page.
Safariland released a new type of holster for concealed carry called the Schema. The Safariland Schema holster is an inside-the-waistband style that is by far the most minimalist-designed holster they've ever offered. If you're familiar with Safariland, they make various retention holsters for many gun models. Many of their holsters fit several gun models that are similar in size. The Schema is, I would say, far from the norm of what Safariland has produced in the past, so we were intrigued to get our hands on one of these new holsters and review it.
Safariland Schema Holster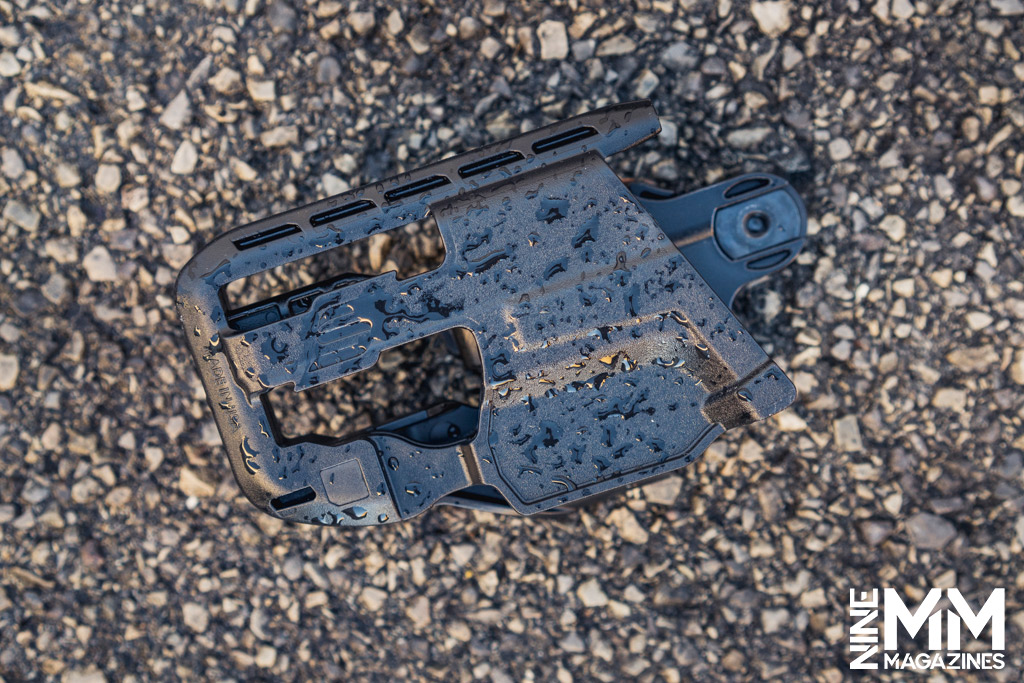 I would describe the Schema holster as a "skeleton" model holster. There is less "bulk" to the holster as they've cut down on its overall weight and material. The Schema still has passive retention, covers the trigger guard, and the gun audibly clicks into place. As you'll notice in the pictures, a plastic rod sits inside the gun's barrel to keep it more tightly secure. The injection-molded polymer holster is model specific to correctly to fit the gun and its iron sights.
It's optic compatible and, according to Safariland's website, will work with:
Romeo Zero

RMR CC

Shield RMS

Shield RMS-C

Swampfox Sentinal

Hex Wasp

Holosun 407K

Holosun 507K

J-point

Crimson Trace 1550

And similar optics
Adjustable Cant, Vertical Mounting, & Tilt Options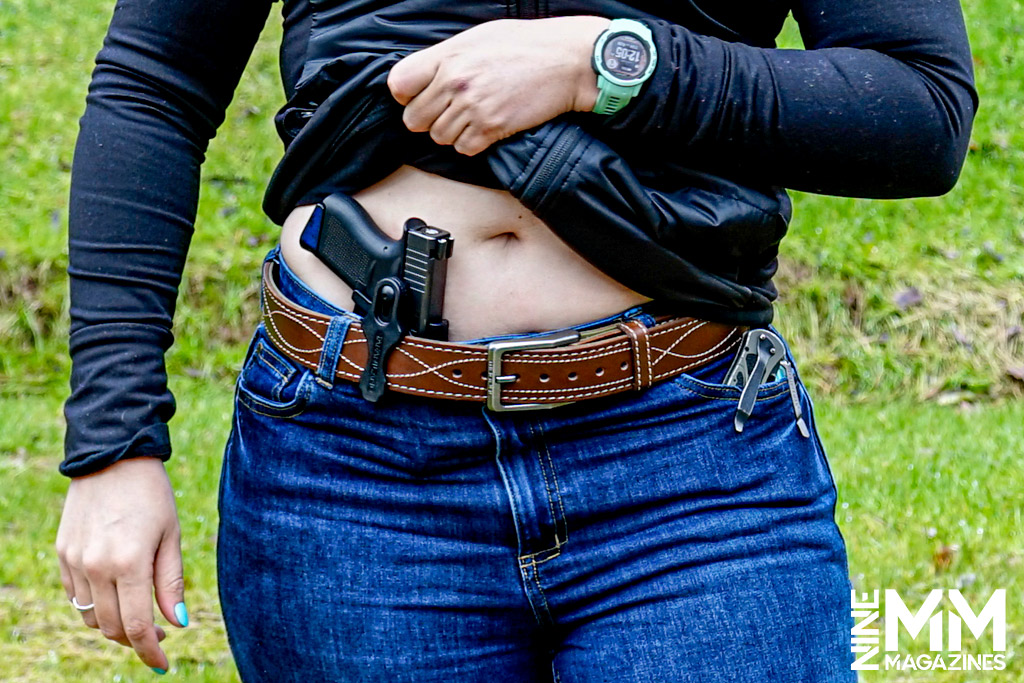 The plastic clip on the holster is adjustable for both cant and height. There is a single screw you loosen, and you can physically slide the clip up or down and rotate it left or right until you have it at the draw angle and carry height you prefer. Similarly, the screw underneath the gun's muzzle holds a small concealment panel that sits more flush against the inside of your waistband, similar to how a concealment claw would work. It is removable if you don't like the look or feel of it.
As with most skeleton holsters, the ability to adjust tilt is minimal. The carry side of the holster does have two flat surfaces near the top (left and right) where a foam pad or wedge could be added. The issue is subcompact guns are short, they tilt because the barrel isn't long enough to offset the size of the holster. The best way to deal with subcompact tilt is to place foam or a wedge near the bottom of the holster. Unfortunately, there isn't much real estate on the lower half of the holster to work with.
Safariland Schema Holster: Reinforced Mouth and Barrel Support
Whenever I get a new carry holster, I spend a lot of time dry firing and live fire training with it. Even if I'm not changing the position I carry the gun in, every holster is slightly different. The retention can vary, the feel of the draw can differ, and the grip angle of the weapon is almost always somewhat different. 
I can get familiar with the gun's draw, unholstering, and reholstering by dry firing and live firing. Safariland advertises that the Schema has a reinforced mouth to allow the firearm to be reholstered while it's on your body. I wouldn't recommend a holster that didn't allow you to reholster it while you're wearing it. It is easy to reholster, and the barrel support rod inside of the holster makes it easy to guide the gun into the holster.
Drawbacks: Safariland Schema Holster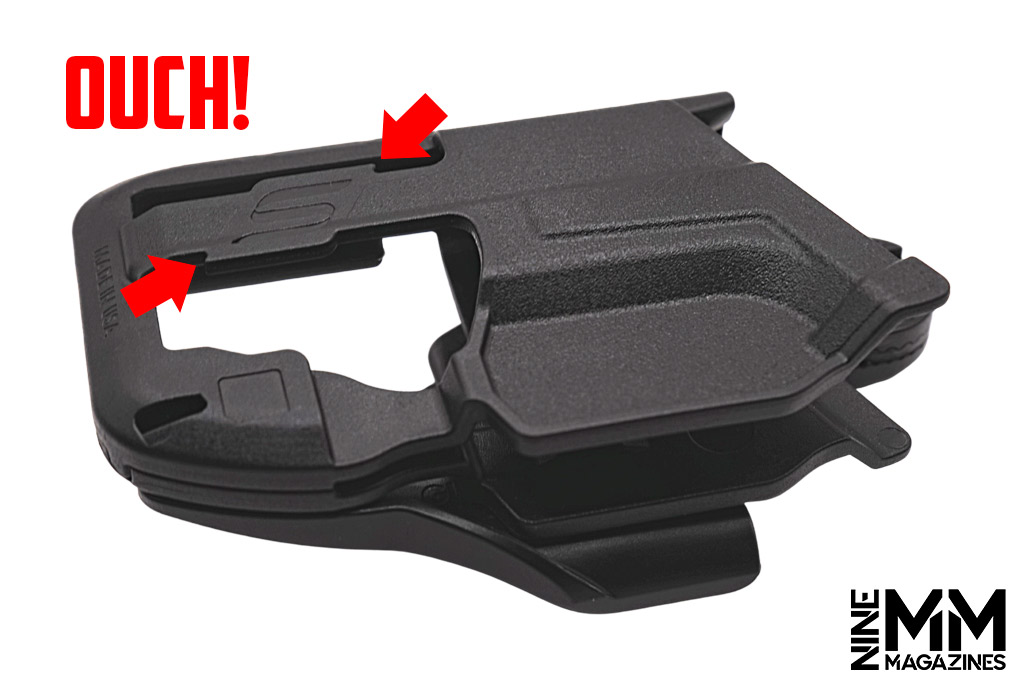 Right Hand Only?
Sorry, lefties! Right now, the Safariland Schema holster is only available for right-hand configuration. I assume they're testing the market and seeing how well it performs before moving forward with left-hand options. If you're in the market for an ambidextrous skeleton holster, be sure to check out the PHLster Skeleton holster. 
Does The Holster Promote Rust Development?
I wear the Glock 43 or another carry gun every day. Typically, I carry Appendix or at the 4 o'clock position, and I'm constantly sweating in warmer temperatures or from being outdoors. I also wear a gun in rain or snow, regularly exposed to the elements. I clean my carry gun often and try to keep it oiled as best I can.
For almost two months during testing, I wore the Schema every day. During week number two of testing, I noticed the muzzle of my gun began to show signs of rust. A quick wipe-down with gun lube took care of the problem. However, the oxidation was back again a week later. This isn't the end of the world, but I think having an exposed skeleton-like holster allowed the gun to be even more exposed to sweat, causing it to dry out faster, absorb that salt water, and rust quicker.
Is The Holster Comfortable?
I was slightly uncomfortable performing specific movements, and at random times I would feel a pinching or poking sensation from my holster. It took me a little bit to figure out what was going on. The Safariland "S" on the left-hand side of the holster that sits against your skin has these two sharp edges that, when you move just right, can cause some significant discomfort. 
Nowadays, we see holster manufacturers moving to leather or types of foam or neoprene backers that are more suited for all-day wear. We are also seeing more use of wedges or other support padding for inside the waistband carry. No matter what, I think the open design on the inside of the waistband is a failure because of these rough and sharp edges and the exposure to sweat and body oils.
Barrel Obstruction?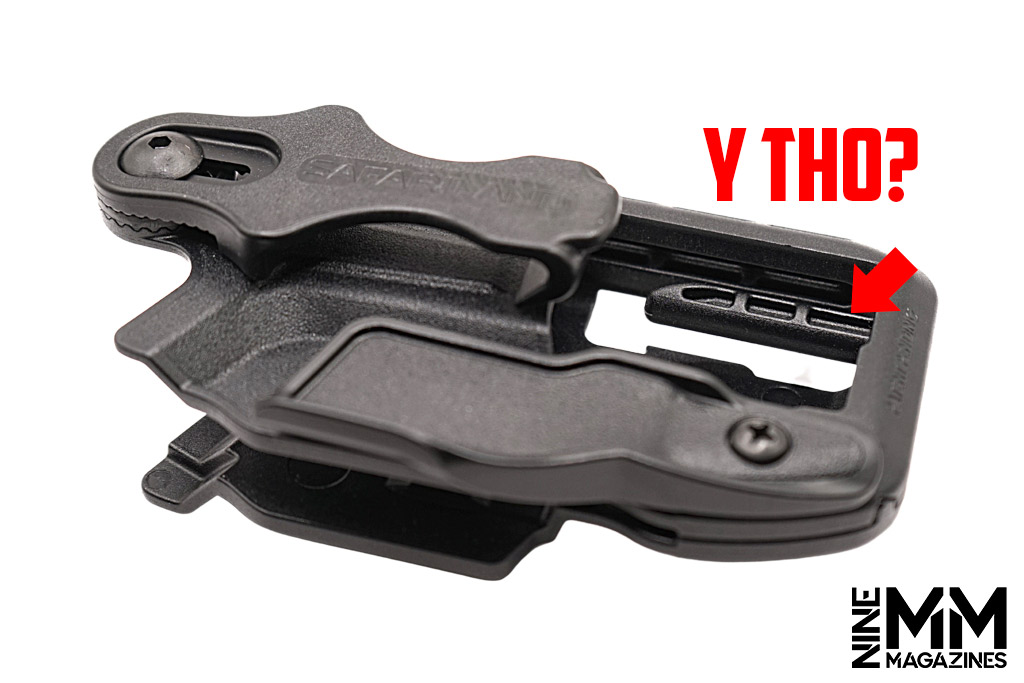 Be aware, when you are holstering a handgun into the Schema, there is a post at the bottom of the holster that slides into your barrel. While this post isn't technically a violation of the rules of gun safety, it does make me hesitant to recommend the holster to new gun owners. To safely holster your handgun, you must have your barrel aligned with this post. The reinforced mouth and sight notch at the top of the holster do a good job of helping you achieve alignment. However, on more than one occasion, I had to look down and watch myself reholster the Glock 43 to ensure proper alignment. 
Compatibility Of Gun Models
Currently, the Safariland Schema holster is only made for specific firearms by Glock, Sig Sauer, Springfield Armory, and Taurus. The holsters are limited to smaller, more compact, and subcompact pistol models. For example, the Schema is only available for models Glock 43 and Glock 43Xs. I suspect they are also testing the market for this holster's popularity and will add more gun models depending on how it sells. The gun models they've chosen could also be because full-size guns require more supportive holsters than the lightweight Schema can offer.
Reviewer Experience: Safariland Schema Holster
I now have an overflowing plastic storage container in my gun room full of holsters, magazine pouches, belly bands, and other carry systems. If there's something new to try, I'm all about testing and seeing if it lives up to the hype. I've yet to fail in finding a holster, band, or another carry method that works for my students, friends, or family. By having a container full of options, I can almost guarantee one, if not more, will work for them.
I'm a firearms instructor, competitive shooter, and carry-every-day-of-my-life kind of gal. I have a mix of holsters I like to use, depending on the gun. My choice also depends on the position I prefer to carry and the clothing I plan to wear that day. Without physically trying the holsters for myself, I don't recommend them to friends, family members, or students. 
I want to see if I can break it or if it's long-lasting, and I'm testing if it's comfortable. If it's not, I won't wear it daily, nor would I recommend anyone else do so. My goal is to remove any excuses for someone not being able to carry a gun daily. If it doesn't pass my standards of what a holster should live up to, it ends up in the trash. A cool-looking product that doesn't perform as intended is not worth costing someone's life or entrusting my personal safety to it.
Price VS Value
The price of the holster is $39.99, which for most holster manufacturers, is a very competitive price. Most minimal Kydex holsters start at around the $79 price range. To further put things in perspective, T. Rex Arm's inside-the-waistband holster starts at $100.00 for the holster, and additional attachments increase from there. 
The PHLster Skeleton holster is the most comparable and is designed for more compact carry guns. That model starts at $59.00. The Schema may have won the price value, but the comfort of the holster is not nearly as comfortable as the PHLster skeleton and T.Rex arms sidecar holsters. As the saying goes, you get what you pay for.
Safariland Schema Holster: Buy?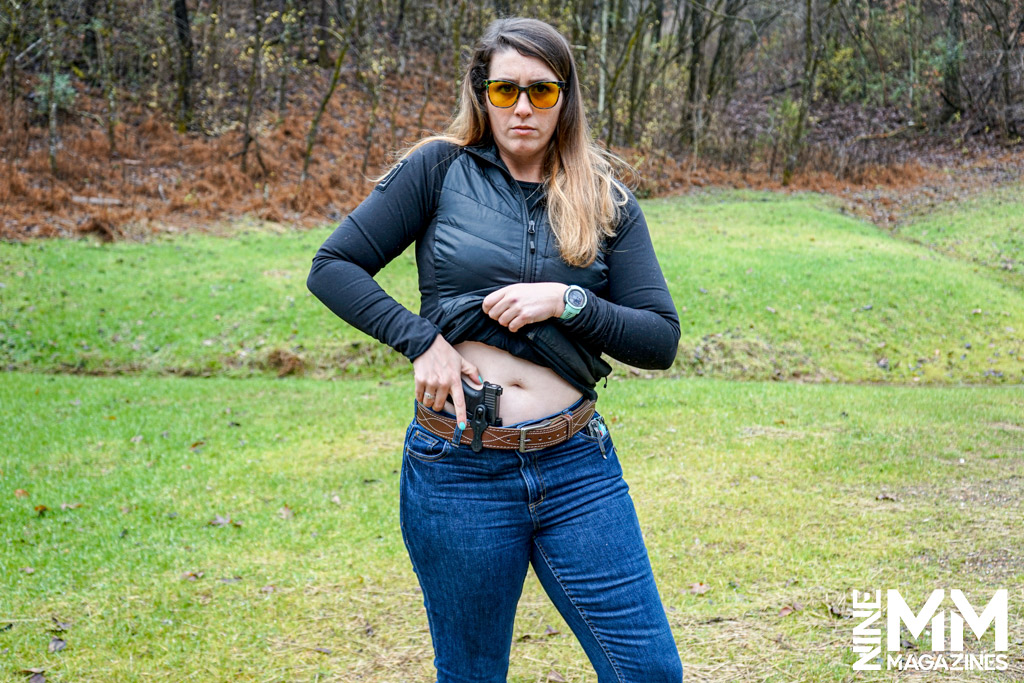 The Safariland Schema holster is a good (not great) option for a simple holster if you have a small budget but need to carry your gun. Its skeletonized form is very lightweight, and I didn't have any issues with printing while carrying the Glock 43. Other popular subcompact models like the Taurus G2C should be easy to conceal as well. Its minimalist design is up to par with retaining the gun and perfectly fitting the firearm it was molded for. As far as skeleton holsters go, it securely carries your gun concealed and is a valid holster option.
Is there room for improvement? Yep. For starters get rid of the sharp edges on the carry side of the holster. Adding a lower sweat guard would help keep debris and bodily fluids away from the muzzle while giving you a place to add foam wedges for tilt. I'm not an engineer, however, the 1.5″ post at the bottom of the holster seems a bit much. If it's absolutely necessary to the design, why not make it 5/8″ so it's easier to holster and align? It would still serve the same purpose of minimizing movement and keeping debris from getting in the barrel. 
Overall, it's recommended, but with certain reservations. If Safariland makes improvements, I'll update the article to include them.
My overall rating of the new Safariland Schema Holster: 3/5

Kenzie Fitzpatrick is a competitive shooter, firearms instructor, published writer in the industry, and the host of the Reticle Up podcast.