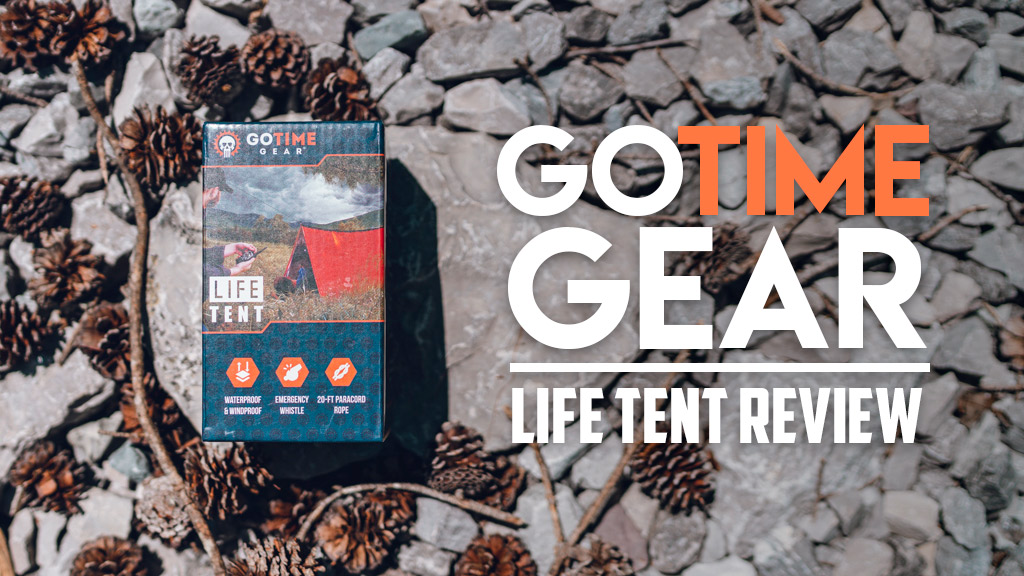 Life Tent – Go Time Gear Review
Disclaimer: This page contains affiliate links, meaning we receive commissions for any purchases made through the links on this page.
You may have heard about the Life Tent if you're a traveler, adventurer, hiker, or hunter. The Life Tent by Go Time Gear is a portable emergency tent you can easily store in a backpack, range bag, or car console. 
The Life Tent is a large emergency blanket manufactured into an ultra-portable tent. Think military pup tent, but without the hefty canvas build. The Life Tent weighs about 8 ounces, and it helps protect against the dangers of hypothermia by providing protection from wind, rain, and snow.
Does the Life Tent hold up to its promises? Could you rely on it in an emergency? This review will discuss the functions of the Life Tent — and some pros and cons I found along the way. 
What Is The Life Tent?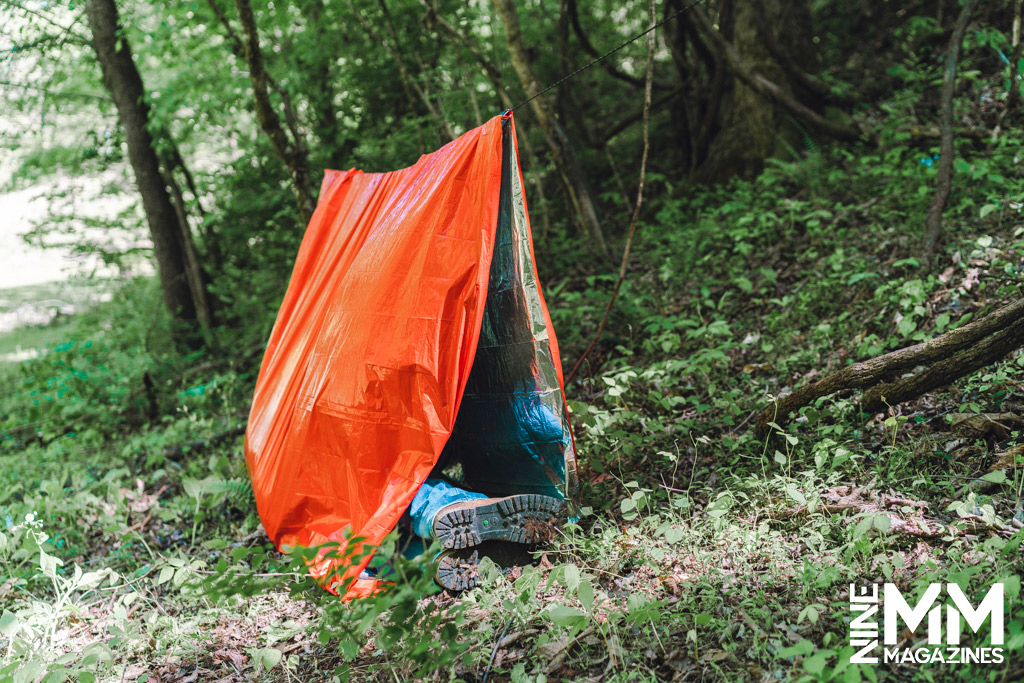 The Life Tent is an emergency tube tent designed to prevent you from developing hypothermia in an emergency. A tube tent is exactly what it sounds like: a tent built like a tube with two open sides. 
When you set up the Life Tent correctly, the tube will look more like a triangle, as a paracord line runs through the middle of the tent to create a pitched roof. 
People who should consider carrying the Life Tent: 
Backpackers 

Hikers 

Hunters 

Travelers 

Guides 

Outdoorsmen of all kinds
The tent is designed to pack down into the size of a 12 oz can of soda. It's a quick and easy way to fend off the environment. Many people don't realize that cold exposure is one of the most severe threats in an emergency or survival situation. 
Everyone worries about food and water (which is a valid concern), but cold weather can be a danger long before starvation or dehydration. Lack of water will stop you in three days, while cold weather can thwart you in three hours. 
Let's talk about what you get when you buy the Life Tent. We'll discuss specs, features, and pros and cons. 
What's In The Box?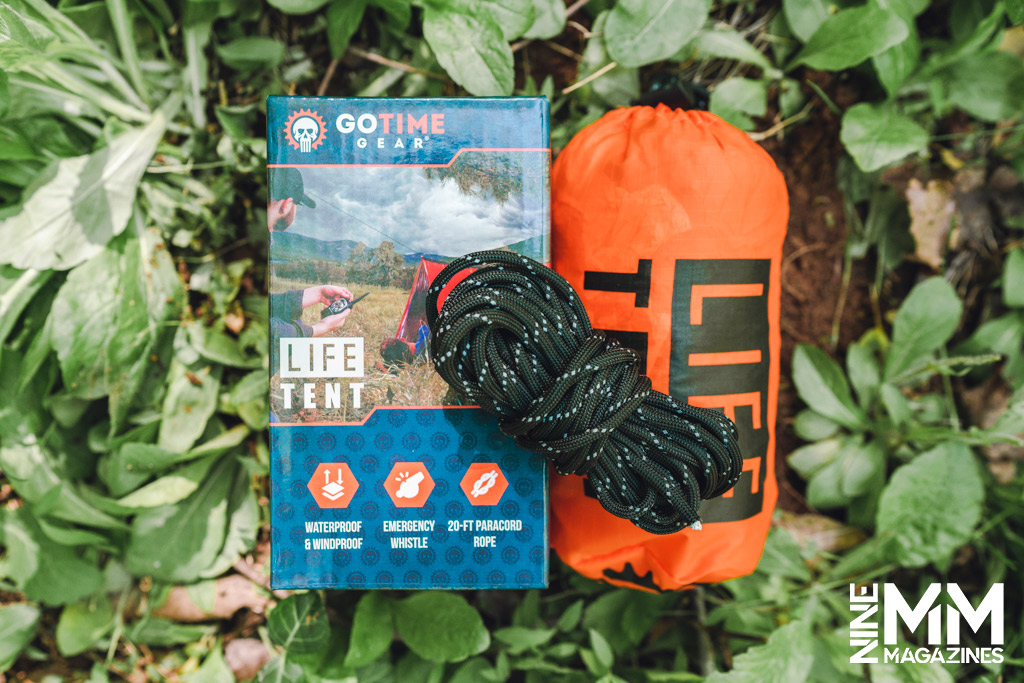 When you buy the Life Tent, you'll receive the bundle in a cardboard box. The box will list the inside features and has a small graphic demonstrating how to set up the Life Tent. 
What do you get when you buy the Life Tent? Let's look at a quick list. 
Included With The Life Tent: 
Polyethylene tent: The tent comes folded and neatly packed within the drawstring pouch. As you'll see, the tent is packed snugly but not so snuggly that you'll have trouble removing it (or repacking it)

Twenty feet of paracord: The twenty feet of paracord is folded and stored within the pouch. The paracord is there to string between two trees, allowing you to suspend the tent's center. 

Nylon drawstring pouch: The drawstring pouch is a nice feature, providing protection to the tent and being easy to handle. The pouch has another small length of paracord that acts as a drawstring.

120 Decibel whistle: Attached to the end of the paracord drawstring is the emergency whistle. It's attached to the paracord through a friction mechanism and can be easily removed. The whistle is small and plastic, but it's loud if you want it to be. 
And that's pretty much what you get. It all packs nicely together, and there's even a little (very little) extra room in the drawstring pouch if you want to store some waterproof matches. 
Life Tent Specs (Weight, Size, Dimensions) 
Let's run through a few specs of the Life Tent. Some of you might be backpackers or hunters who can't afford to carry anything that isn't earning its weight. That said, we'll get down to the inches and the ounces. 
Specifications Of The Life Tent: 
Weight when packed: 8.7oz

Size when packed: 3 inches in diameter, 6 inches tall (the size of an energy drink)

Size when opened (as a tent): 94 inches long and 58 inches wide at the base 

Material of tent: PET mylar (feels more like plastic than foil, it's quieter) 

Material of pouch: Nylon 

Tent capacity: 2 people when deployed properly 

Body heat rating: made with a reflective interior designed to capture 90% of body heat

Color options: Orange, green, and yellow. 

Price: Around $21.99 (Amazon)
Now, let's talk about tent setup. 
How Do You Set Up The Life Tent?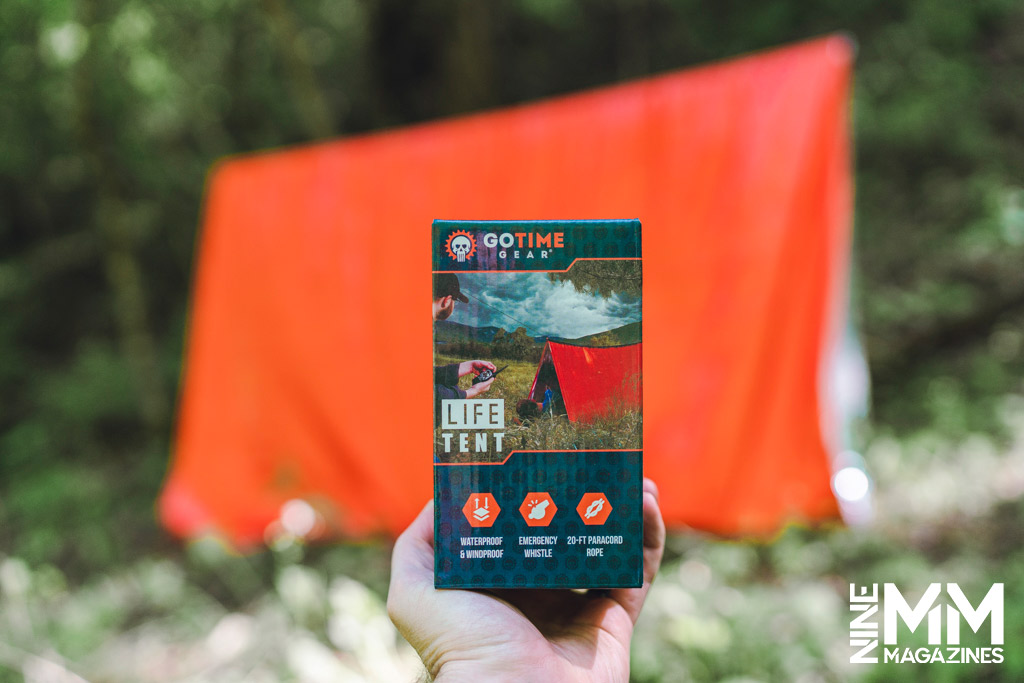 Life Tent setup is designed to be simple; however, if you've never used it before, I recommend getting it out and going over everything. The last thing you want to do is try to figure out something new in an emergency. 
Setting Up The Life Tent: 
Find a suitable spot between two trees: The trees don't need to be large but relatively sturdy. Also, remember that you only have 20 feet of paracord (unless you happen to be carrying extra), so the trees will need to be pretty close together (17 feet apart was too far when I set it up). 

Unroll the tent and feed the paracord through it: now that you've found a good spot (remember to look out for dead branches above), you can unroll the tent and feed the paracord through it. 

Tie off the paracord to the trees: After you tie off the paracord, the tent will be up off the ground. Ensure that the cords are secured tightly. But it won't look much like a tent yet. 

Use stones or sticks or gear to hold the corners in place: To make the tube tent look more like a tent, you'll need to use weights of some kind to secure the corners. After you've done this, the tent should be ready to crawl into. 
Is It Easy To Set Up? 
I found the setup relatively simple, though even a light breeze makes it more difficult. Here are a few tips to make it easier. 
Tip #1: Set stones and sticks in the corners before you tie the tent between two trees. Doing this will ensure that the wind doesn't win the battle. 
Tip #2: If you want to close one of the sides, you can grab hold of it and tie it together, sort of like a trash bag. Closing one end will help block some of the wind. 
Now, let's review a few pros and cons of the Life Tent. 
Pros Of The Life Tent 
While the Life Tent isn't perfect, there's a lot to like about it. After setting it up and handling it in the great outdoors, let me tell you what I enjoyed about it. 
Benefits: 
It's warm and comforting:

I like the idea of an emergency tent paired with an emergency blanket. The tent offers a structure that provides comfort. As I was using it, I could feel the warmth reflected at me. 

It's portable

: Both the lightness and portability are appealing, and I believe this tent has a place in an emergency preparedness kit.

It will do the job:

In an emergency, I do believe this tent would work to provide warmth and shelter. I would store this tube tent as a backup to a more robust shelter in my emergency kit, particularly on an expedition. 
Cons Of The Life Tent 
The Life Tent has a few downsides you should be aware of. I believe this tent would perform well in an emergency, but buyers should keep several negative points in mind. 
Downsides: 
It's not super durable:

While it has a functional level of durability, this tent will tear easily. Similar to the Life Bivy, I think the advertising oversells (see note) the "toughness" of this tent. I would compare it to an average trash bag – it is not nearly as durable as a tough, industrial-grade trash bag. It will most likely do the job, but don't expect it to be "ultra-durable." 

The sides are open:

When you set this up correctly, both sides are open to wind and rain. While you can tie the sides off, remember this, particularly if you plan to use it in rainy environments. 
Note: In one instance, the company shows an infographic that depicts a screwdriver being pushed into the tent, insinuating that the tent would be resistant to a puncture from a screwdriver – in my opinion, this kind of advertising is stretching the limits of honesty. 
I even tried it myself, gently pushing a flathead screwdriver into the tent – it popped through the tent with nearly no force, about as easily as my finger goes through the plastic wrap protecting my chicken sandwich. I think the Life Tent is a good product, but I think the advertising takes things a step further than "puncture resistance" truly warrants. 
Conclusion: Should You Buy the Life Tent?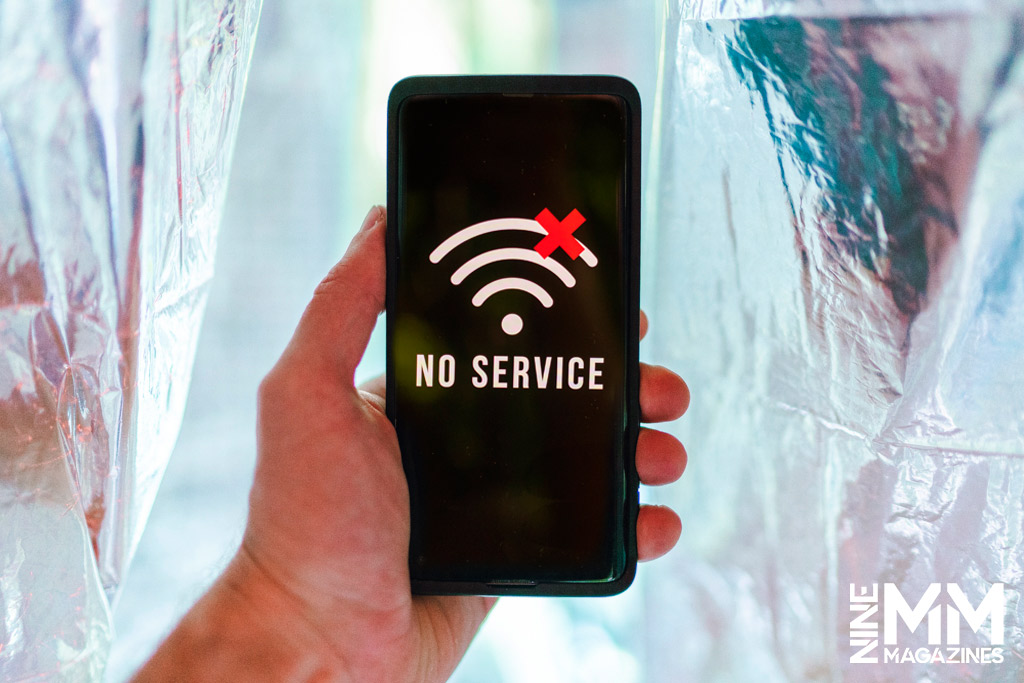 The Life Tent is a solid option if you're looking for a simple, relatively inexpensive backup tent. Combining the Life Tent with the Life Bivy will give you two tools for safety from the cold. 
Is the Life Tent built to handle battle? Probably not. While they say it's reusable, I wouldn't plan on using this regularly. Instead, I'd place this in my backpack as an emergency. That said, what you lose in toughness, you gain in portability and lightness, and this may be more important, depending on how you intend to use it.
Overall, the Life Tent is a nice setup, and I appreciate the manufacturers working to shed light (and warmth) on the dangers of hypothermia. 
My overall rating of the Go Time Gear Life Tent: 4/5

If you're curious about more cold weather protection, check out this review of the best shooting gloves.
Guest writer Gideon Zielinski is a nationally registered paramedic.