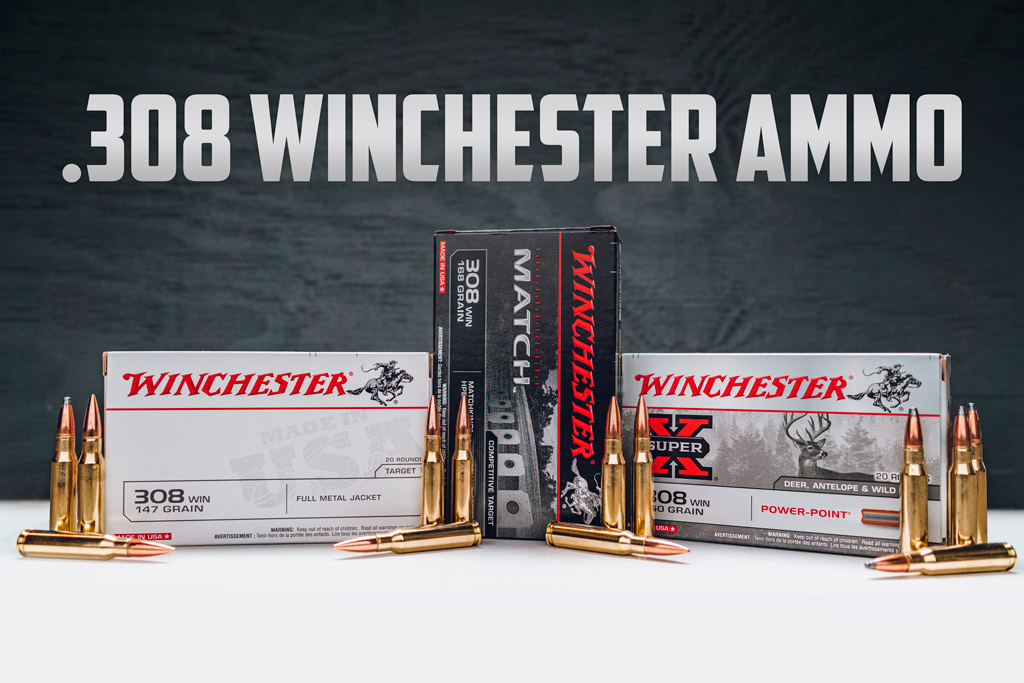 308 Winchester Ammo: American Icon
Disclaimer: This page contains affiliate links, meaning we receive commissions for any purchases made through the links on this page.
The .308 cartridge was released nearly 90 years after the Winchester Repeating Arms Company was founded. However, this centerfire rifle round is arguably the most popular projectile on the planet. 308 Winchester ammo is utilized for hunting, precision shooting, and defense applications. Its nearly identical relative, the 7.62X51mm NATO cartridge, is trusted by military entities the world over. It's easy to see why its popularity has remained. 
Since Winchester developed the .308 cartridge in the early 1950s, numerous other firearms manufacturers have started producing this popular round. Although many of these iterations exhibit excellent ballistic performance, Winchester's own lineup of .308 cartridges stays strong. From Power Max, to Super-X, and PDX1 Defender, they have a cartridge ready to get the job done. 
Below, we briefly explore the history of the Winchester Repeating Arms Company. Take a closer look at Winchester's top .308 cartridge for hunting, defense, and precision shooting applications. As well as, make recommendations so that you can choose the best round for your needs.
Best 308 Winchester Ammo
The Winchester Repeating Arms Company produces over a dozen different .308 cartridges. All of which incorporate unique design features and bullet grain weights. For the sake of time, we will focus on four of their premium cartridges. Each of these designs is created by Winchester for a specific application.
Hunting Ammo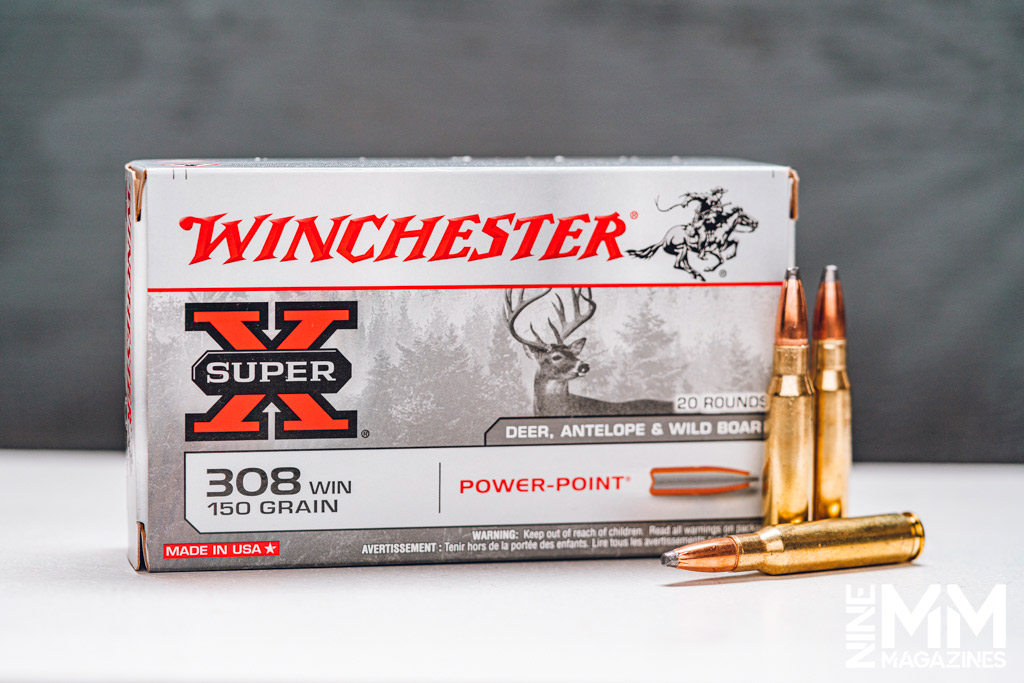 It is impossible to discuss Winchester .308 hunting cartridges without mentioning the Super X. Winchester released the Super X line in 1922 and began offering a .308 variant of this hunting cartridge shortly after inventing the projectile in 1952. The .308 Super X is designed for deer hunting applications.
The Super X .308 cartridge includes a 150-grain projectile, strategic notching to aid with expansion, and a contoured jacket. It also features the famous Winchester "Power-Point."
From the muzzle, this projectile travels at 2,820 fps. At 300 yards, this figure declines to approximately 1,960 fps. The Super X produces 2,648 ft-lbs. of energy at the muzzle.
If you are interested in taking on larger game, the .308 Winchester Power Max Bonded cartridge is a great go-to option. This 180-grain projectile features a hollow point, contoured jacket, and bonded lead core. The Power Max has a muzzle velocity of 2,620 fps and muzzle energy of 2,743 ft-lbs. 
Range Ammo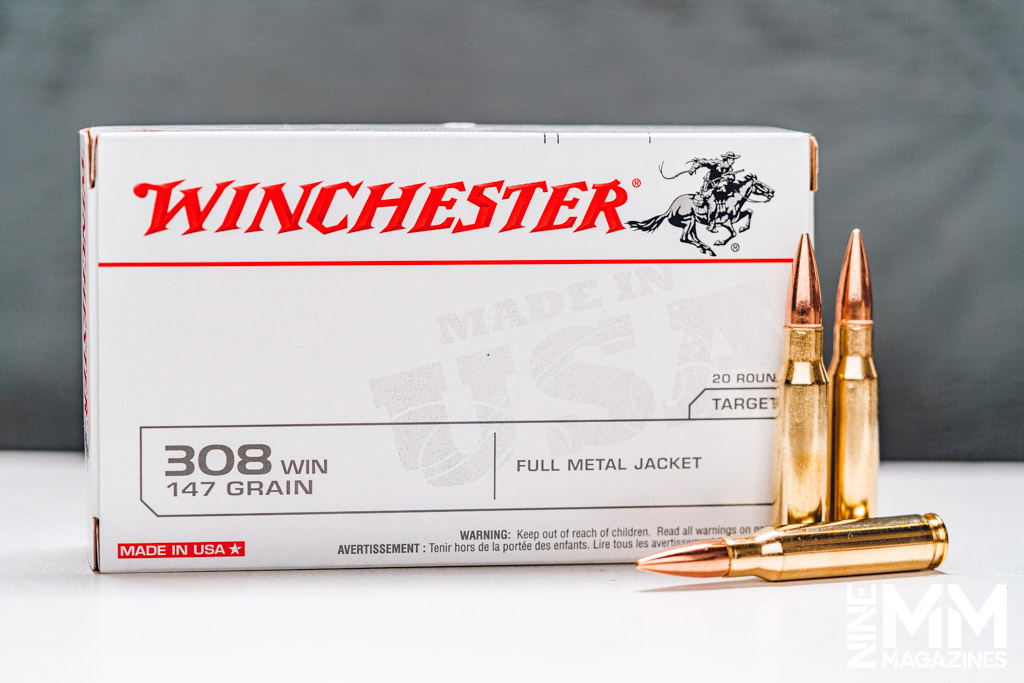 Let's not forget about the round that started it all for 308 Winchester ammo. The FMJ (full metal jacket) is still the most widely used bullet type among .308 rifle owners. It's the perfect round for training, plinking, or sighting in optics at the gun range. Winchester's distinctive "White Box" ammo has been a staple on sporting goods shelves and in online inventories for decades. The 147-grain FMJ projectiles offer an outstanding value, with made-in-the-USA quality and consistency.
From the muzzle, these rounds produce a velocity of 2,800 fps and energy of 2,559 ft-lbs. In terms of velocity, they stay above the 2,000 fps mark until reaching 400 yards, where they drop to 1,987 fps. Bullet drop is respectable, holding even at 0 at 200 yards. At 300 yards, it has a trajectory drop of -13.6."
While you can pick up individual 20-count boxes, buying these in bulk lots of 200 rounds will save you some coin and give you more time to enjoy yourself at the range.
Defense Ammo
Winchester also manufactures some great rounds for use in modern sporting rifles, such as the AR-10 platform. A perfect example is the PDX1 .308 Defender, which contains a 120-grain projectile, protected hollow point, split-core, and tapered copper alloy jacket. The PDX1 produces a muzzle velocity of 2,850 fps and muzzle energy of 2,164 ft-lbs. 
In addition to the PDX1, Winchester also manufactures a 150-grain projectile known as the Silvertip. This projectile is equipped with a polymer tip to maximize expansion. A lead core to optimize energy transfer, and a corrosion-resistant nickel-plated jacket. This projectile has a muzzle velocity of 2,620 fps and a muzzle energy of 2,286 ft-lbs. 
Precision Shooting Ammo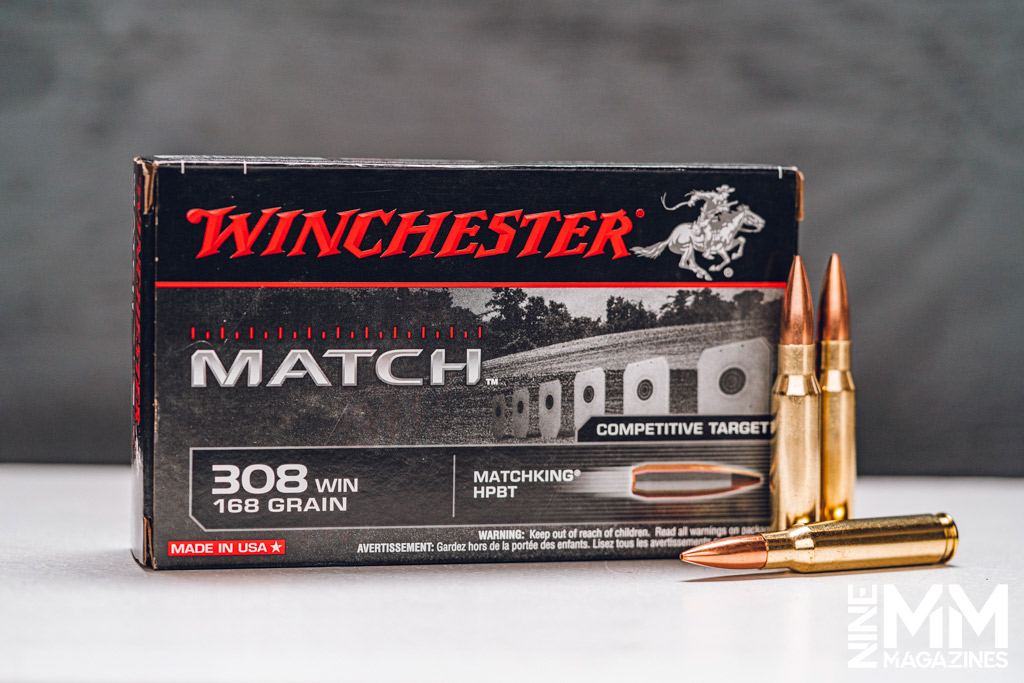 Let's round things out with one of Winchester's premier competition cartridges, the .308 Match. This 168-grain projectile is designed specifically for competition settings, but Winchester also states that it is suitable for deer hunting. If accuracy and consistency are at the top of your checklist, this is the round you've been looking for.
The .308 Match incorporates a hollow point boattail design and match-style tip. It's one of Winchester's most proven bullets. The heavier grain weight makes it optimized for use in rifles with a twist rate between 1:7" and 1:9". Faster twist rate barrels are ideal for use with heavier projectiles, like this 168-grain bullet.
The .308 Match has a muzzle energy of 2,680 fps and muzzle energy of 2,680 ft-lbs. At the 200-yard mark, it has a trajectory of 0. At 300 yards, it has an impressive trajectory of -8.7."
History Of 308 Winchester Ammo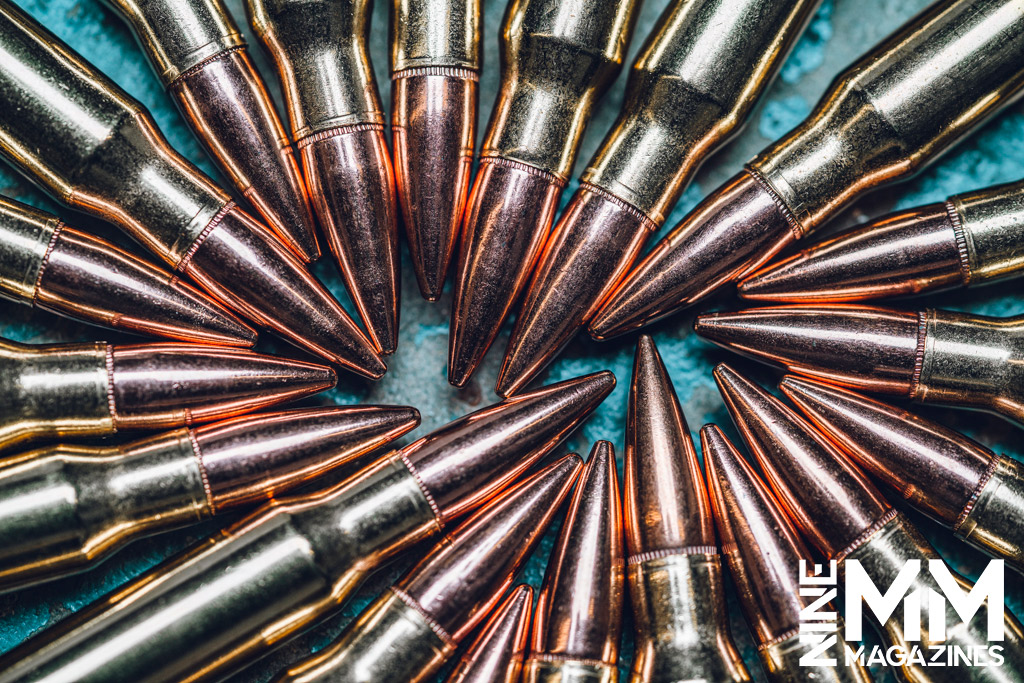 Oliver Winchester founded the Winchester Repeating Arms Company in 1866. Five years after launching the company, Oliver Winchester was pivotal in the founding of the National Rifle Association. While these were noteworthy achievements, Winchester's most iconic work of the 1800s was the Model 1873 lever-action rifle. Chambered in 44-40 WCF, this rifle is widely referred to as the "Gun That Won the West."
The company continued to produce innovative firearms throughout the remainder of the 19th century. A few of the most notable include the Model 1894 lever-action rifle and the Model 1897 pump-action shotgun. Winchester also launched its first smokeless centerfire cartridge line in 1895, including 30-30. 
Winchester At War
Shortly after the turn of the century, Winchester releases the Model 1912 pump-action shotgun. Two years later, World War I begins. Causing several nations to turn to Winchester to meet their growing need for reliable weaponry. Specifically, Winchester produced approximately 250,000 Enfield rifles for the British Army. 
The company also manufactured a modified version of the Enfield Number 14 for U.S. troops and dubbed it the Model 1917 Enfield. This Americanized version of the bolt action rifle was designed to fire the 30-06 Springfield cartridge.
Over the next several decades, Winchester continued to develop innovative new cartridges and improve upon existing products. When WWII broke out, Winchester assisted by manufacturing hundreds of thousands of weapons for U.S. troops.
By the 1950s, the U.S. military was becoming increasingly reliant on semi-automatic and automatic weapons. As such, they were searching for a replacement for the 30-06 Springfield cartridge. While the 30-06 is a great round, it has a long case length. This increases the likelihood of malfunctions when used with semi or fully-automatic weapons.
In order to remedy this issue, Winchester developed the .308 cartridge. This slightly smaller cartridge has similar ballistics performance but performed more reliably in modern weapons. They quickly adopted the Winchester .308 projectile. It is the standard ammo for the North Atlantic Treaty Organization (NATO), although they refer to it as 7.62X51mm NATO.
In-stock 308 Winchester Ammo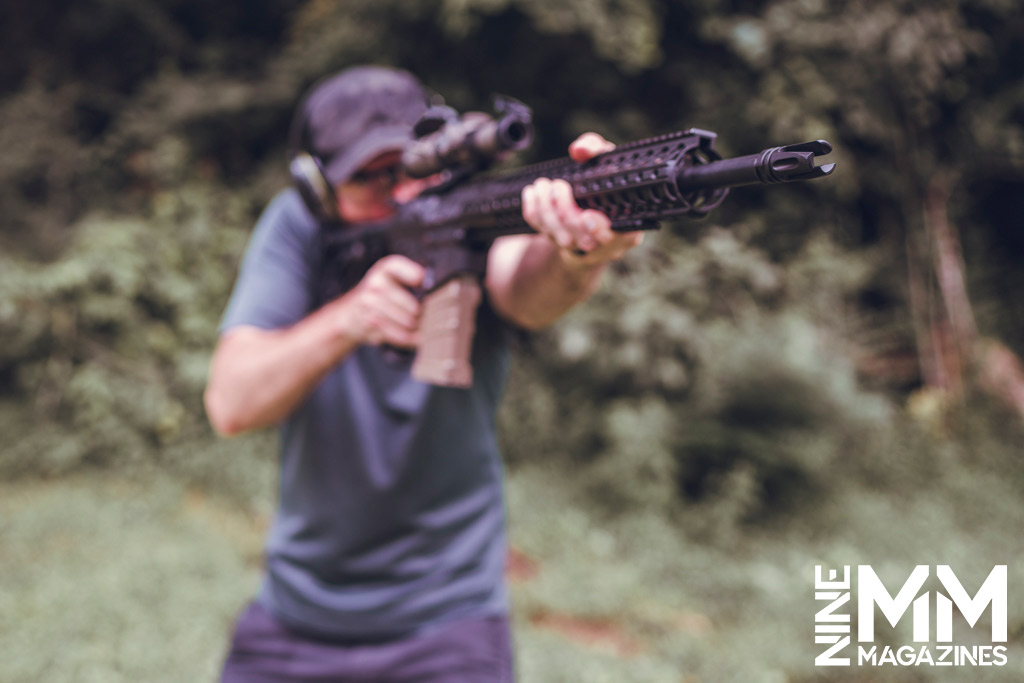 There you have it. That rounds out our recap of the top 308 Winchester ammo on the market today. All of the cartridges outlined above exhibit the quality and performance that has become synonymous with the Winchester name. The Winchester .308 cartridge remains one of the most iconic projectiles in production today. It is great for hunting, home defense, and match shooting applications. If you are looking for reliable and accurate ammunition, you can't go wrong with Winchester. View additional ammo reviews at the link here.