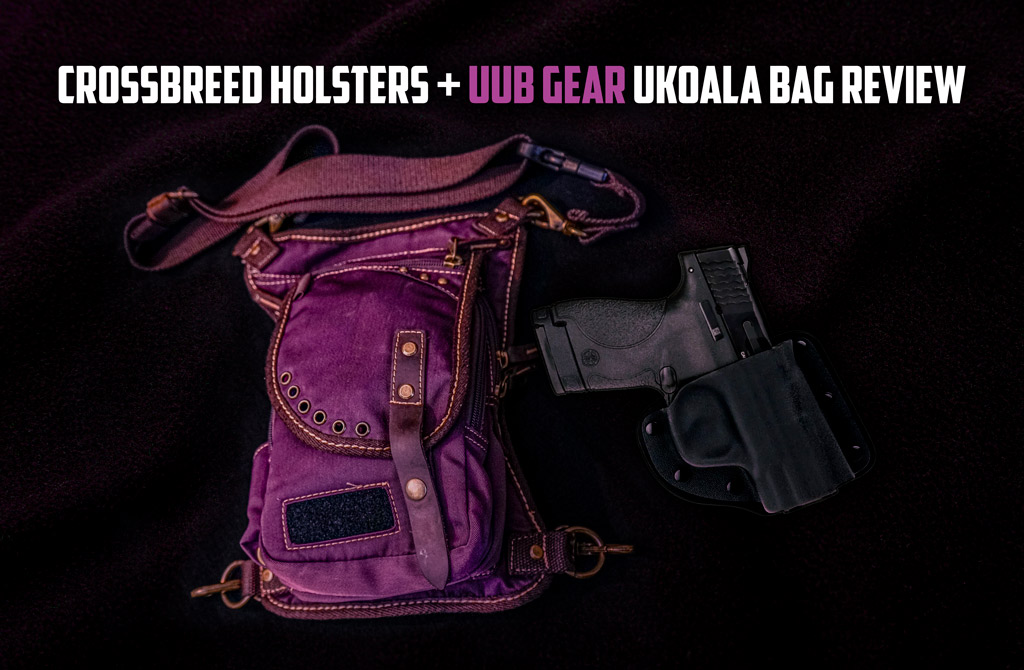 UUB Gear Ukoala Bag Review
Disclaimer: This page contains affiliate links, meaning we receive commissions for any purchases made through the links on this page.
If you haven't heard of UUB Gear, they make great quality bags dedicated to concealed carry. They're unique, quirky, and beloved by a variety of communities. They also happen to work well with the CrossBreed Holsters modular holster. These bags have multiple configurations:
Around the waist

Against a thigh 

As a backpack

In front of your chest, and more
UUB Gear specifically designed the Ukoala line of bags for concealed carry with a compartment featuring a sewn-in Velcro panel. This accommodates a Velcro-backed holster like the Modular holster from CrossBreed Holsters. There are magnets that connect to each other rather than a zippered pouch or button for easy access to your gun when you need it most.
Concealed Carry…In A Bag?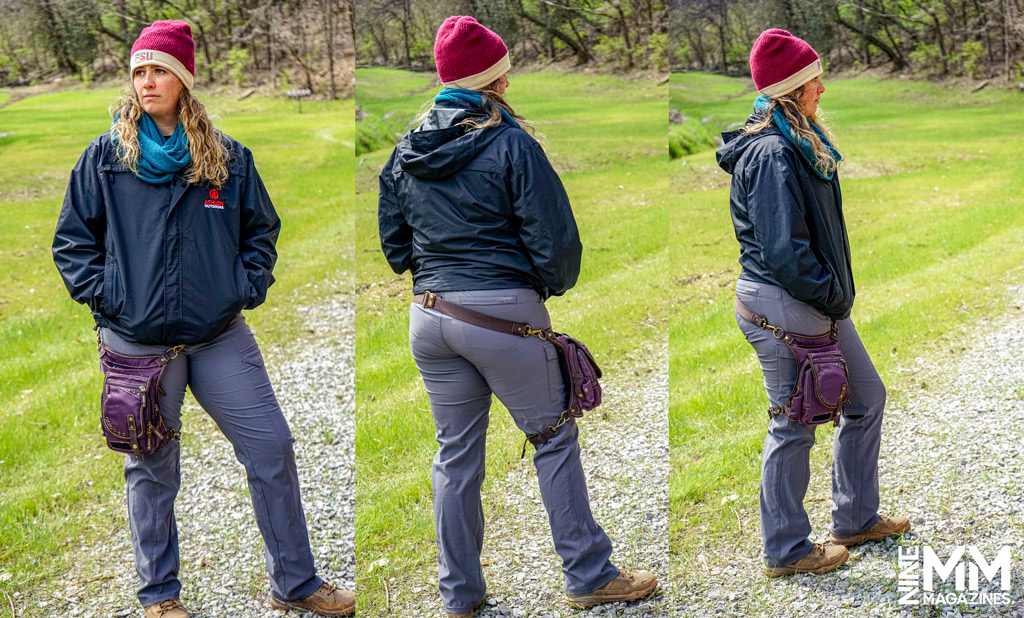 I support carrying a gun on your body at all costs. Still, if I have to off-body carry because of clothing or comfort, I prefer to wear a front-facing bag with easy access to my concealed pistol. 
Carrying a gun in a cross-body or shoulder bag can be dangerous because purses are usually the first target for an assailant. If that bag is across your body or on your shoulder when someone pulls it, you can go down with the bag. 
My favorite aspects of the UUB Gear Ukoala bag are that the main strap around my waist usually stays hidden underneath my t-shirt. At the same time, my holstered gun stays at a comfortable drop and offset level in front of my dominant hand. The bag is very practical, with other zippered compartments for storing personal items. It also has loops for holding a flashlight or chapstick, and more Velcro backing to keep a spare magazine if needed. 
Never seen one of these bags? Let's dive in!
UUB Gear Phoenix Bag 
I've been using UUB Gear's Phoenix model bag for over six months now, and I have to say, I can't live without it. The essential information you need to know about this bag is that it comes in a compact, standard, and expanded size. You should be most interested in the standard size for concealed carry. The outer material of this bad is water-resistant nylon, which I've tested. It protected my belongings and gun from water with no problem. 
The intriguing part about the Phoenix bag is it has two Velcro-lined compartments. One main pocket will fit a full-size pistol, while the other compartment works for smaller-size handguns. I've used an IWI Masada Slim, Sig Sauer P365XL, and a Glock 43 with this bag. All concealed nicely without any hint of a gun in plain sight. 
One of these compartments closes with a magnetic closure. The other closes with a zipper and stays hidden under the outer flap of the bag. You should practice often with your carry method and firearm. But if you don't, I highly recommend the outside compartment closed by a magnet because it's the fastest way to draw your firearm. In a defensive situation, you won't have time to fiddle with flaps and zippers to get to your gun. 
How Does It Work?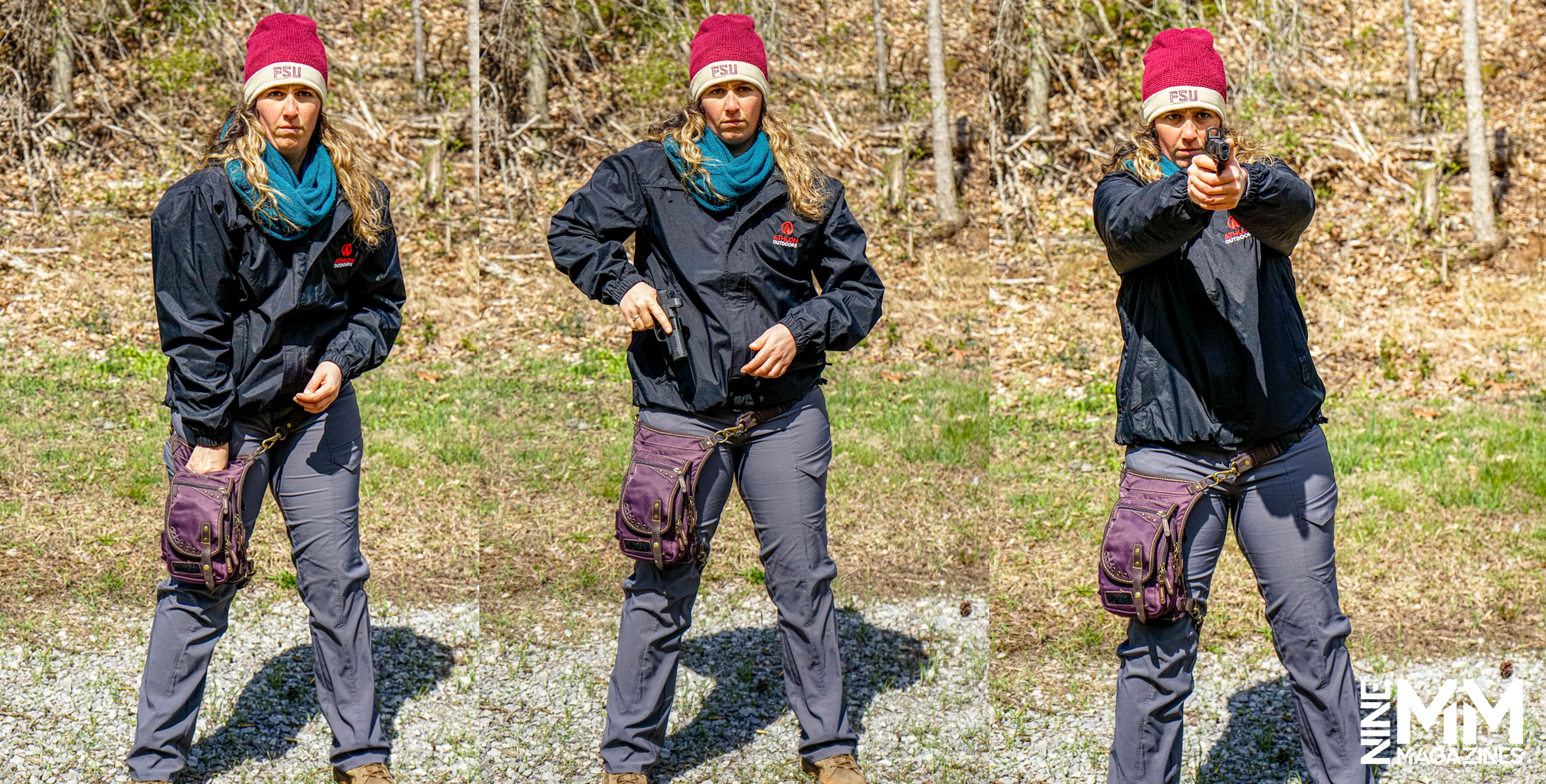 There are two straps to the Phoenix bags for how I set it up. The included waist belt wraps comfortably around my waist and buckles near my hip. This belt is adjustable, which is great. Once you have the fully loaded firearm in your bag, you might need to cinch it to hold the gun's weight. The leg belt is also adjustable and straps around my right thigh. 
The leg belt should be comfortable for walking or running but tight enough to pull your gun out of the holster, the bag doesn't ride up. That leg belt keeps the bag in place while maintaining proper holster retention. They also sell extension pieces if you need more length in either belt. 
Phoenix Bag: Three Sizes, Each With Eight Pockets
| NYLON | COMPACT | STANDARD | EXPANDED |
| --- | --- | --- | --- |
| Back Pocket (Magnet) | 5.5″x8″ | 6.25″x8.5″ | 7.5″x9″ |
| Main Pocket (Zipper) | 5″x7.5″x1.75″ | 6″x8″x1.75″ | 6.5″x8.2″x2″ |
| Front Pocket (Zipper) | 5″x7″x1.5″ | 6″x7″x1.5″ | 6.5″x7.5″x1.75″ |
Adjustable Waist Belt & Leg Strap Sizes
| | Length To | Fits Up To Size |
| --- | --- | --- |
| Leg Belt (Included) | 10″ To 22″ | 33″ |
| Waist Belt (Included) | 18″ To 47″ | 54″ |
| Waist Belt Extension (Not Included) | Adds: 16″ | 70″ |
CrossBreed Holsters: Modular Holster
The UUB Gear bag is not useful on its own. You need a proper holster that is Velcro backed to carry your gun in this bag. Always seek a holster custom-molded to the specific firearm model you plan to carry. My favorite Velcro holster for bags and off-body carry is the Modular Holster from Crossbreed Holsters. 
You order them in specificity to your firearm manufacture and model, your draw side, and whether you have mounted sights. I use this holster because I can easily peel it out of the UUB Gear bag and stick it to the bedside backup from Crossbreed or attach it to the LV6 waist pack from 5.11 Tactical. The modularity of the holster is where it gets its name, so it's versatile enough to use in various bags and ways.
Pros And Cons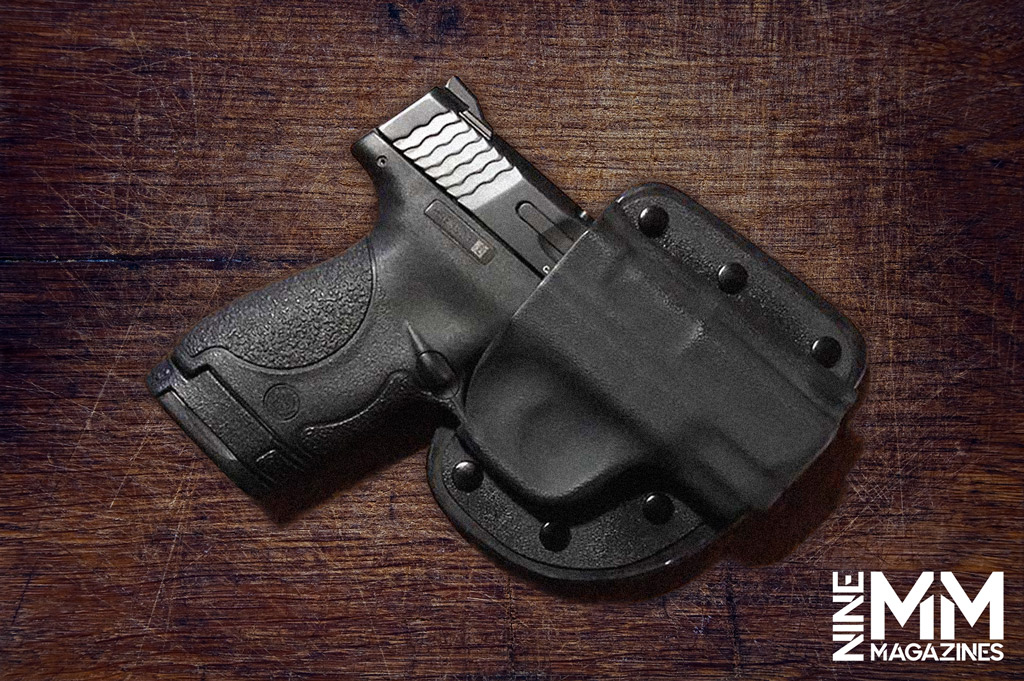 Like any product, the gear bag and modular holster have benefits and drawbacks. Here's what I found. 
Pros Of The UUB Gear Bag + Modular Holster
Affordability
The UUB Gear bag and Modular Holster are affordable compared to many other products. The UUB Gear Bag is about $130, which may seem expensive, but most concealed carry purses run upwards of $300. The holster is custom molded to your specific firearm model and costs a little over $50, the starting point for most holsters.
Hands-Free
If you want to off-body carry in a bag, it's critical to use one that isn't cumbersome or requires you to hold it a certain way. You want your hands completely free if you ever need to draw your pistol.
Comfort
Carrying a gun won't be 100% comfortable, but the famous saying is it's not supposed to be comfortable — it's comforting. The UUB Gear bag and Crossbreed Modular holster, paired with the right gun, are very comfortable to carry all day. If you get too heavy of a pistol, holding the weight around your waist can be challenging. That's why I recommend bringing a smaller handgun vs. a full-size one. 
Modularity
The Pheonix bag is genuinely modular in that you can set it up for you, whether you're a lefty or a righty. You can set the belts to your body size and set the bag up for how you want to carry it. The Modular holster is compatible with many other products, giving you options for different ways to carry your gun if you're not planning to use it with only the Pheonix bag.
Cons Of The UUB Gear Bag + Modular Holster
Off-Body Carry
I try to carry off-body only a little, especially if I have to fiddle with zippers, pouches, flaps, or magnets. The best way to carry a gun is on your body, where you simply draw your gun from the holster. I train so often with my carry guns that I naturally know how to find and draw my weapon. 
The average gun owner never even dry fires their gun, let alone practices with their carry gun at the range. It's more important to learn how to clear your clothing or bag and draw your pistol than to learn how to stand and shoot. When things go wrong, you need to get your gun out fast and start reacting to the situation.
Testing And Experience
I carry a gun every day of my life and train with my firearms every time I go to the range. Additionally, I spend time dry-firing at home, so I always have a feel for my draw from concealment. I've been carrying since I was 21 years old, when I was legally allowed. Ever since, I've put some guns and gear through the wringer. I have a plastic container full of holsters, belly bands, magazine pouches, and other equipment I've tried. Some I liked, while others ultimately failed to impress. I do not recommend products lightly, as it has to be something I would carry daily.
I've used the UUB Gear Ukoala bag with the Modular Holster from Crossbreed for six months, walking hundreds of miles. Just at SHOT Show alone in January, I walked 84 miles in less than a week. That included through the airport, on the SHOT Show floor, and to the range, all in complete comfort. I can run, hike, bike, and drive without ever feeling like the bag is in the way or needing to take it off. 
The key to successfully carrying a gun is always having it as close to your body as possible and being able to deploy it if needed without any extra hassle. 
A Perfect Combo?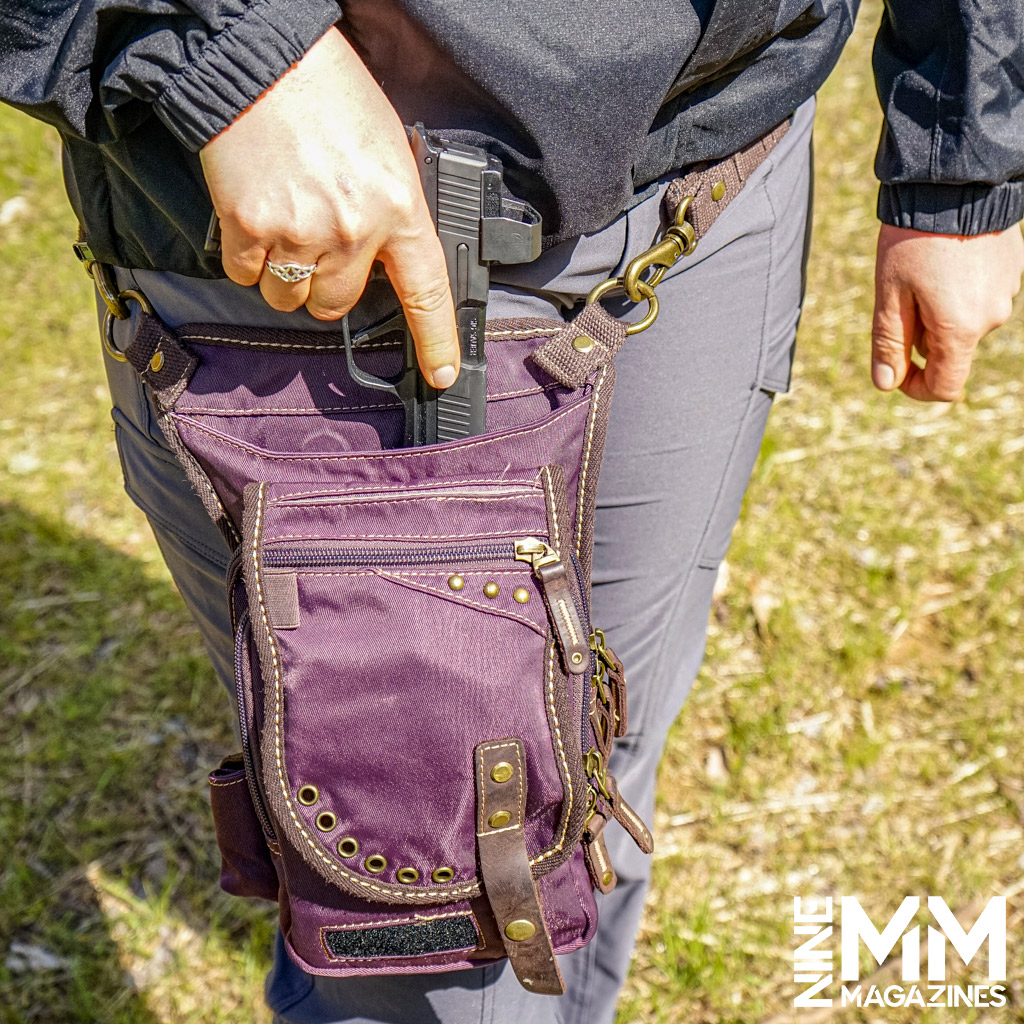 While this setup is geared more toward the ladies, confident men still use the UUB Gear Ukoala bag at events and on the range. If surprising how often I've come across them being used out in the wild. That's because it's a great way to carry a gun and keep your hands free. If you're a biker, it's also a great option for hauling extra gear on the road. If you have an active lifestyle and want to protect yourself, this setup with the CrossBreed Holsters modular holster is great for daily carry. Interested in upgrading your everyday carry? Be sure to check out our other holster reviews here!
My overall rating of the UUB Gear Ukoala Bag: 4.5/5

Kenzie Fitzpatrick is a competitive shooter, firearms instructor, published writer in the industry, and the host of the Reticle Up podcast.