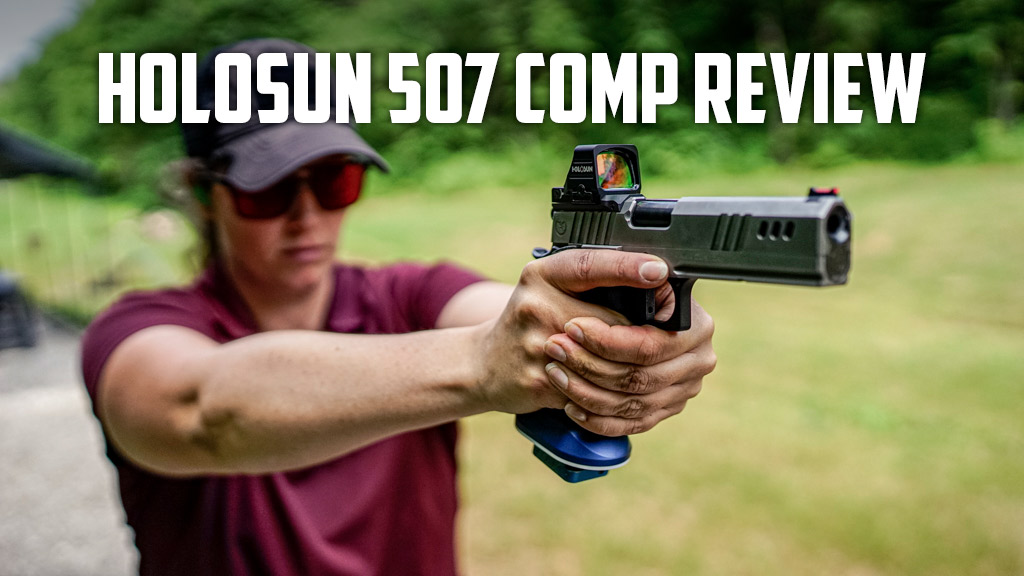 Holosun 507 Comp Review
Disclaimer: This page contains affiliate links, meaning we receive commissions for any purchases made through the links on this page.
The hype around the Holosun 507 Comp red dot optic is real, but is it validated? It's been one of the most anticipated releases since it was announced at SHOT Show. Its "large window" design and Competition Retical System have been the talk of the town for some time. Holosun has only been around since 2013, they've been committed to making innovative optics in demand by gun owners. So how does this new optic perform in the real world? 
I've been a competitive shooter for a decade now and have tried almost every red dot optic available on the market today. For competition, nothing comes close to the new 507 Comp optic. This is a game-changer for competitive shooters everywhere, from the sheer size of the "large window" to the various reticle options. Not only is the quality and value there with this optic but so is the price point.
Just like guns have their purposes, so do red dot optics. With so many options made by different manufacturers, different model red dots are designed for specific uses. The Holosun 507 Comp was designed with the competitive shooter in mind. Let's dive into the features that make this optic so powerful for shooting sports using a red dot.
Key Features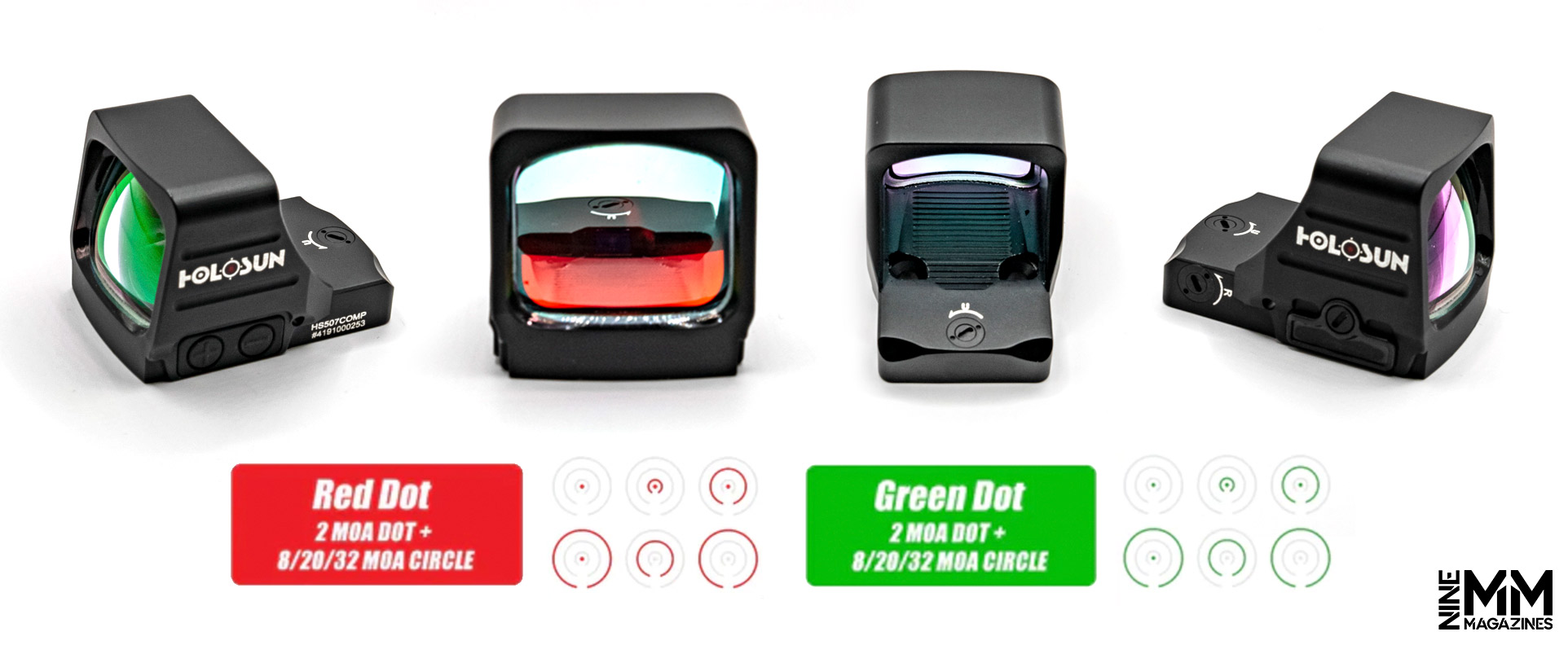 Below are some of the key features of the Holosun 507 Comp red dot optic. Let's dive in and take a look.
Large Sight Window
The Holosun 507 Comp has a window size of 1.1 inches x .087 inches, with overall dimensions being 1.8in x 1.3in x 1.3in. To compare, the Trijicon SRO is one of the most used red dot optics in the shooting sports world. Its sight window is .98 inches x .89 inches with overall dimensions of 2.2 in x 1.3 in x 1.4 in. Not only does the Holosun have a slightly larger window, but it also has a smaller footprint. Both optics weigh almost the exact same, with the Holosun being 0.1 ounces more than the SRO.
The larger window gives a significant competitive advantage over your component. Being able to track your dot is easier with a larger window. You can see more of what you're shooting at through the window. This is helpful with training shooters new to red dot optics because learning to pick up a red dot optic with your natural point of aim can be a process. It takes dozens of repetitions to bring the gun up to your line of sight and the red dot be there instead of you turning the gun left, right, up, or down in your hand until you can find the dot. The larger window size optics make everything that much easier to shoot.
Reticle Variations
The game-changer of this optic is that it is a multi-reticle system with four options of reticles with different combinations you can choose from. The reticle options include a 2MOA precision dot, an 8MOA circle, a 20MOA circle, and a 32MOA circle. The biggest benefit of this multiple reticle system is tailoring the dot to the gun you're shooting and the type of competition you will compete in.
For someone like me who shoots USPSA, 3 Gun, 2 Gun, Steel Challenge, and flip flops between sports, I need different red dot optics for different reasons. In Steel Challenge, every stage is always the same. There are uniform plate sizes with only 8 stages that could potentially be run in a match. For that specific type of competition, I would only use the 2MOA dot, which allows me to run stages quickly, impacting targets as I move from one plate to the next. In 3 Gun, I prefer the 20MOA circle with the 2MOA dot because stages vary from having 7-yard paper targets to 50-yard small steel targets that require two hits to neutralize. Seeing my target in the window and between the reticles is essential, but the 20MOA circle allows me to aim better at farther targets.
The other benefit of the multiple reticle systems is anyone can pick up the Holosun 507 Comp and choose the reticle that best fits them. There is no one reticle that fits all applications and all shooters. Newer shooters may prefer using a larger reticle to get used to aiming with a red dot. Seasoned shooters may just want to train with a 2MOA dot. This makes the Holosun 507 Comp a powerful tool for training, dry fire, live fire, and giving options to many types of shooters.
Green VS Red and Night Vision Compatibility
You also have the option to select the Holosun 507 Comp-GR, green dot model. Choosing a red dot versus a green dot is a personal preference. Yet having more options for more people is always better. I've found green to be my preference on brighter shooting days. I recently competed in an AK Match with a green Holosun 510C optic, making picking up my sight easier in the daylight. The Holosun 507 Comp has tent brightness settings, eight for daylight and two that are night vision compatible.
Battery Life
The biggest difference between the major red dot optics manufacturers that I see is the battery life. I used a C-More red dot optic for a period of time in competition and probably went through a battery every other day. They were notorious for eating up battery life. Of course, a lot of battery was usage dependent, but at its lowest, C-More advertises a 600-hour battery life for their RTS2B, for example, when the Holosun 507 Comp advertises a 50,000-hour battery life.
That's a gigantic difference when you're counting on your red dot sight to be there when you go to pick up your gun. 
The Holosun uses a CR1632 battery and has a side battery tray to swap your old one for a new one. It also utilizes the Shake Awake Technology. This allows the red dot optic to stay on during use and then turn off when your firearm is stored. It takes 10 minutes of being motionless at the default setting for the red dot optic to turn off. Depending on the model, you can also turn this feature up to 12 hours of staying awake before shutting off.
Holosun 507 Lineup
The nomenclature Holosun uses to name their optics can be a bit confusing. Essentially, all 500 series optics come equipped with a variation of the Competition Retical System. The 507 series is one of several designated pistol models, with a variety of options to choose from. Currently, those models include the 507 Comp, 507K, and the 507C. Each 507 Series model also has a green dot version, designated by a "GR" at the end of the model name. Take a quick look at the 507 model options below:
| HE 507 Model | MSRP |  Size/Weight | Construction/Footprint | Battery Life/Battery | Reticle/Color |
| --- | --- | --- | --- | --- | --- |
| 507 Comp/GR | $435/$470 | 1.8″x1.3″x1.3″/1.7oz | Aluminum/RMR | 50,000 Hours/CR1632 | 2, 8, 20, or 32MOA (Combination)/Red or Green |
| 507K X2/GR | $340/$375 | 1.6″x0.98″x0.95″/1oz | Aluminum/RMR | 50,000 Hours/CR1632 | 2, or 32MOA (Combination)/Red or Green |
| 507C X2/GR | $365/$399 | 1.78″x1.15″x1.15″/1.5oz | Aluminum/RMR | 50,000 Hours/CR1632 | 2, or 32MOA (Combination)/Red or Green |
Pricing Compared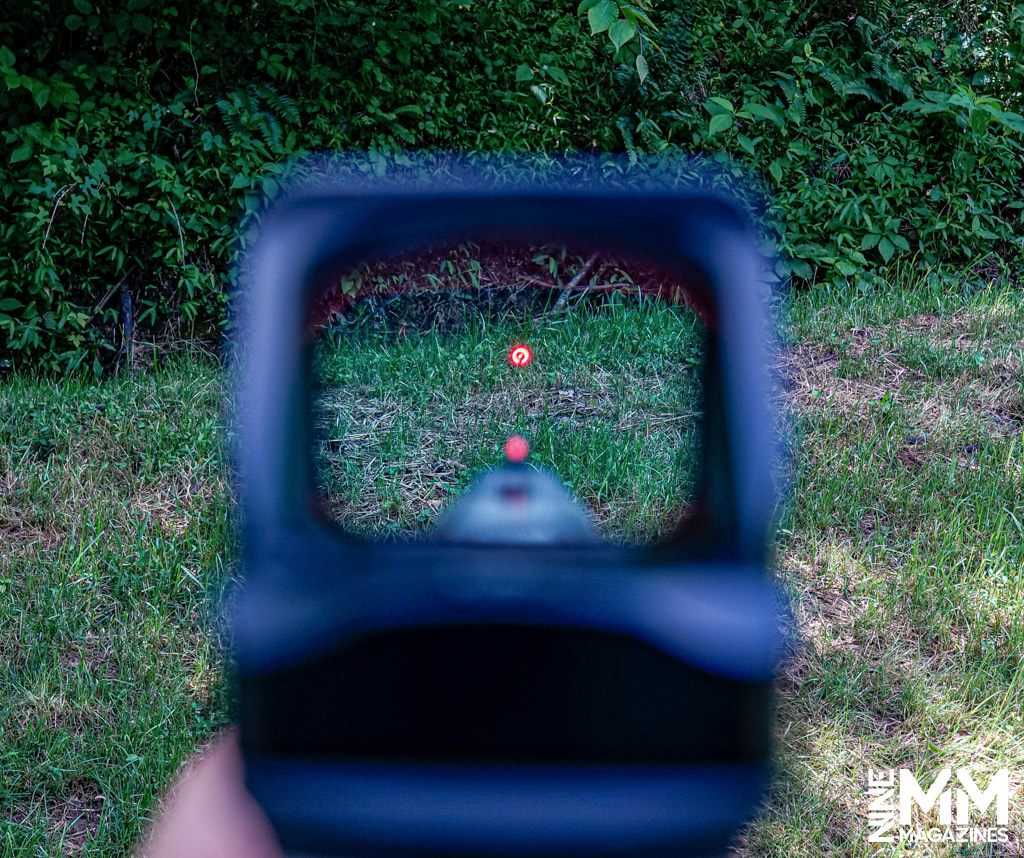 The easiest way to explain the value of an optic is to compare its features and MSRP pricing to other optics on the market today.
| Red Dot Optic | MSRP | Size/Weight | Construction/Footprint | Battery Life/Battery | Reticle/Color |
| --- | --- | --- | --- | --- | --- |
| Aimpoint Acro P-1 | $599.00 | 1.9″x1.2″x1.2″ /2.1oz | Aluminum/Acro | 15,000 Hours/CR1225 | 3.5MOA/Red |
| C-More RTS2 | $389.00 | 2″x1.1″x1.2″/1.09oz | Aluminum/RTS | 600 Hours/CR2032 | 3, 6, 8, 10, or 12 MOA/Red |
| Holosun 507 Comp | $435.00 | 1.8″x1.3″x1.3″/1.7oz | Aluminum/RMR | 50,000 Hours/CR1632 | 2, 8, 20, or 32MOA (Combination)/Red or Green |
| Leupold Delta Point Pro | $449.99 | 1.8″x1.3″x1.3″/2oz | Aluminum/DPP | 1,600 Hours/CR2032 | 2.5, or 6MOA/Red |
| Trijicon SRO | $771.00 | 2.2″x1.3″x1.4″/1.6oz | Aluminum/RMR | 26,280 Hours/CR2032 | 1, 2.5, or 5 MOA/Red |
| Vortex Razor | $499.99 | 1.83″x1.2″x1.16″/1.3oz | Aluminum/RTS | 30,000 Hours/CR2032 | 3, or 6MOA/Red |
Holosun clocks in at the second cheapest price point and does what none of these can with the multiple reticle system. Its battery life is far superior, and has one of the larger window sizes in an optic. Just because the price point is cheaper than others doesn't mean the quality is any less.
I have been running the 510C optic on my pistol-caliber carbines for years. The 407C has been my dedicated offset red dot on my 9mm and 5.56 caliber carbines. Both have withstood rain, snow, extreme heat, thousands of rounds of recoil, and being thrown in dump barrels and slammed against barricades. I have never once had to re-zero my optics. The 507 Comp is made from 7075 aluminum and uses grade 5 titanium in its reflective glass.
Only time will tell if it's as durable as the rest of the Holosun lineup. So far, with several hundred rounds down range, it's been a very reliable red dot optic.
Holosun 507 Comp VS Trijicon SRO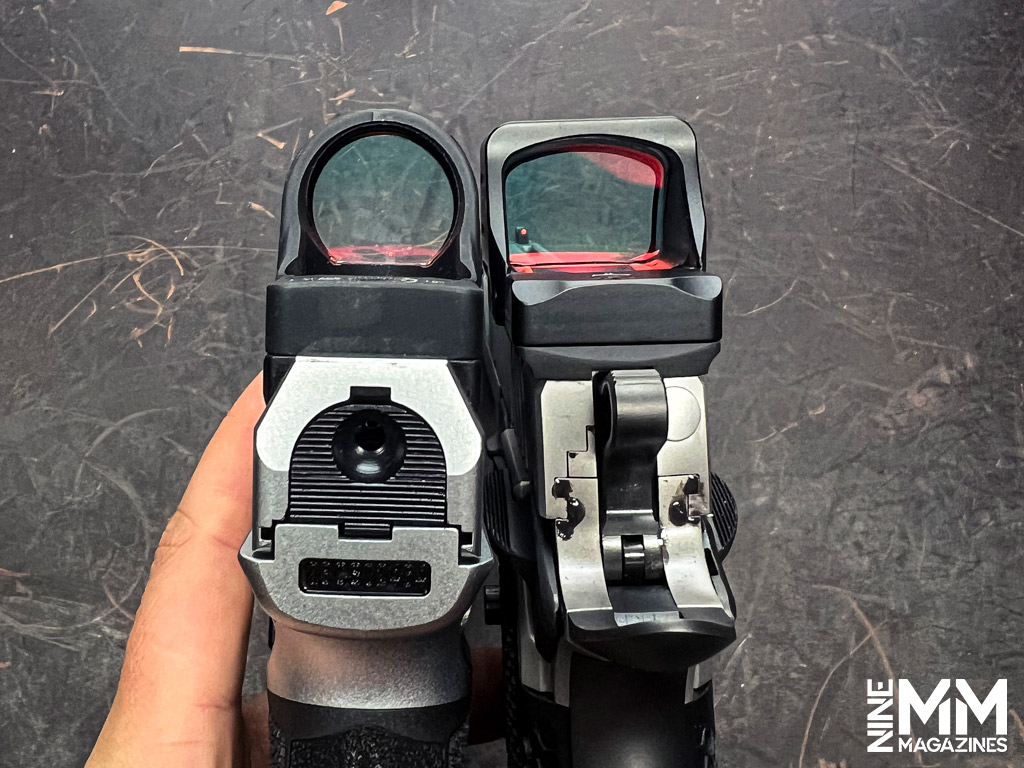 This is a tough one as I've owned (and love) the Trijicon SRO for years. First up, the sight picture. The SRO is a wide circle, and the Holosun 507 Comp is more of a rounded rectangle. The shape of the SRO is more natural to the eye, however, the extra width of the 507 Comp makes it easy to forget you're looking through an optic at all. There is a "cooler" tint to the multi-coated glass of the 507 Comp VS the natural look of the SRO. You can tell a slight difference in the color temperature when you hold them side-by-side. Both optics are exceptionally good at handling ghosting and flares when used in direct sunlight. 
Both optics share the same mounting footprint and feel extremely rugged. This makes sense, as they are both made from the same 7075 T6 aluminum. They feel like they can take a lot more of a beating than your average red dot optic. The battery life of the Trijicon SRO (CR2032) is rated at 26,280 hours, while the 507 battery (CR1632) is rated at 50,000 hours. When it comes to changing the battery, the Holosun 507 Comp is easier. While the Trijicon SRO's battery accessibility is an improvement over previous models, you still have to use a 3rd party tool to open it without causing damage.
Features & Pricing Compared
The Holosun 507 Comp has the Competition Retical System options, but the Trijicon SRO does not. That being said, the Trijicon does have three reticle models (1.0MOA, 2.5MOA, and 5MOA). If you only need a singular MOA-sized red dot optic, it's the best option on the market. The 507 has red and green dot model options, the Trijicon does not. The 507 has "shake-awake" technology, the Trijicon does not. Both optics claim to be weather sealed. The Trijicon is rated for 3 meters of submersion, and the Holosun is rated for 1.5 meters of submersion. As noted above, most importantly, the MSRP of the Holosun is $336 cheaper than that of the Trijicon SRO.
If I could only choose one option today, and pricing was a factor, I'd go with the Holosun 507 Comp for the added features alone. 
Room For Improvement?
It might be nit-picky, but the transitions between the brightness levels could be smoother. With eight daylight settings to choose from, the brightness increases substantially with each button press. Turning up the brightness too much gives the selected reticle option a "blooming" effect around the edges, even in bright daylight. Correcting it is easy (press the "-" minus button), however, if the transitions were a bit smoother, it wouldn't be an issue at all. 
The interface for cycling through the Competition Retical System options also has room for improvement. In manual mode, you press the "-" minus button for 3 seconds to select your desired reticle. However, you can only cycle in one direction. If you miss your desired reticle, you have to cycle through all of the reticle options again to get back to it. Meanwhile, the "+" button is non-functional in this mode. It would be more natural to have the "+" button cycle the reticle options in the opposite direction to make it easier on the user.
Summary: Holosun 507 Comp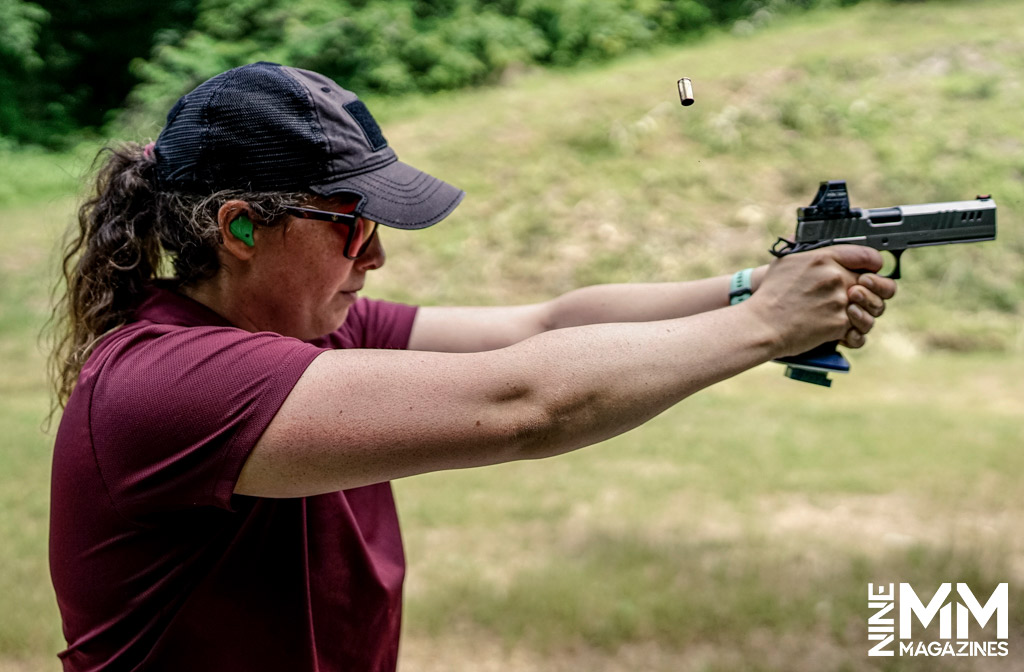 It's rare that a new product emerges as a game changer. It's even more rare when it lives up to the community hype. The Holosun 507 Comp manages to do both and completes the hat trick with its pricing. In reality, it's like getting four different reticles for the price of one optic. The flexibility of its Competition Retical System gives you the ability to customize it to your needs. It's a great option for new, or experienced shooters. I'll be curious to see how the optic competition in the market responds.
For me, the Holosun 507 Comp is 100% worth the wait and the price tag. The sooner you can get your hands on one, the more fun you'll have. If you are interested in competitive shooting or looking at this red dot optic as your new competition optic, it is a revolutionary product that fits the needs of any kind of competitive pistol shooting you're trying to do. Remember, it is compatible with the RMR footprint. In terms of optic cuts or plates, it's ready for mounting on your favorite pistol. I'll use this as my primary red dot optic in the Limited Optics division in USPSA and the Open division in 3 Gun and report back on how it performs over time.
My overall rating of the Holosun 507 Comp optic: 5/5

Kenzie Fitzpatrick is a competitive shooter, firearms instructor, published writer in the industry, and the host of the Reticle Up podcast.