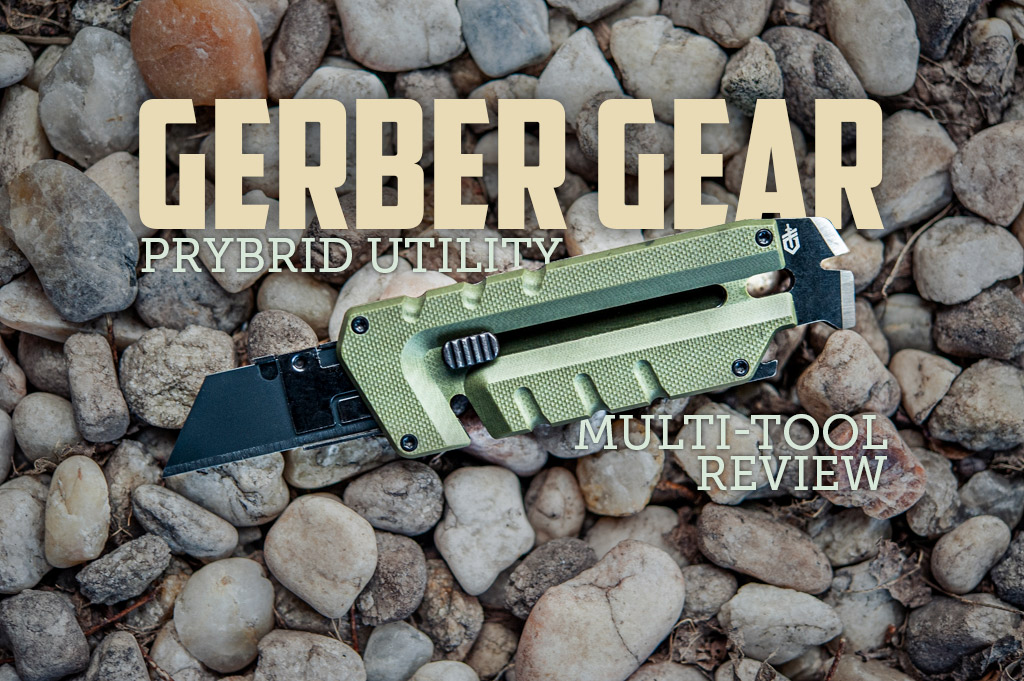 Gerber Prybrid Utility Knife Review
Disclaimer: This page contains affiliate links, meaning we receive commissions for any purchases made through the links on this page.
If you want a general-purpose knife that also opens bottles and pries nails, the Gerber Prybrid Utility Knife is for you. It has a slim profile, doesn't weigh much, and unlike other knives, you're supposed to use it as a prybar.
This review covers the Gerber Gear Prybrid Utility Knife & Prybar. I'll cover its main features and some pros and cons of carrying it over other tools. 
What Is The Gerber Prybrid Utility Knife & Prybar?
A slim, tough knife with a retractable and replaceable razor blade, this tool packs more punch than the average boxcutter. There's a twine cutter slot you can use without extending the blade and a nail puller that's also a wire stripper. The back comes with a bottle opener and makeshift flathead screwdriver (in two sizes).
This utility knife has a hole through which you can thread a lanyard to keep it handy around your neck or attach it to a keychain. I added a loop of paracord with a carabiner and clipped it to my belt. This allowed me to slip it from my pocket with a single tug on the string. While it's not a replacement for having a pocket clip, it is an easy solution to keep it from getting lost in your pockets.
Pros & Cons: Gerber
Prybrid
Utility Knife & Prybar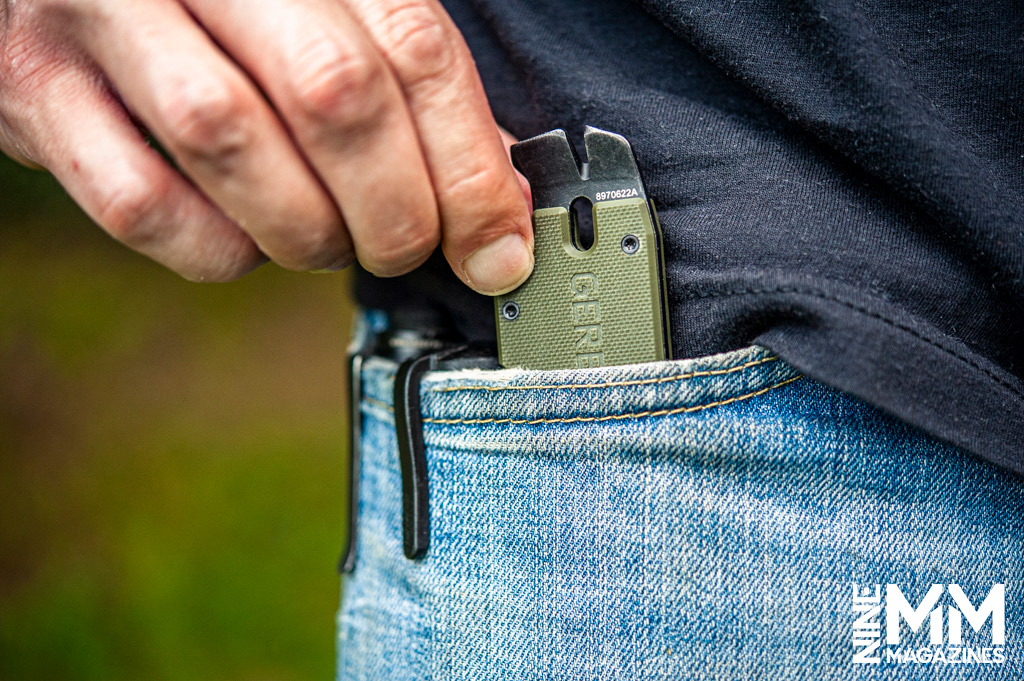 As a slim and sturdy knife, it feels great in the hand and doesn't seem too big in your pocket. The twine cutter notch lets you cut small strings or wire on the go, without extending the blade. As I mentioned, it is however missing a pocket clip, which may be a deal-breaker for EDC for some. Here are some pros and cons I discovered while using this utility knife.
Pros To Consider: 
The blade-lock works very well. Pushing down the button to slide the blade out isn't too hard, but it locks firmly in place, in each position once extended.  

The blade guard covers the twine slot when the blade is open, preventing you from slicing anything by accident. 

The blade guard also covers the base of the blade while extended. If your finger should slip from the front of the handle onto the back edge of the blade, nothing will happen. 

The blades are removable and replaceable like any other utility knife.

The blade guard does a great job of stabilizing the blade when fully extended, so you can really exert some pressure on it. 

The G-10 woven fiberglass grips feel secure in the hand, allowing a good purchase due to the texture and the ridges. 

The prybar on the base is sturdy enough to do some prying without fear of breaking the casing. 
Cons To Consider: 
There's no included pocket clip, so it's easy to get lost down in your pocket (however, you can add a 3rd party one with modifications).

It takes two hands to remove the blade when you want to switch it out.

It comes with one blade installed, it doesn't come with any replacement blades.

The screwdriver heads are difficult to use. They fit in the screw slots, but it's not easy to get leverage to turn them. 

To use the twine cutter, you must pull it into the notch just right. You need to wiggle it, which the slot doesn't give you a lot of room to do. 

If you put paracord or a keychain ring through the lanyard hole, it can impede the use of the nail puller/wire stripper. 

 The nail puller is best suited for smaller nails or ones that aren't set too deep.
Who's It For?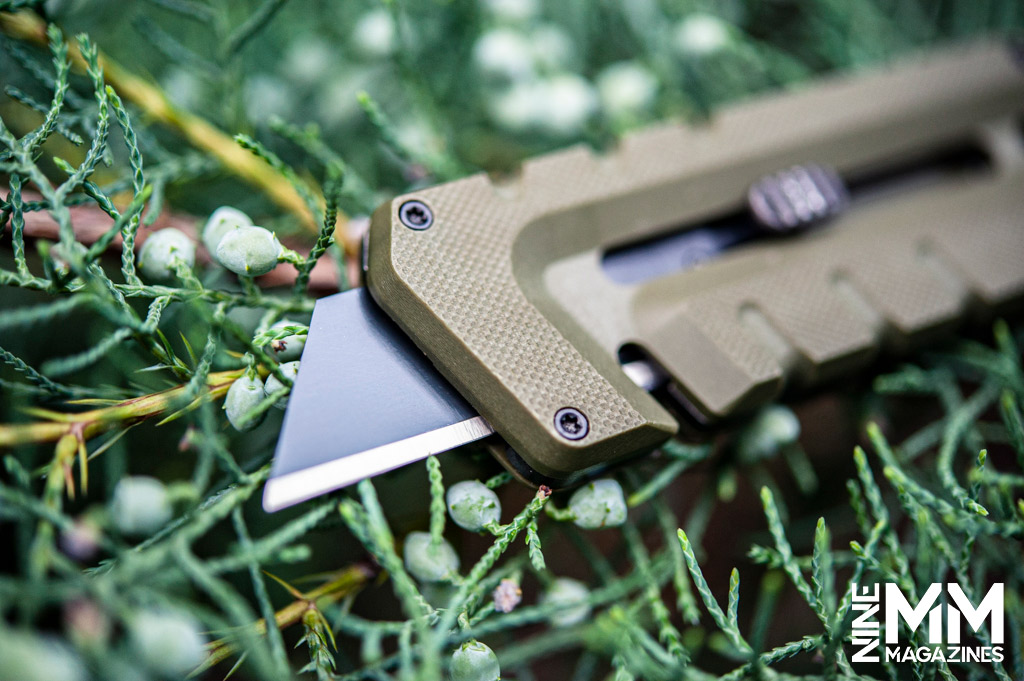 Anyone who owns a farm, works in construction, or deals with boxes, tape, or twine all day would benefit from the Gerber Gear Utility Knife & Prybar. I used it to cut electric polywire and construction twine, and it performed admirably. I also used the length of the tool as a lever to screw an open-ended eyehook into a wooden fence post. The handle didn't even tremble during the operation. Prybar, indeed!  
It's not only slimmer than a traditional utility knife, it's also shorter. This means it fits more easily into pockets, utility belts, and go-kits than many other options. It's reassuring to feel it in your pocket. Expecially when you've got a stack of heavily taped shipping boxes to cut through quickly. Also, for the price, you could pick up one for home, and one for the office for a lot less than a traditional name-brand multi-tool. 
Worth It? Gerber Prybrid Utility Knife & Prybar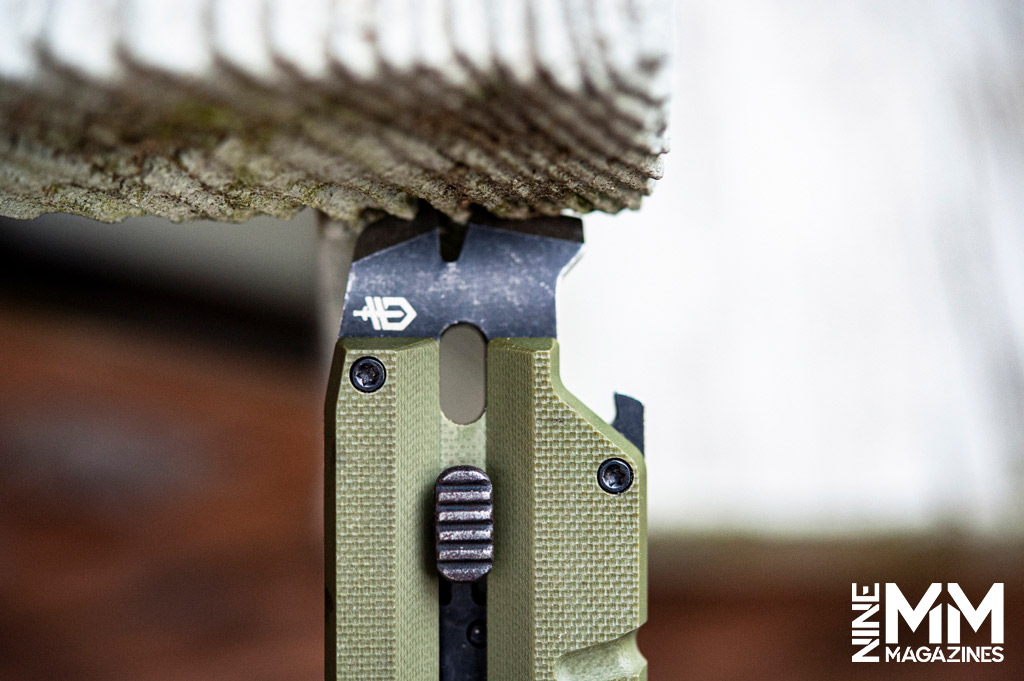 If you want a boxcutter with extra features and a blade that won't pop out or retract by accident, this is the tool for you. I wouldn't rely on the "screwdrivers" for anything beyond an absolute emergency or a slight adjustment on a screw or two. They aren't shaped to fit into a Phillip's head even a little, which you can sometimes do with a regular flathead. 
Don't put all your hope in the nail-puller, either – it's best for small nails or ones that aren't too deep. It's well-suited to pull staples and smaller items and may come in a pinch when you don't have a hammer or large crowbar. You can cut decent-sized rope (like paracord) with the twine cutter. However, don't expect it to tackle anything woven from the nautical section. 
That being said, it looks cool, it feels good in hand, and it's a versatile tool. I've found myself reaching for it frequently since purchasing it. It's amazing how many things you need to pry when you have a prybar ready to go in your pocket.
How Does The Gerber
Prybrid
Utility Knife & Prybar Stack Up To Other Multi-Tools?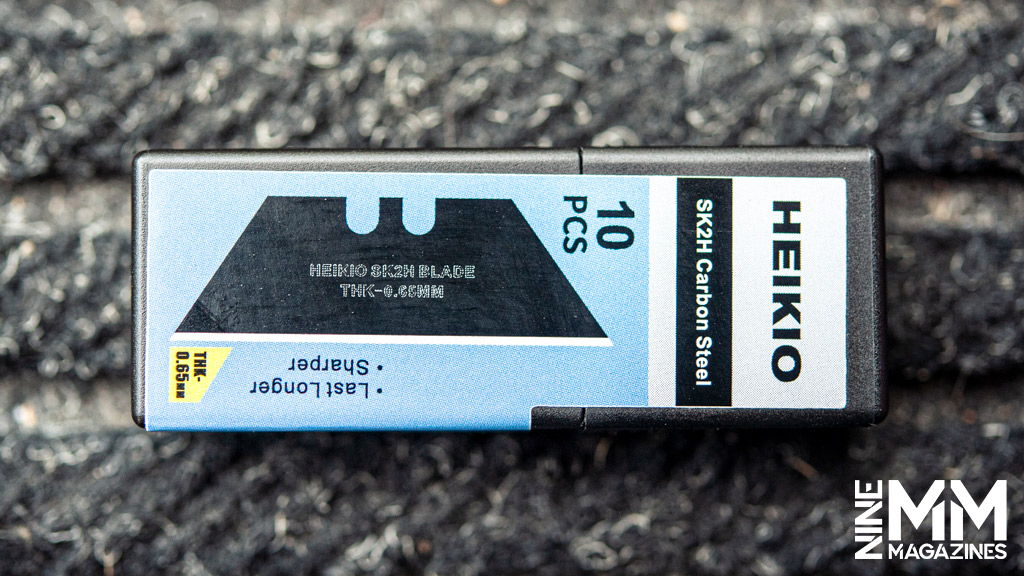 My dad had a Leatherman for all of my childhood and wore it religiously on his belt. My husband similarly carries a multi-tool in one of his oversized and overstuffed cargo pockets. I'm no stranger to multi-tools and often break out the folding pliers on tasks around the house. 
Obviously, this utility knife can't replace a complete multi-tool. It doesn't come with pliers, scissors, or a Phillip's head bit, let alone one with a saw blade or file. Its best feature is its solidness and how little casing it requires to keep the blade where you want it. It also lets you crack open a cold one without digging the correct arm out of the handle of your folding pliers.
Compared To Prybrid X
The Prybrid X is the smaller version of the Gerber Prybrid Utility Knife. It uses the hobby-sized (Exacto knife) utility blade instead of a full-size blade. The Prybrid X measures 4 x 0.8 x 0.25 inches, while the Prybrid Utility Knife measures 4.25 x 1.3 x 0.4 inches. It's also a 6-in-1 multitool, while the Prybrid Utility Knife is an 8-in-1 multitool. Gerber's Prybrid X is intended for light-duty projects, in comparison, the Prybrid Utility Knife is intended for standard to heavy-duty use. 
Price VS Value: Gerber
Prybrid
Utility Knife & Prybar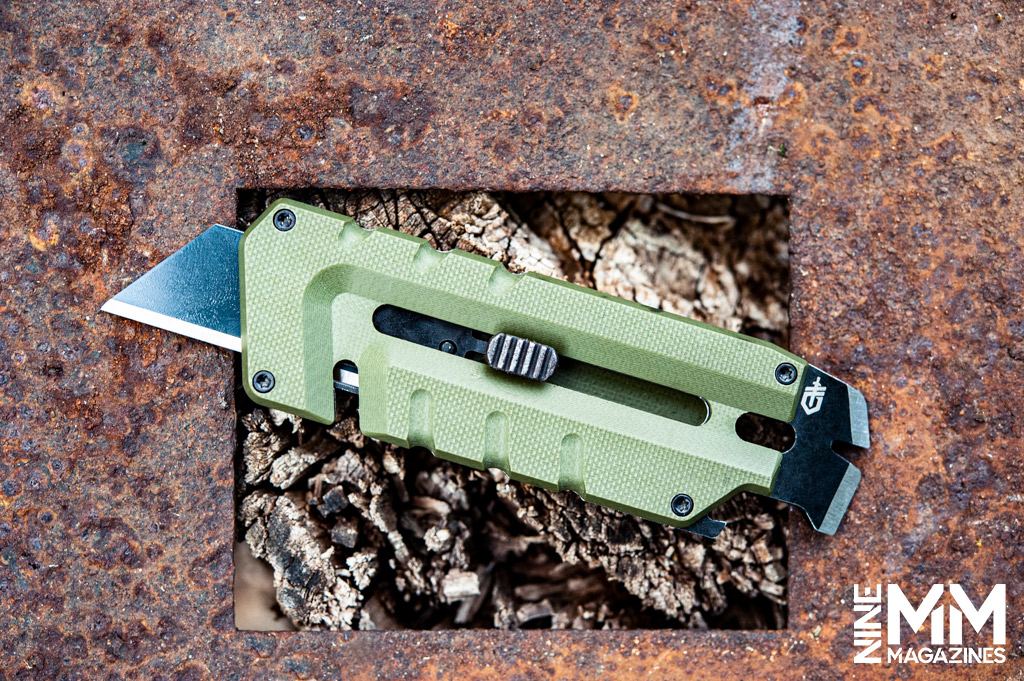 Trending from $20-$30 on Amazon, the Gerber Prybrid Utility Knife & Prybar costs at least a President Jackson to acquire. That said, it's incredibly durable and offers more features than the average boxcutter, with a slimmer profile to boot. It tucks nicely into any pocket and would make a great addition to any survival kit or toolbelt. If you're on the fence or need to mend one, give it a try. 
My overall rating of the Gerber Prybrid Utility Knife: 3.5/5

If you're interested in other reviews of the best EDC gear to take on any adventure, check out the Kabar Mule Folding knife review. 
Sara is a published writer, editor, and firearms enthusiast. She lives with her husband on their small farm in West Virginia.