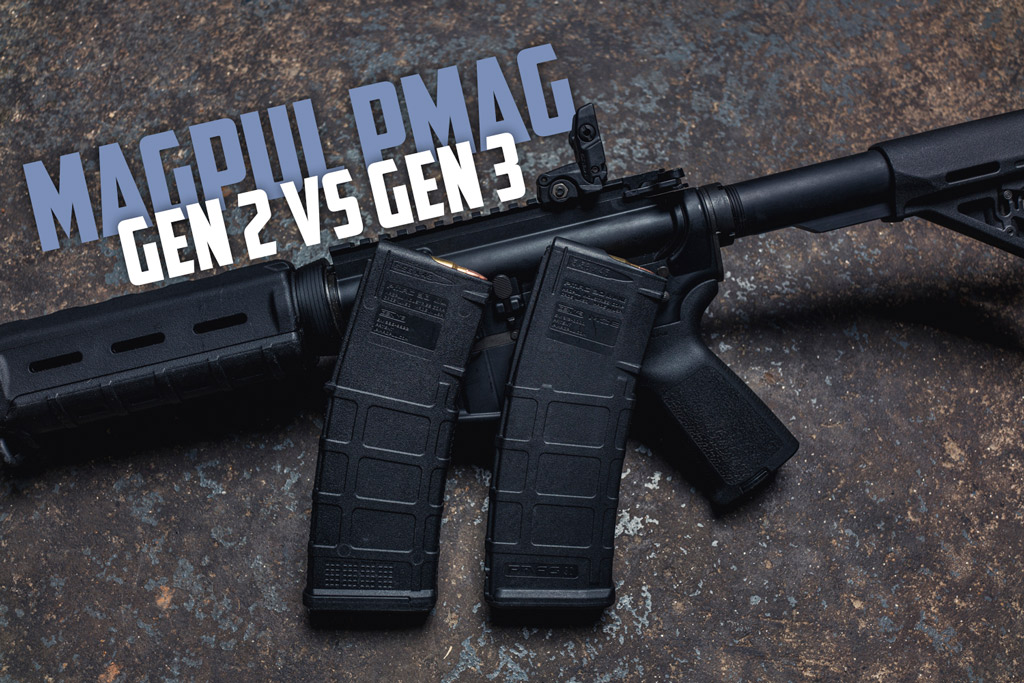 Gen 2 PMAG VS Gen 3 PMAG
Disclaimer: This page contains affiliate links, meaning we receive commissions for any purchases made through the links on this page.
Modern sporting rifles chambered in .223/5.56 NATO are some of the most popular weapons on the planet. It only stands to reason that the most popular magazine for these rifles is manufactured by a company like Magpul. Magpul also manufactures magazines for other weapons platforms like the AK, Glock, CZ Scorpion, and a few others. What are the differences between Gen 2 PMAG VS Gen 3 PMAG? Get started by taking a look at the chart below.
For years, Magpul has been synonymous with quality. The company's line of accessories are trusted by tactically-minded professionals in the military and law enforcement. My safe has enough Magpul products in it to fill a table at SHOT show, including quite a few PMAGs. Needless to say, I'm a huge fan of the company's products. 
| | Price (MSRP) | Material | Capacity | Spring | Follower | Weight |
| --- | --- | --- | --- | --- | --- | --- |
| Pmag Gen 2 | $12.95 | Polymer | 30 Rounds | Stainless Steel | Anti-Tilt | 4.8 oz |
| Pmag Gen 3 | $14.95 | Polymer | 30 Rounds | Stainless Steel | Anti-Tilt | 5.1 oz |
The firearms accessory giant developed its reputation by continually improving its products. One of their latest designs is the PMAG Gen 3. When the Gen 3 was released, the price of the Gen 2's dropped. This allowed shooters to stock up on premium magazines while also saving a few bucks. If you really want to save, consider picking up Gen 2 PMAGs in bundles. You can often find them priced around $10 each in bulk lots. 
The release of the Gen 3 and the subsequent price drop of the Gen 2 PMAGs has left many shooters wondering which is the better buy. Should you stick with the latest and greatest or buy the Gen 2's at a hefty discount? If you find yourself asking that question, then you are in the right place. Below, we compare the Gen 2 and Gen 3 head-to-head so that you can find the perfect option for your shooting needs.
What's So Great About PMAGs Anyway?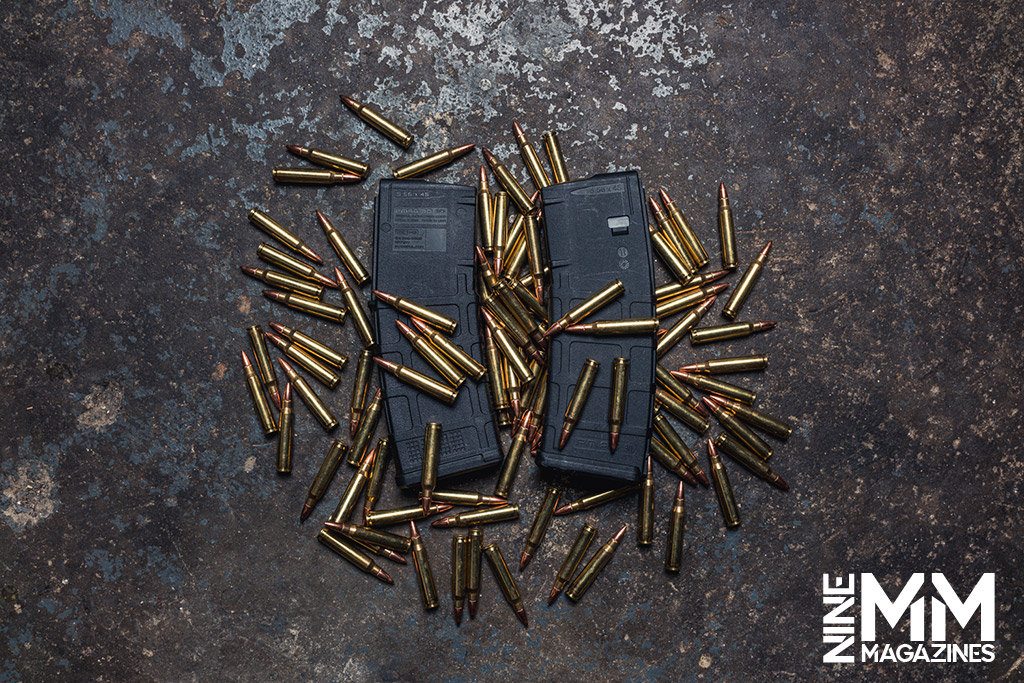 If you are new to the world of recreational shooting or are simply an old-school purist that only uses aluminum magazines, then you may be wondering why all the hype? While I love a traditional metal magazine as much as the next guy, there are some benefits to polymer mags like the PMAG. 
For starters, polymer magazines are incredibly light, especially when compared to steel. These magazines are also a bit quieter when you are on the move, which makes them great for hunting or tactical applications. Lastly, the PMAG cannot rust, corrode, or dent due to the high-quality polymer.
Polymer magazines are not without their drawbacks though. While they cannot rust, they can crack or break. Polymer magazines often lack metal feed lips, which can wear and fail with heavy use.
Fortunately, these types of failures are incredibly rare with Magpul PMAGs. They are more common with off-brand or budget polymer mags that use shotty manufacturing processes. In my experience, the benefits of the PMAGs far outweigh any potential concerns of using polymer. 
Now that we have settled the metal vs. polymer issue, let's take a closer look at Gen 2 PMAG VS Gen 3 PMAG. We will compare them feature by feature against each other. This is the best way to see how these two great magazines stack up. 
How To ID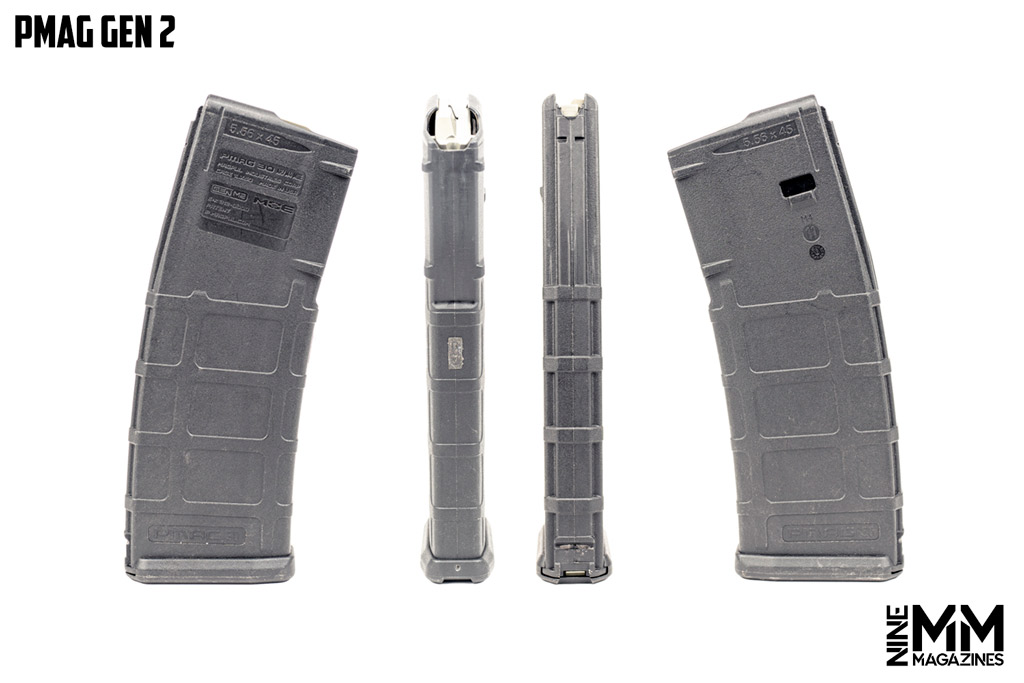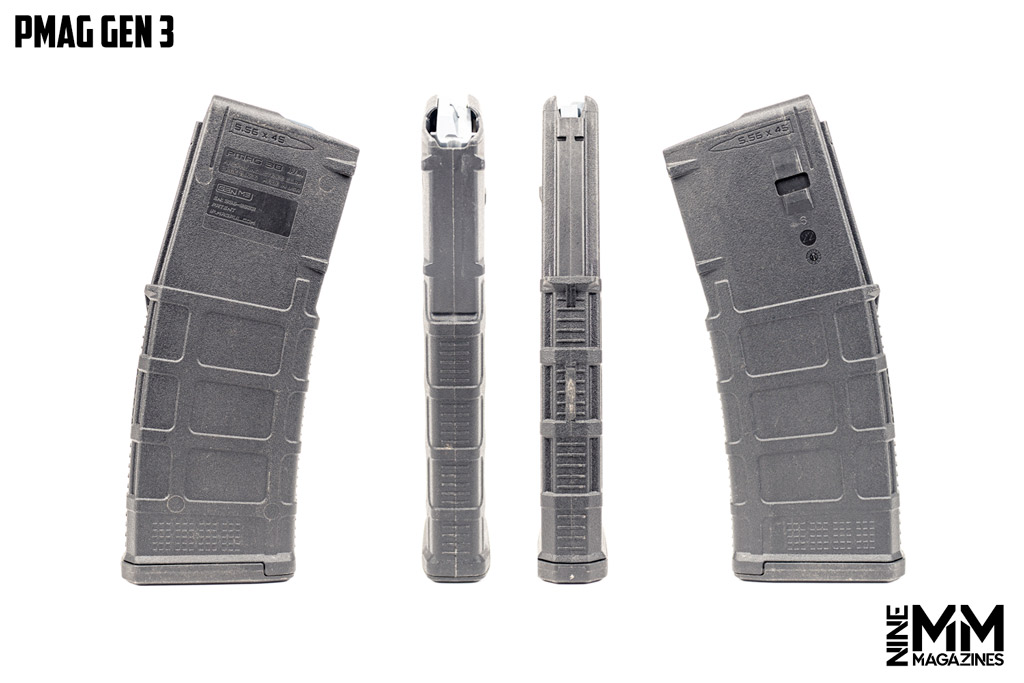 Unsure if you've got a Gen 2 PMAG VS Gen 3 PMAG on your hands? If you're looking at the back of the magazine, take a look at the right-hand side. Both Magpul Gen magazines are marked on the right-hand side with their Gen number and manufacturer info. 
The Gen 3 PMAG also features a dot matrix on the side, just above the base plate. The Gen 2 PMAG does not. This is one of my favorite features of the new magazine. These dots are designed to be filled in with a marker or paint pen so that you identify different loads or calibers on the fly. 
For example, hunting cartridges are more expensive than basic full metal jacket rounds. If you have a magazine loaded up with these rounds, you can mark that magazine so that you do not accidentally waste premium cartridges at the range.
Textures
Not one to overlook any aspect of the design process, Magpul took a proactive approach to make the Gen 3 PMAG easy to control under pressure. While it is a bit narrower than the Gen 2, the 3rd iteration features an extremely aggressive texture on the front and rear sides of the mag. This means that you can get plenty of grip on the magazine, even when shooting with gloves on. (Can we measure the raised texture somehow here to give specifics on the difference?)
Talking Baseplates
When designing the Gen 3 PMAG, Magpul decided to make their latest product a bit sleeker. To do so, they focused on creating a narrower baseplate. This makes the Gen 3 magazines much easier to incorporate into double mag pouches.
However, I find the wider Gen 2 PMAG baseplate easier to take hold of. This small design variation can make a huge difference when reloading under stress. (I assume you'll have a great photo that shows this but we never really say what the actual size difference is at the baseplate. How much more narrow is it?)
Understanding Followers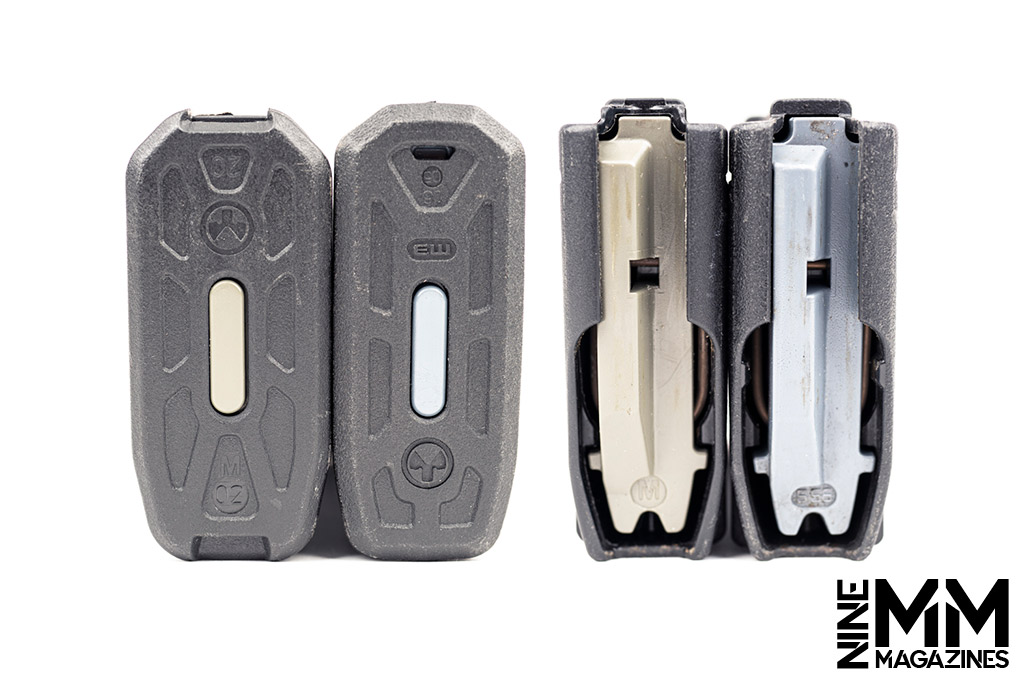 According to Magpul, they also upgraded the Gen 3's follower. As you know, the follower and spring are responsible for pushing rounds up towards the chamber. If the follower malfunctions, it could result in a jam or failure to feed issue with your rifle.
While extra reliability is always a good thing, I have never had an issue with the Gen 2 PMAG's follower. I put my gear through the wringer, including my magazines. So, there is little chance that you will have any problems with the Gen 2 PMAGs. 
Gen 2 PMAG VS Gen 3 PMAG: Compatibility
Over the last few decades, the AR-15 market has exploded. As a result, dozens of "custom" rifle manufacturers have sprung up all over the place. While any reputable manufacturer uses computer-assisted design technology to assist in the creation of AR lowers, some companies have decided to put their own spin on the classic platform. 
The Gen 3 PMAG was redesigned to increase its compatibility with weapons systems like the HK 416, IAR, and SCAR. However, these redesigns negatively impacted its compatibility with some premium lowers that have different dimensions than the classic specs. 
If you are running a custom rifle from a company like BCM or Noveske, then the Gen 2 PMAG will likely be a better choice. Both of those aforementioned companies have some compatibility issues with the PMAG Gen 3 because the manufacturers have altered the dimensions of the mag well. This interferes with the oversized lip on the Gen 3. 
Which PMAG is Right for Me?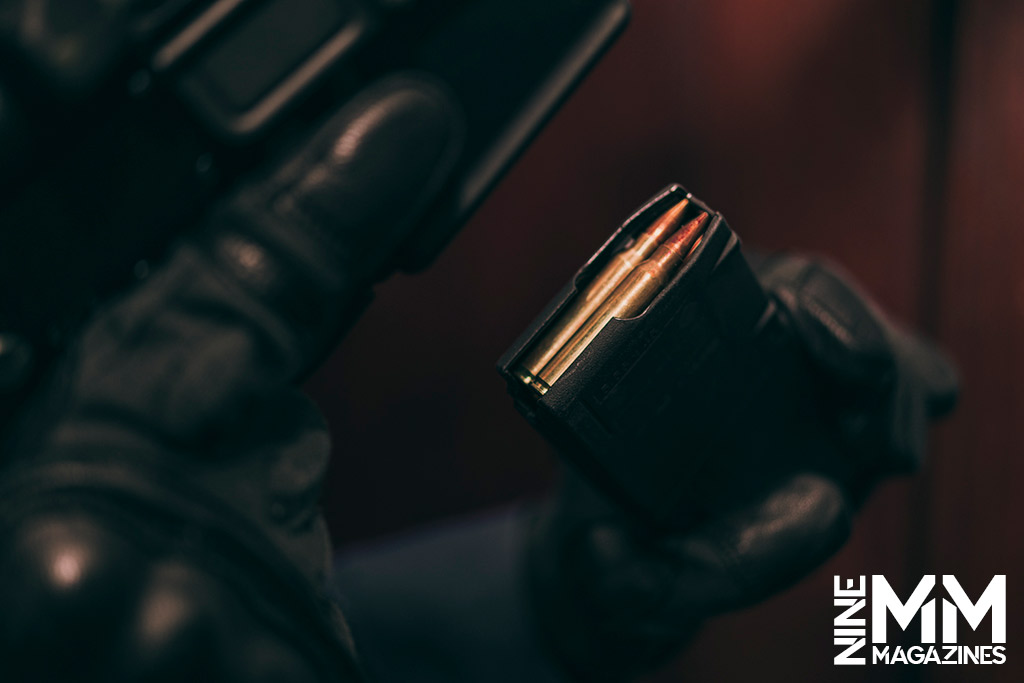 If you are looking for the best polymer magazine on the market, then the Gen 3 PMAG should be your go-to. It is unparalleled in terms of quality and reliability. However, if you are not going to be pushing your gear to the limits day-in and day-out, then the Gen 2 PMAG can be had for far cheaper and will work well for years to come.
Speaking of pricing, when comparing Gen 2 PMAG VS Gen 3 PMAG, expect to pay 15% more on average for the Gen 3 versions. Pmags with a window have always held a small premium over the base models. If you're looking for specific discontinued colors, expect to pay a small premium from knowledgeable resellers. 
Magpul is a household name in the firearms accessory industry for a reason. The company makes great products that last. They've maintained that standard when designing the PMAG Gen 3 and raised the bar a little higher for their competitors.