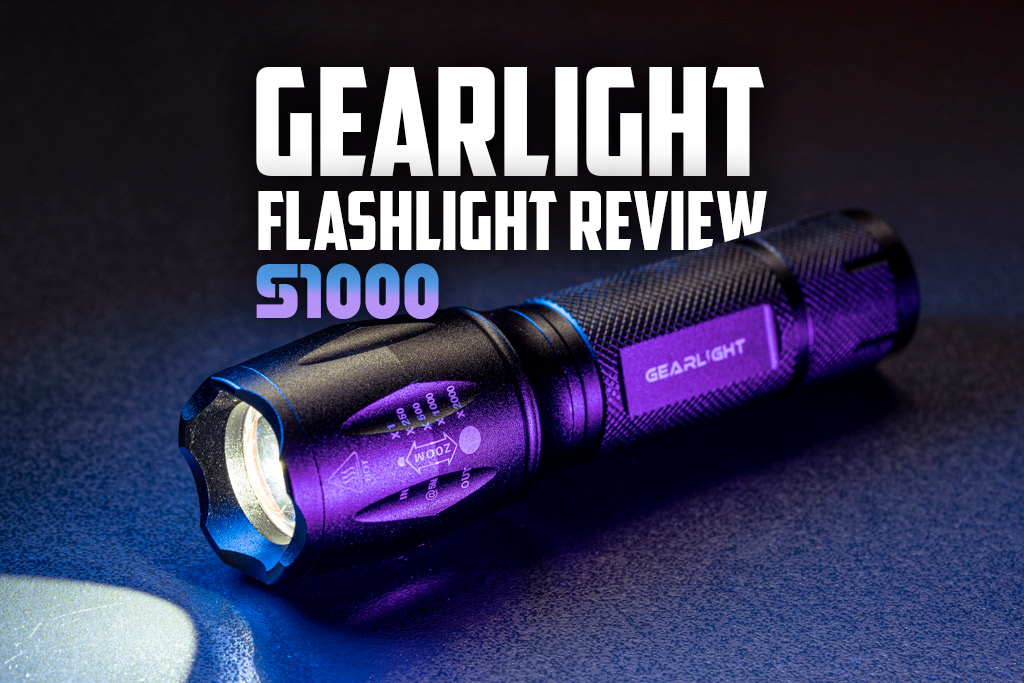 GearLight LED Tactical Flashlight S1000 Review
Disclaimer: This page contains affiliate links, meaning we receive commissions for any purchases made through the links on this page.
If you're looking for a budget tactical flashlight, the GearLight LED Tactical Flashlight S1000 is a good option. Are there other options out there? Of course. Although it's good to have choices, having too many can complicate things and trigger indecision. You want a light that does it all, but you don't want to spend hours searching for it online.
To keep you from drowning in a sea of choices, we've reviewed one survival flashlight with more pros than cons and a reasonable price tag. The GearLight S1000 LED Tactical Flashlight checks those boxes. Speaking of, let's see what's included in the box:
(2X) GearLight S1000 Flashlights (Individually bubble-wrapped)
(2) Battery Tubes (More on that below)
(2) Velcro Belt Holsters
(2x) Lanyards (no belt/pocket clips included)
User Manual
Warranty card
Here are the S1000's specifications:
| | |
| --- | --- |
| Manufacturer | GearLight |
| Part Number | GL-LTFHS1000-2P-1 |
| Weight | 5.1 ounces |
| Dimensions | 1.38 x 1.38 x 5.62 (extended) |
| Color | Black |
| Material | Military-Grade Aluminum |
| Power Source | 3x AAA or 1x 18650 Battery |
But wait, how many lumens does the S1000 have? The manufacturer does not list the exact lumen number for this model. When comparing it to other similar flashlights, the low mode appears to be 100 lumens, the medium is close to 200 lumens, and high mode looks to be 400 lumens. Keep in mind, that this is with the flashlight zoomed out all the way. When you zoom the flashlight in, the beam narrows, and the light source becomes more focused.
GearLight S1000 Features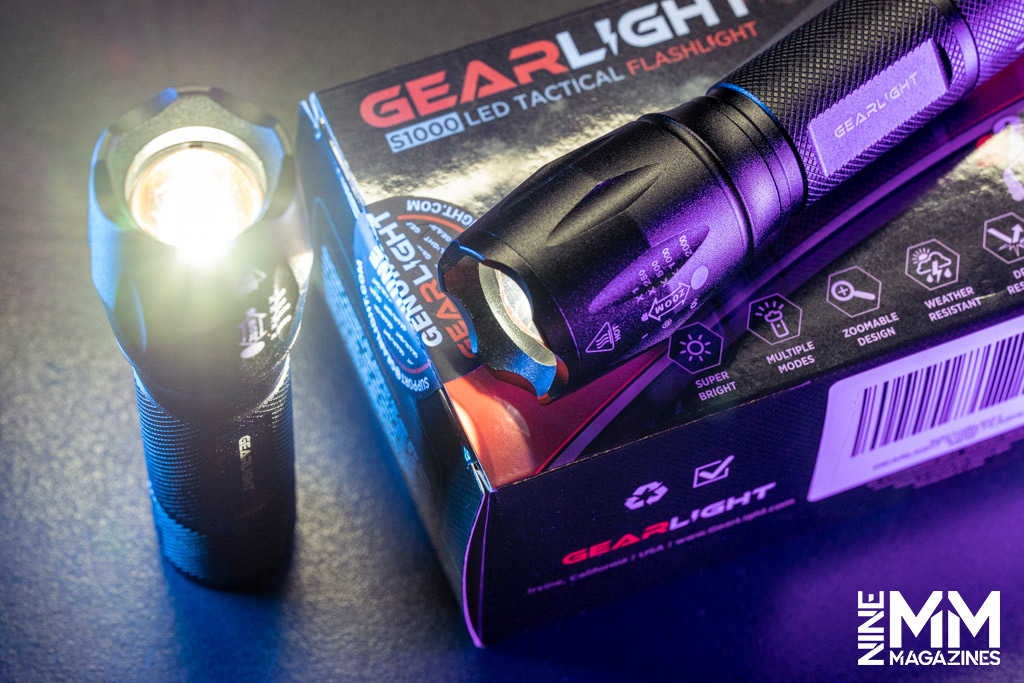 Two flashlights and two belt holsters: You can keep one light in your home and the other in your car.
Lights up a room: As advertised, the S1000 is super bright and has a zoomable design. You push out the end of the flashlight for a focused beam and pull it in for a wider-area beam.
Drop-resistant: The manufacturer claims the flashlight is drop-resistant. I let it fall six feet onto concrete, and again onto hardwood flooring. It passed the drop test, continuing to light the way without flickering.
Water-resistant: I submerged the S1000 underwater in my sink for one minute. It passed the water test, continuing to light the way without flickering.
Anti-roll design: The S1000 has one feature that could be overlooked but might be critical: It has an anti-roll design that keeps it from rolling away right when you need it most.
Five lighting modes: The flashlight has five lighting modes–low, medium, high, strobe, and emergency—and you can switch through them by gently pressing down on the red power button. There is no momentary-on half-press feature.
Anti-slip body: The knurled design of the aluminum body makes it an excellent choice for all sorts of outdoor activities.
Compact design: The flashlight fits in a pocket, purse, or backpack or hangs on a hook for quick access around the house, thanks to an attached lanyard.
Choice of batteries: Three AAA batteries fit into the battery holder inside the light. Or you can choose to use one 18650 3.7-volt battery that fits inside one of the clear plastic tubes, which is then inserted into the flashlight.
How Does The S1000 Compare To Other Popular Lights?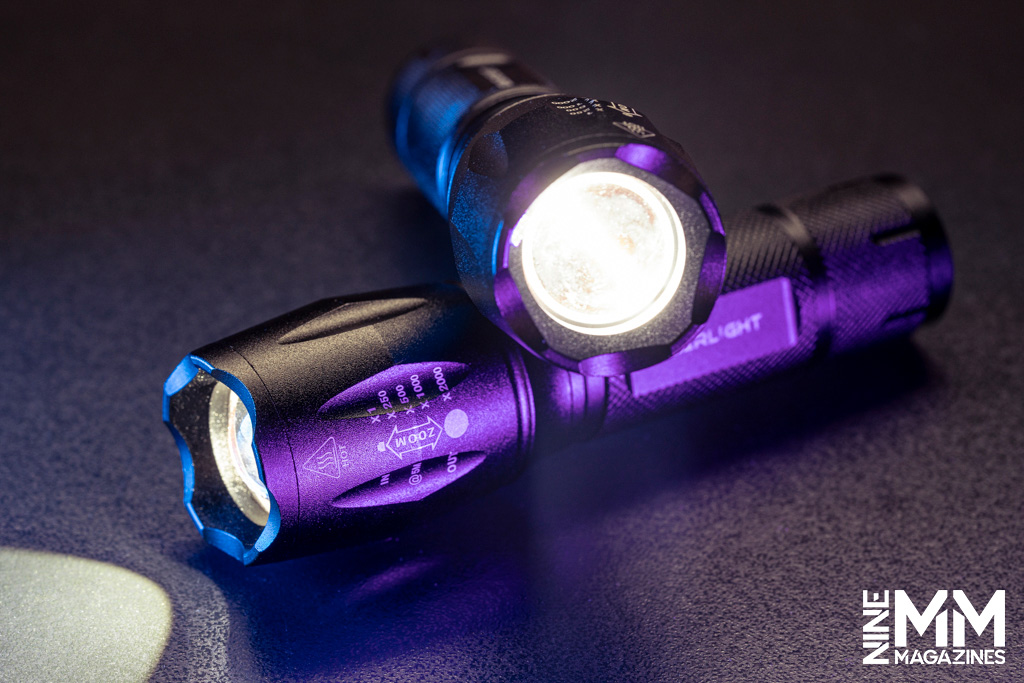 The Surefire E1B-MV tactical flashlight is another high-quality item preferred by outdoorsmen (and women). Let's see how these two compare:
GearLight S1000

Surefire E1B-MV

Power source

3x AAA or 1x 18650 battery

(Not included)

123A lithium battery

(Included)

Output

300-500 lumens (estimated)

400 lumens (high)

Battery life

1.5 hrs. (High),10 hrs. (Low) – either battery

1.25 hrs. (High) 50 hrs. (Low)

Length

5.62"

3.87"

Bezel diameter

1.13"

1.38"

Weight

5.1 ounces

2.95 ounces

Material

Aluminum

Aluminum

Price

$21.99

$127.52
Although you get more features for a significantly lower price with the GearLight 1000, it is considered a "budget" flashlight, while the SureFire would likely be the choice of someone like an elite tactical professional. So, perhaps it isn't fair to compare the two since I believe the S1000 would be a good-to-excellent pick for many people.
GearLight LED Tactical Flashlight S1000 Questions
Here are a few frequently asked questions about the GearLight S1000 tactical flashlight:
How do you install the single 18650 lithium battery?
Remove the tail cap by twisting it off counterclockwise. Remove the AAA battery holder and insert the clear battery tube, followed by the 18650 battery (positive end first). Twist the tail cap back on, and you're all set.
Is the S1000 brighter than a regular non LED flashlight?
Yes, it is significantly brighter, and you can adjust the intensity and focus.
Is the flashlight waterproof?
The GearLight S1000 is water-resistant, meaning it will withstand heavy rain. Although my flashlight survived submersion in water, they are not waterproof. Waterproof flashlights have that designation because they are rated IPX-8, indicating you can safely submerge them in up to three meters of water.
Must I use a clear plastic tube if I use a 18650 3.7v lithium rechargeable battery?
The reason for the tubes is to prevent the battery from rattling inside the light, which might cause it to become dislodged. However, if you lost your clear tubes, you can still use your S-1000 with the 18650 battery. Just add a spacer to keep the battery in place.
Should You Buy The GearLight S1000 LED Tactical Flashlight?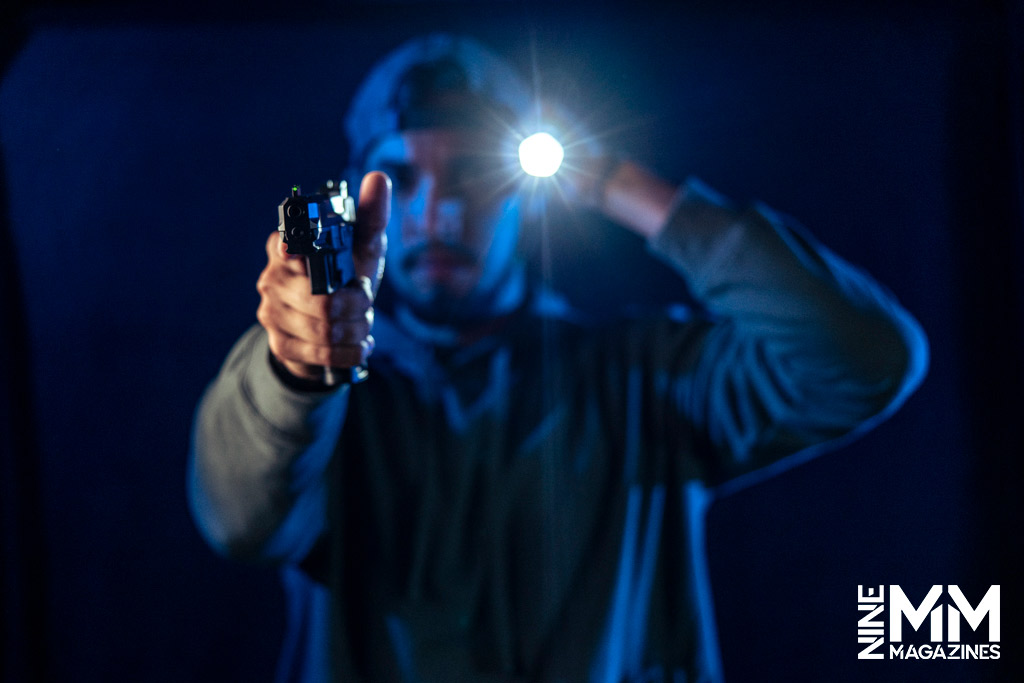 I would say most people will be happy with the S1000. For just over twenty bucks, you get two flashlights with durable housings, good battery life, and a super bright and zoomable design. The product is resistant to water, dropping, rolling, and the elements. It has five light modes and is compact enough to fit your pocket or purse.
GearLight promises quality and performance, and if for any reason you are disappointed in your purchase, their warranty card guarantees a "hassle-free replacement" with "no return required." We did contact them at the provided email to test that, and they responded to the message within 24-hours.
I like these compact LED flashlights. I haven't owned them very long, so they haven't had a chance to pass the test of time. However, my opinion is the S1000 provides excellent value as a tactical flashlight for normal use, and you can't go wrong with the current price for two of them.
Overall rating of the GearLight LED Tactical Flashlight S1000: 4/5