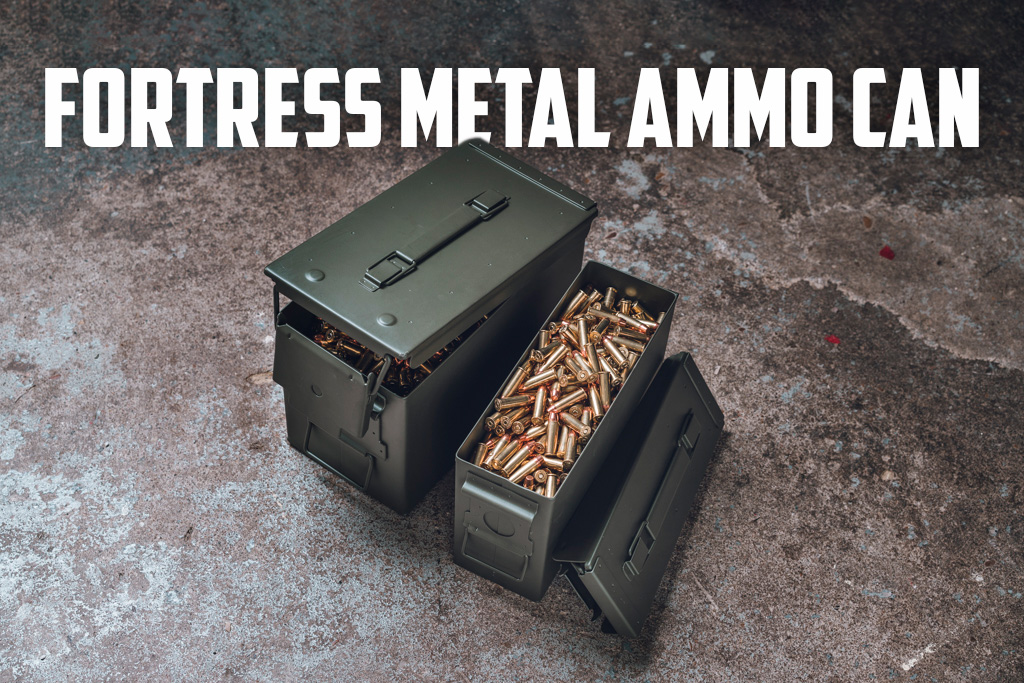 Fortress Metal Ammo Can (30 Cal vs. 50 Cal)
Disclaimer: This page contains affiliate links, meaning we receive commissions for any purchases made through the links on this page.
Ammo cans are primarily used for storing and transporting ammunition safely since every can, regardless of its material, has a rubber gasket in the hinged lid protecting it from moisture. However, despite their name, ammo cans are versatile and multipurpose, providing practical applications for homeowners, survivalists, hunters, and gun enthusiasts.
Although ammo cans come in plastic or metal, the product under review today is the Fortress Metal Ammo Can, available in two sizes: 30 Caliber and 50 Caliber. These models include the rubber seal in the lid, ensuring airtight storage for your ammo, and a waterproofing design to protect it from moisture.
The Fortress ammo cans have all-steel construction and a solid hinged lid, adding extra protection for your ammo or anything else you choose to store in them. An easy-to-carry handle allows for comfortable transporting to the range or field, while a recessed design in the bottom of the can makes them stackable.
Let's start by looking at the Fortress ammo cans' specifications, their features, and how they compare.
Note: The dimensions listed on Amazon for both cans vary considerably from the actual measurements. Both models are military-style ammo cans and only come in olive drab (OD) green.
Specifications
| | | |
| --- | --- | --- |
| | 30-Cal ammo Can | 50-Cal ammo Can |
| Overall Dimensions (L x W x H) | 11" x 3 ¾" x 6 ¾" | 12" x 6" x 7 ½" |
| Inside Dimensions (L x W x H) | 10" x 3 ½" x 6 ½" | 11" x 5 ½" x 7" |
| Weight | 3.7 pounds | 5.7 pounds |
| Wall Thickness | 19-gauge (.042") | 19-gauge (.042") |
| Price (Amazon) | $18.98 | $19.98 |
Fortress Metal Ammo Can Features (Both Sizes)
Alloy steel construction
Thick metal walls
Gasket-sealed lid
Heavy-duty latch
Stackable design
Rugged hinge
Removable lid
Riveted construction (no screws)
Carrying handle
Air and watertight
Nicely rounded edges
How Much Ammo Will Each Model Hold?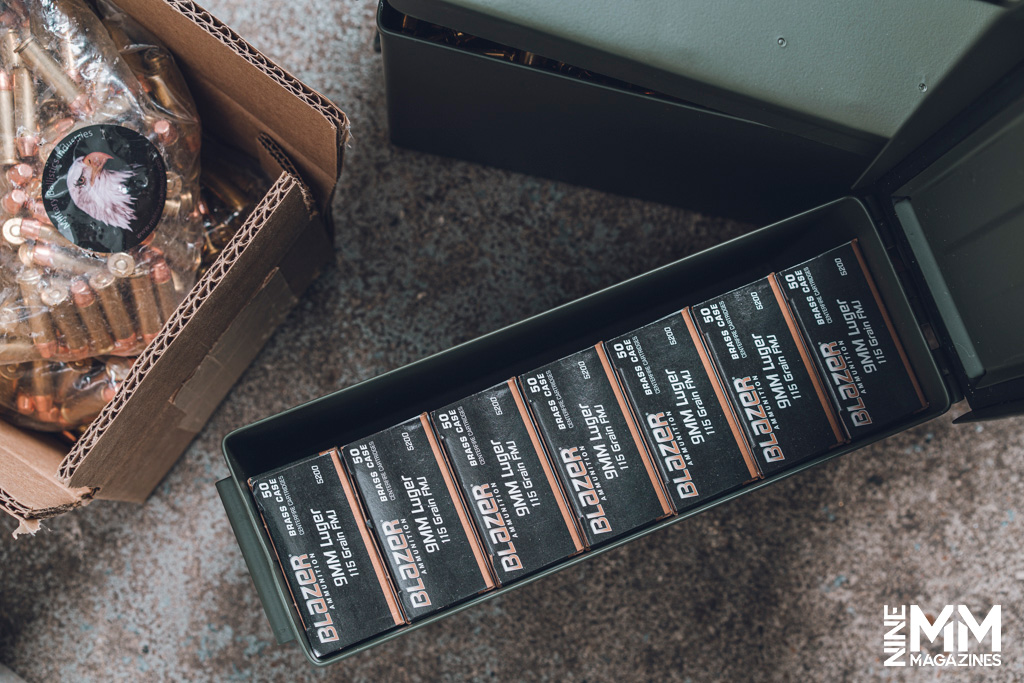 The following table shows how much loose and boxed ammo each size ammo can will hold. Remember that ammo boxes may vary in size by the manufacturer, changing each can's total amount of ammo.
We used two popular rounds—9mm and 5.56mm/.223—to indicate and compare the capacities of each ammo can.
| | | |
| --- | --- | --- |
| | 30-Cal ammo Can | 50-Cal ammo Can |
| 9mm Loose Rounds | 1200 rounds | 2200 rounds |
| 9mm Boxed Rounds | (8) 50-rd. boxes (400) | (20) 50-rd. boxes (1000) |
| .223 Loose Rounds | 650 rounds | 1200 rounds |
| .223 Boxed Rounds | (20) 20-rd. boxes (400) | (40) 20-rd. boxes (800) |
Why choose one of these cans over the other? Both are made of the same steel construction and are water and airtight, so it depends on how you expect to use them. The 50-cal can holds nearly twice the amount of loose rounds as the 30-cal, which is great if you're just storing it in your basement but not so great if you must carry it over considerable distances. Other than that, it's a personal preference.
Common Metal Ammo Can Questions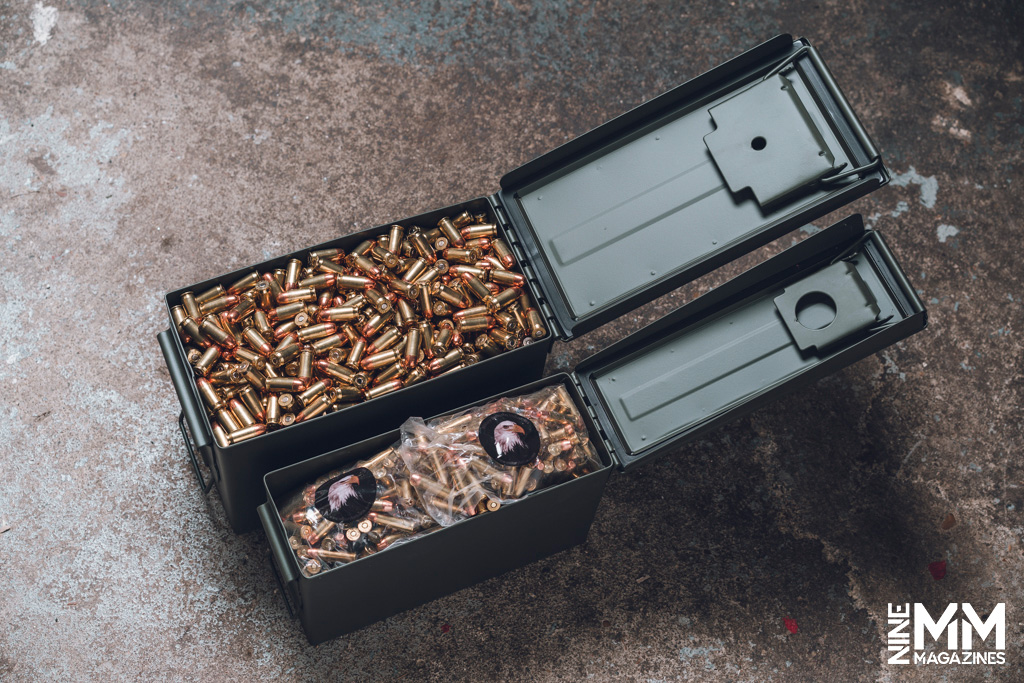 Are metal ammo cans better than plastic?
Plastic ammo cans might be less expensive, but the extra durability you get from metal is worth the higher price. For example, a 50-cal plastic ammo container often distorts because of the weight of the ammo when it's filled. When you lift it, you can see the bottom of the container sagging from the lid and breaking the watertight seal, and you won't see that with a metal can.
Also, colder temperatures and age make some plastics quite fragile and brittle, while temps and age have little effect on the metal cans.
Are the Fortress Ammo Cans fire resistant?
They will withstand some heat from a fire because they are made of metal, but there is no additional fire-resistant coating. Too much heat on the container could set off the ammo inside.
Can I pour liquids into the can for storage?
These cans are not recommended for storing fluids. The Fortress Metal Ammo Cans are designed for dry storage only.
Are the ammo can lids removable?
Yes, they are. Open the lid all the way, and it will slide off the hinges.
Are both cans watertight and airtight?
Yes, these new cans are watertight and airtight. I submerged both cans in my sink for five minutes to test the welds and seals. Both cans were bone dry inside after submerging them. However, if you purchase them used, the rubber seals may be damaged or show the effects of age, and they might not provide a proper seal.
I've seen complaints about the sticker that covers the side of the can. Is it really that hard to remove?
No. It comes off with relative ease. Pick one corner to get it started. The secret is to peel it slowly, so you don't tear it. You can rub off any residue that remains with your finger.
Price VS Value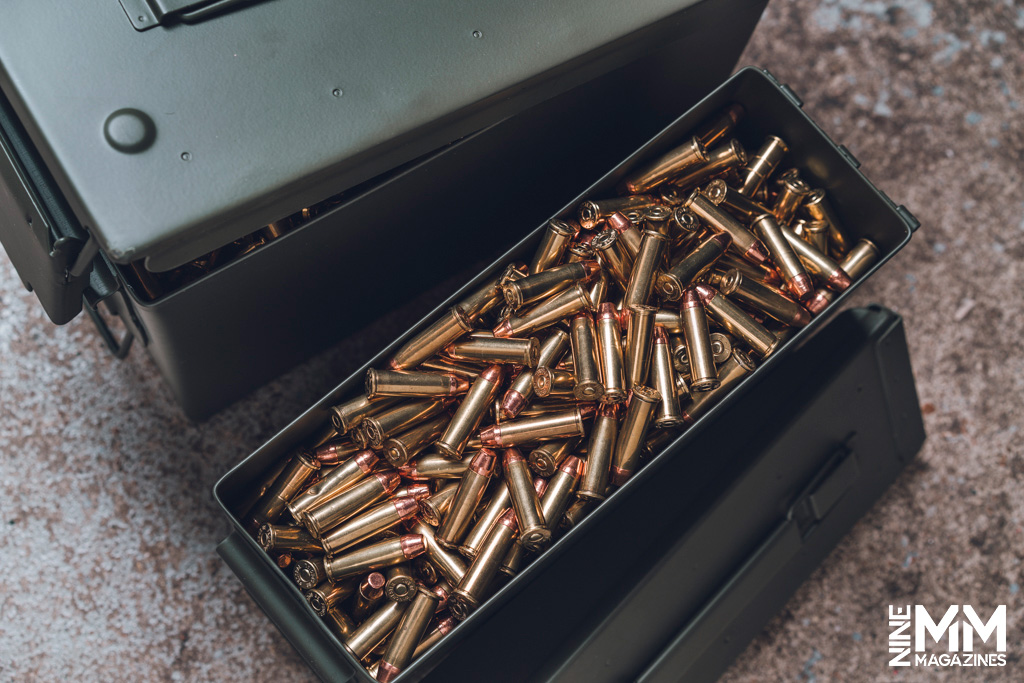 The Fortress 30-Cal and 50-Cal ammo cans are well-built and will withstand regular use–and some abnormal use! Even if you do not need to store or transport ammo, you will probably find dozens of uses for a solid metal container.
Most of the complaints about this brand center on the sticker that covers most of one side of the cans, some saying they don't stack properly, and criticism of the incorrect dimensions provided on Amazon. As for the sticker, I had no trouble removing them from both cans using a slow and steady approach. Similarly, I could stack the cans I used in the review.
However, the dimensions on Amazon indicate the cans are much larger than they are. Of course, this could result in disappointment when the cans arrive considerably smaller than expected. Go by my dimensions to avoid an unpleasant surprise! As always, you can check out all of our product reviews on the website.
Overall rating of the Fortress Metal Ammo Cans: 4.5/5