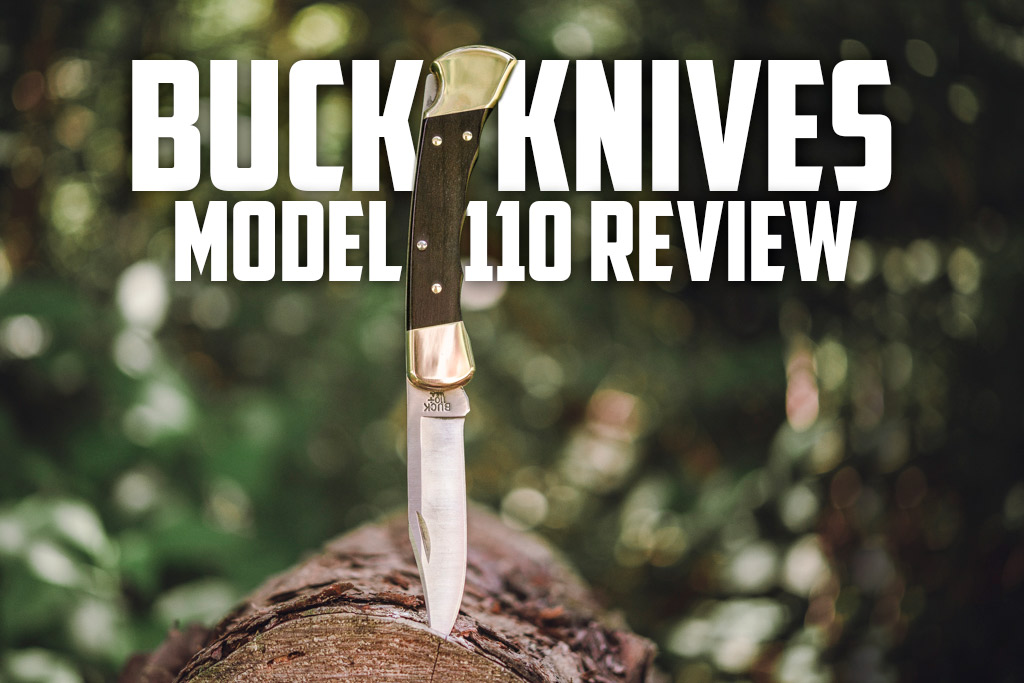 Buck Knife 110: Folding Hunter Review
Disclaimer: This page contains affiliate links, meaning we receive commissions for any purchases made through the links on this page.
Buck is a name that's synonymous with quality hunting knives, and well, they should be. The Buck company has been producing them since 1902, and those 120 years gave them plenty of opportunities to perfect them. It only makes sense that they'd manufacture a blade as popular as the Buck Knife110.
The Buck Knife110 Folding Hunter is a favorite of those who appreciate outdoor activities, especially hunting and fishing. It was created in 1963 when the company decided that outdoors people should have the option of a sturdy knife with a locking blade for those not wanting to carry long, fixed blades.
After several refinements, Buck unveiled the Model 110 with a "Lockback" folding mechanism activated when the blade is completely opened. A rocking bar lock (rocker) rests against the blade, holding it securely open. Pushing down on the rocker on top of the handle and simultaneously pushing down on the blade closes it. 
Within six months of introducing the Model 110, it was the hottest-selling knife on the market, and Buck Knives had established a reputation for innovation and quality that continues today. There are several versions of the Buck 110 and a later Model 112. Let's take a look at three of the Model 110s and a Model 112 to compare them.
Buck Knife 110 Models
| | | | | |
| --- | --- | --- | --- | --- |
| Model | 110 Folding Hunter FG | 110 Folding Hunter Pro | 110 Folding Hunter Slim | 112 Ranger |
| Steel | 420 HC Stainless | S30V Stainless | 420 HC Stainless | 420 HC Stainless |
| Closed Length | 4-7/8" | 4-7/8" | 4-7/8" | 4-7/8" |
| Blade Length | 3-3/4" | 3-3/4" | 3-3/4" | 3" |
| Weight | 7.2 oz. | 7.2 oz. | 2.8 oz. | 5.6 oz. |
| Blade Type | Clip Point | Clip Point | Clip Point | Clip Point |
| Handle | Brass & Ebony | Nickel Silver | Nylon | Brass & Ebony |
| Carry System | Leather Sheath | Leather Sheath | Pocket Clip | Leather Sheath |
| Blade Thickness | 0.120" | 0.120" | 0.120" | 0.120" |
| Knife Type | Outdoor | Outdoor | Everyday Carry | Outdoor |
| Price | $74.99 | $139.00 | $34.99 | $59.99 |
Notice that all these models have a clip point, meaning the blades have a crescent tip making the blade thinner with a sharper point. The clip point provides better control for detail work and works well for puncturing holes (for example, an extra hole in a leather belt).
Also, note the High-Carbon Stainless Steel blades on three models, including the one being reviewed. The material has the wear resistance of high-carbon alloys and the corrosion resistance of chromium stainless steel.
Buck Knife 110 Features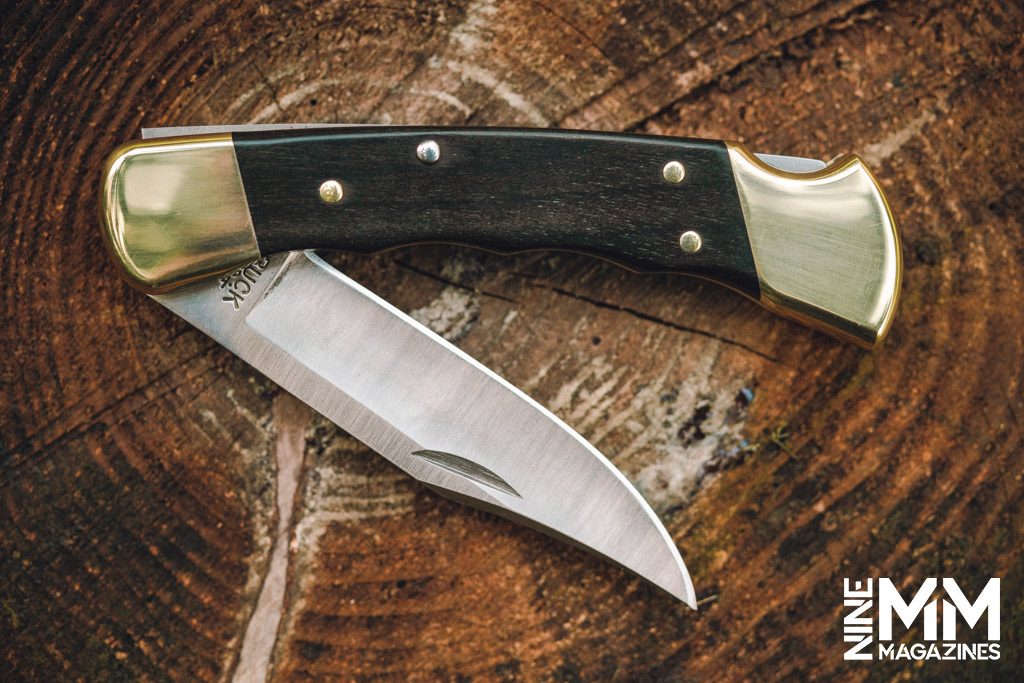 Which features make the Buck Model 110 a quality knife?
Lockback: The mechanism that keeps the knife reliably open.
Versatility: The 110 was designed for hunting, but you'll find many other uses.
Appearance: The natural beauty of the Crelicam ebony wood handle and the brass bolsters add more than just a touch of class to the knife.
Finger-grooved handle: Provides an improved grip over the standard grip version.
Indestructible handle: The same material responsible for its beauty—ebony wood—gives the handle its durability.
High-quality blade: Buck blades are made from materials that go through an intense heat-treating process, ensuring longer life, ease of sharpening, and a knife you can count on.
Forever warranty: Every Buck knife is guaranteed to be defect-free for the blade's life. They will repair or replace it free, as long as the knife was used as intended.
Made in the USA: Always a plus!
Common Buck Knife 110 Questions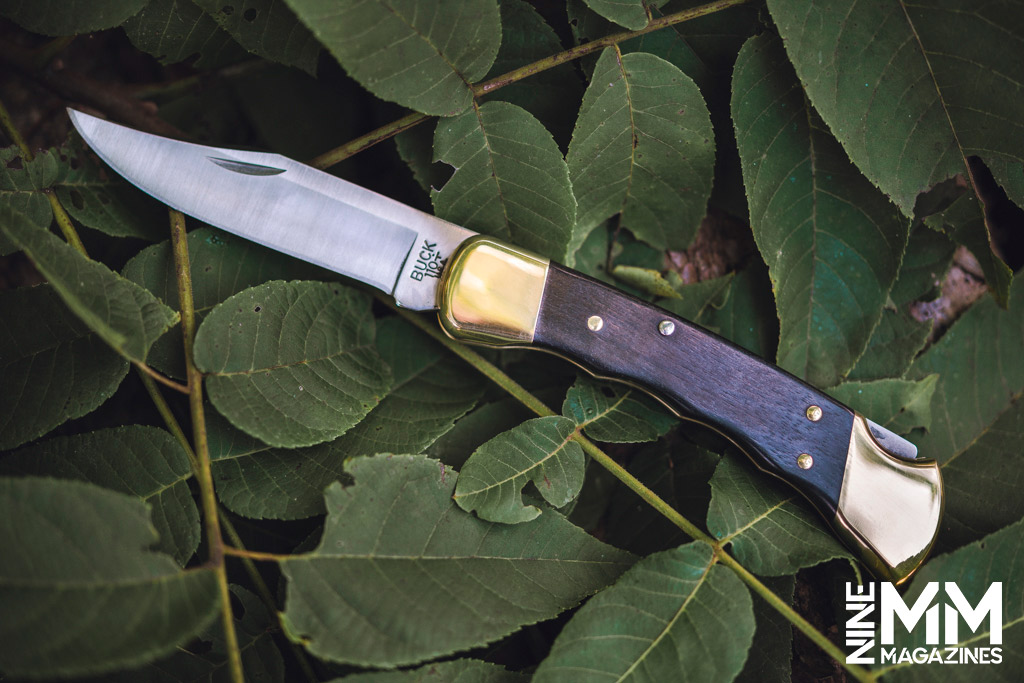 Is the Model 110 easy to open, and can you open it with one hand?
This question requires two different answers: yes, it is easy to open, but no, you probably can't do it with one hand.
Is the 110 too big for pocket carry? Do you have to carry it in the sheath?
You could carry it in your pocket at just under 5″ closed length and around 7 ounces, but it's much more convenient in the sheath on your belt.
Are the finger grooves for right-handed and left-handed users?
The grooves work the same for either hand.
Are these blades detachable to install a different blade?
No. The Model 110 has a permanent blade.
Is it hard to close the knife?
Yes. It isn't easy to press down the rocker to release the blade, and it takes both hands to close it. However, you don't want your knife to close too easily since that would indicate it isn't securely locked in the open position.
Are the inlays on the handle natural ebony wood?
Yes. The handle is genuine ebony.
Does any size hand fit into the finger grooves?
The finger grooves in the Model 110 FG are as close to a universal fit as you will find.
What Could Be Improved On The Model 110?
Overall, there are few complaints about Model 110. Some buyers said the blade did not retract entirely and had to be pushed into the closed position. This could be an issue with the hinge, a common problem with folding knives. Keep in mind, that such issues are covered by the warranty, and the company will replace faulty knives immediately.
There were also some complaints about the brass tarnishing and the sharpness of the blade out of the box. Brass isn't the easiest metal to clean once tarnished, but it never rusts. There are plenty of DIY recipes for cleaning brass online, but I've found that rubbing it with linseed oil during cleanings seems to do the trick. I'm picky about blade sharpness, I won't carry a dull knife. That being said, the model used in the review was more than sharp enough out of the box.
My Take On The Buck Folding Hunter Knife With Finger Grooves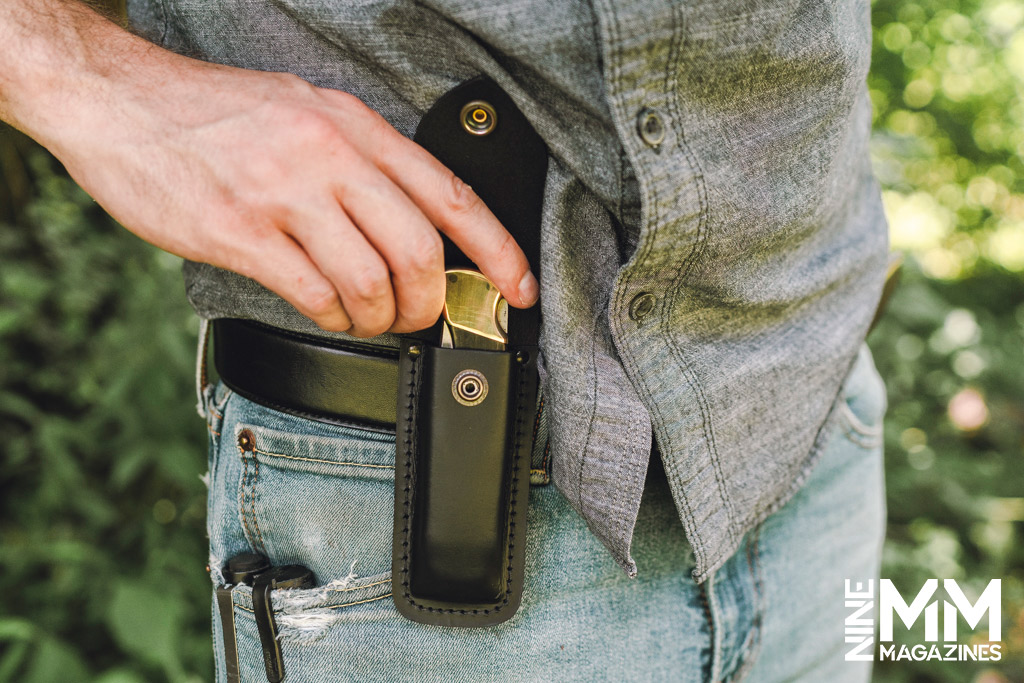 As a hunter, holding this knife in your hand makes you want to get out to the woods and get after it. Locking the blade into place induces visions of field-dressing deer and rabbits. But don't worry, even if you don't enjoy hunting, you'll find plenty of uses for it. Those who love the outdoors will jump at any opportunity to remove it from its sheath. From chopping branches to feathering tinder, this Buck can get it done.
Should you buy a Buck Knife 110? If you buy things because of the brand name, Buck is still one of the top names in hunting knives. If you buy knives based on their quality, Buck has 120 years of quality.
What about price VS value? With most 110 models coming in well under the $100 price range, this classic folder is a bargain. If you only buy knives when you get a bargain, this Model 110 is a made-in-the-USA bargain at the MSRP price.
If you only buy when you see many positive reviews, the Model 110 gets plenty of them, including one from this very pleased reviewer!
My overall rating of the Buck Knife 110 Folding Hunter: 4.5/5