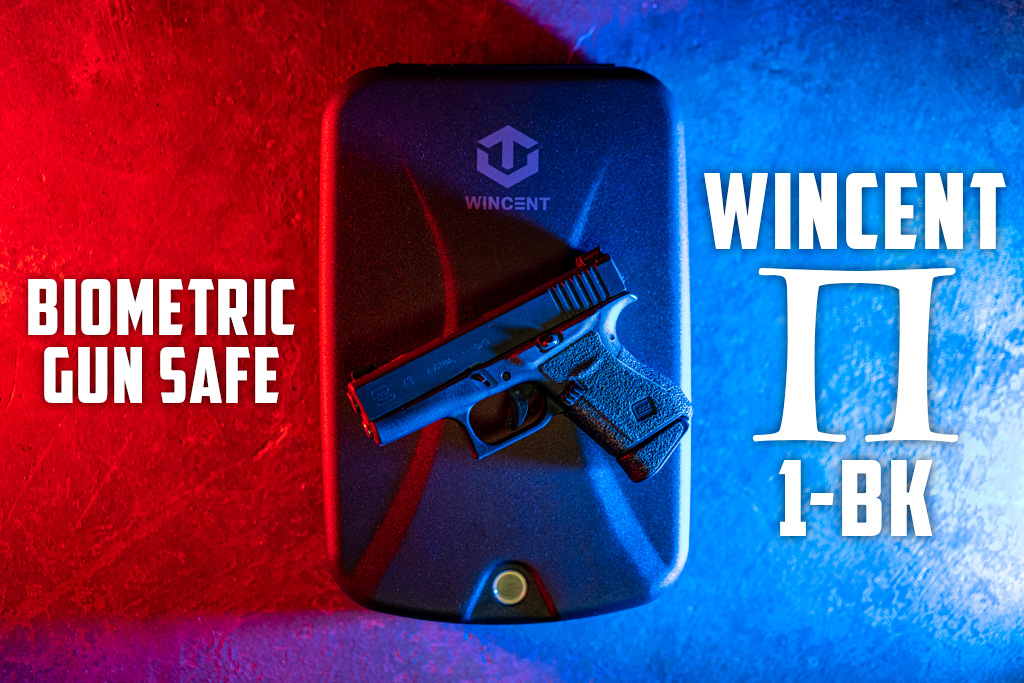 Biometric Gun Safe: WINCENT Portable Review
Disclaimer: This page contains affiliate links, meaning we receive commissions for any purchases made through the links on this page.
If you are a responsible handgun owner, you're primarily concerned about safety. Investing in a biometric gun safe is one way to ensure that the firearm isn't easily accessible, except to you and those you designate. A biometric locking system can provide security and ease of access in one affordable product.
You should be able to open a biometric safe quickly with one touch of your finger. A sensor detects the fingerprints you have programmed into it and should unlock immediately, giving you access to your handgun in the interior.
Having quick and easy access to your gun is a big reason for buying a biometric safe. If it's unsuccessful at that, it fails its purpose completely.
The Model π1-BK Biometric Gun Safe from WINCENT attempts to combine an easy setup with the real-world functionality that should appeal to all types of gun owners. Let's look at this portable safe to find out if they have succeeded.
But first, the biometric gun safe's specifications:
| | |
| --- | --- |
| | WINCENT Model π1-BK |
| Overall Dimensions (L x W x H) | 12" x 8" x 2.25" |
| Inside Dimensions (L x W x H) | 8.5" x 7.5" x 2" |
| Weight | 5.5 pounds |
| Wall Thickness | 15-gauge (.067") |
| Price (Amazon) | $80.99 |
What's In The Box?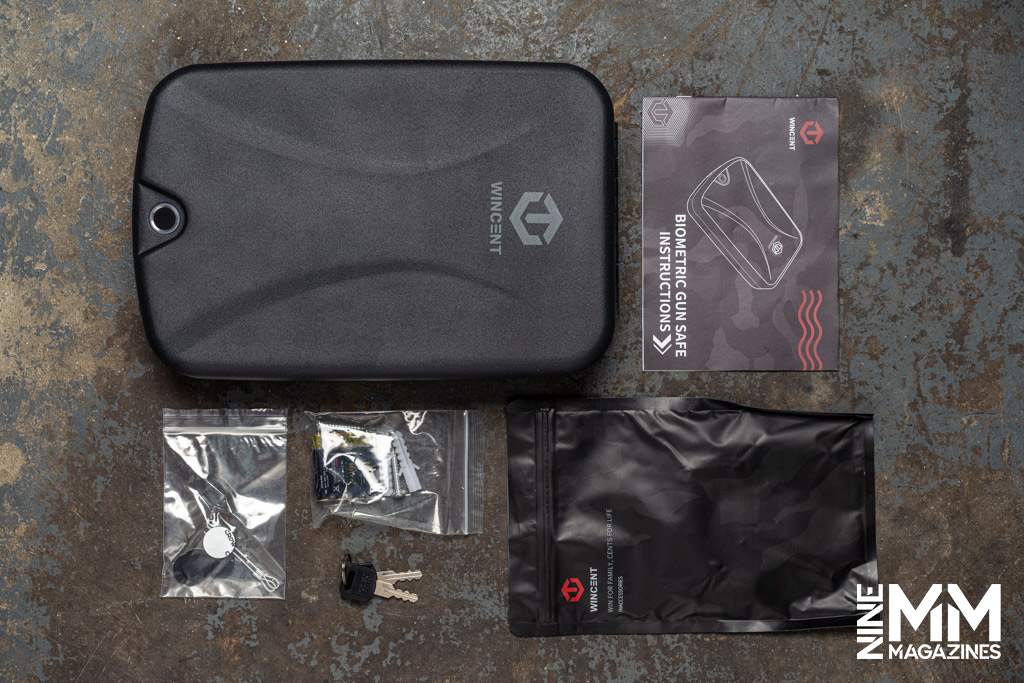 When you open the box, you'll see the safe, an instruction booklet, a pair of override keys, a bag of screws & anchors, and four AAA batteries. After you open the safe, using an override key, you'll also find a security cable.
When you remove the safe, you'll notice its weight (5 ½ lbs.). It's made of 15-gauge stainless steel for strength, and its surface has a scratch-resistant and anti-rust coating for longevity. However, even when you add the weight of a pistol, loaded ammo magazine, and perhaps a flashlight, it still weighs well under ten pounds and is portable.
Setting It Up
To get started, install the batteries, and you'll see the built-in LED interior light come on. Next, follow the directions for registering your fingerprint. Although you may register up to fifty fingerprints, I only set up my thumb and two fingers of my right hand. It took about 2-minutes to do and worked flawlessly. Then, I tried to open the safe with the thumb and same fingers of my left hand to no avail. The biometric scanner did not recognize those prints and would not open the lid.
If you're concerned about someone getting into your safe, the biometric security of this product should put your mind at ease. I had four friends and one family member attempt to get in, but it only responded to my prints. One word of advice, though: Put the override keys somewhere secure since anyone could use them to bypass the fingerprint sensor and open the safe!
The directions for setting up and using the gun safe are pretty easy to follow, and if you follow the steps, you will be ready to store or transport your handgun in no time.
Let's look at the rest of the safe's components:
Hardware: (2) screws and anchors: The safe comes with two pre-drilled holes in its bottom, and the screws and anchors allow you to mount it to a wall or hard surface.
Security cable: The safe comes equipped with a 1500-pound capacity security cable that you can secure to any fixed object in your house or vehicle. The cable fits into a slot on the side of the safe when the lid is open and cannot be removed when it's closed. To be honest, the supplied cable could be a little bit thicker to improve security. The cable lock I bought for my bicycle only cost $15 is thicker and feels a lot more secure.
Features Of The WINCENT Biometric Gun Safe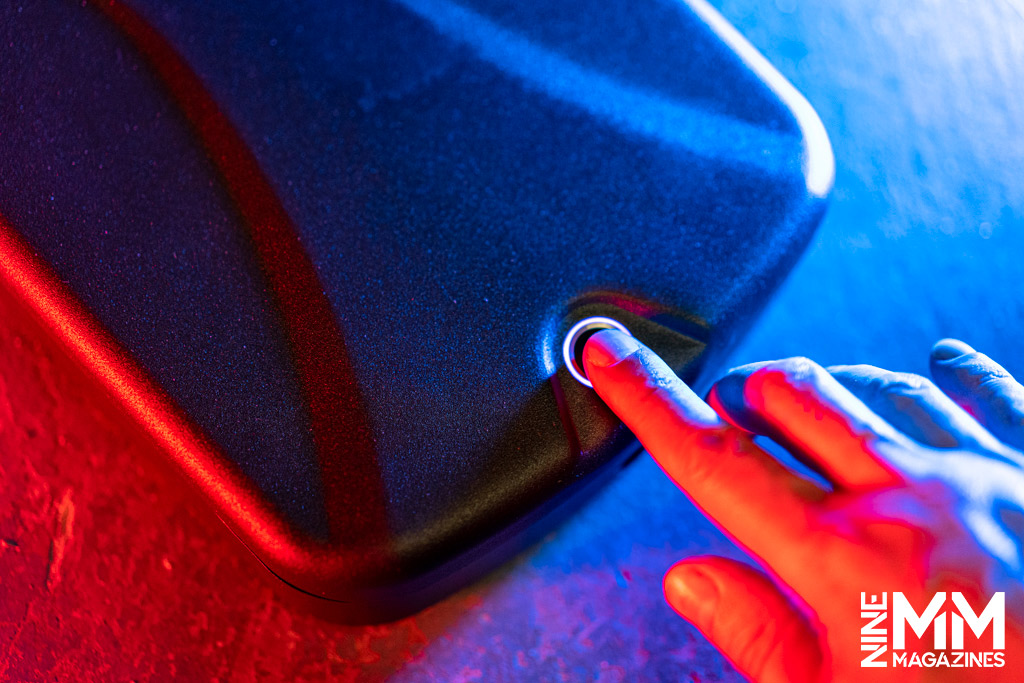 Biometric lock
Rugged design
Stainless steel 15-gauge body
Built-in LED light
Two ways to access the safe (sensor and backup key)
Padded interior
Anti-theft security cable
Quick access
Portability
Versatility (great for locking up medicine, passport, cash, jewelry, and your pistol)
Security alarm (if the wrong fingerprint is entered five consecutive times, the safe goes into lock-down mode)
Common Questions: WINCENT Model π1-BK Safe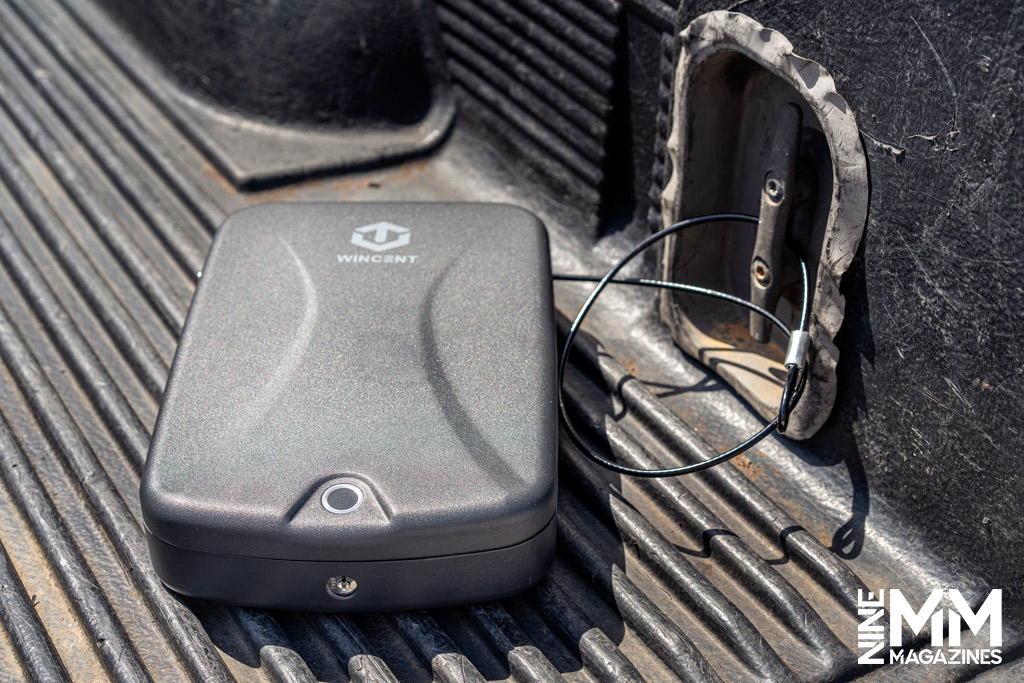 How do I reset my fingerprints?
Press and hold the reset button for more than 5 seconds until the blue light flashes once. You'll hear a long beep, indicating the safe is reset. You can now restore your fingerprints.
How long do the batteries usually last?
You should get about six months out of a set of AAAs. When the batteries drop below the required voltage, the red light will flash six times, accompanied by six beeps when you enter your fingerprint. That means it's time to replace the batteries.
Is there a silent mode?
Yes, James, Q thought of everything a British spy could need. Unlock the safe and place your finger on the biometric scanner for five seconds to silence the sound.
Is The Wincent Biometric Gun Safe A Good Purchase?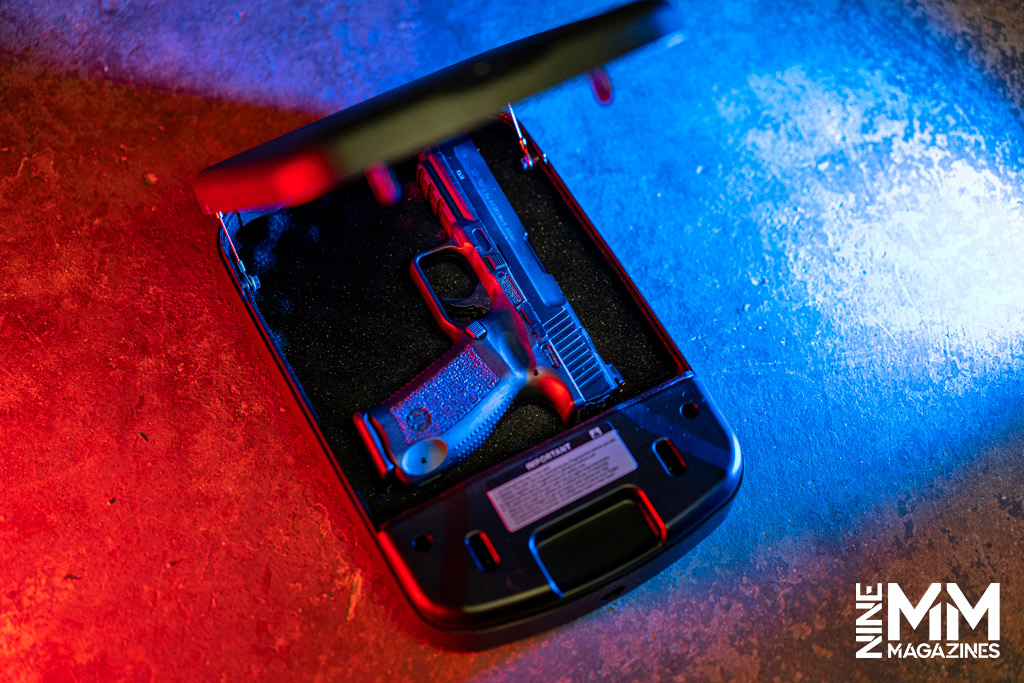 The WINCENT Portable Gun Safe is ideal for keeping handguns locked away from young family members in your home. It also works well if you travel with a firearm—slip the safe under your seat and secure it to the seat's steel frame. The portable nature of the safe allows it to be easily carried in a bag, briefcase, or backpack to your destination, undetected. If you prefer your own methods of securing valuables, the safe could easily be stashed in a hotel room while you're vacationing.
What if you need access in a hurry? If you need your gun in a hurry, touch the sensor, and get immediate access to it. The safe opens quickly under spring tension. I have to admit, I was skeptical about how quickly I could open the safe and get access to my gun. After timing several dozen attempts, I found that I could open the safe, and draw the pistol into ready position in a respectable 2.5 seconds.
Is the safe the most secure way to store a handgun? No, there are plenty of flaws and failure points with biometric safes. The batteries can die, the electronics don't play nicely with water, and fingerprint scanners do eventually wear out. However, the features, build quality, and price, make this biometric safe a good option. Any safe can be cracked if a thief has enough time. A good safe will buy you time while protecting your valuables, and that's what the WINCENT Portable Gun Safe is designed to do.
What Fits In The Safe?
Most handguns will fit into the safe. My Glock 19 fits comfortably with extra magazines, even my longer Glock 17 will fit with room to spare. If you carry a sub-compact, like the Glock 43, you might be able to fit two pistols with careful placement. However, don't buy the safe thinking you can fit two guns inside unless you have taken some careful measurements. There's also plenty of room for items like cell phones, memory cards, jewelry, cash, and documents.
This WINCENT model is an excellent option if you're in the market for a portable biometric gun safe. It's easy to set up, and operate, and has proven to be very reliable. The price is right, and all the features I tested worked as advertised. As a result, I would recommend this gun safe as a good nightstand, or travel option.
My overall rating of the WINCENT biometric gun safe: 4/5