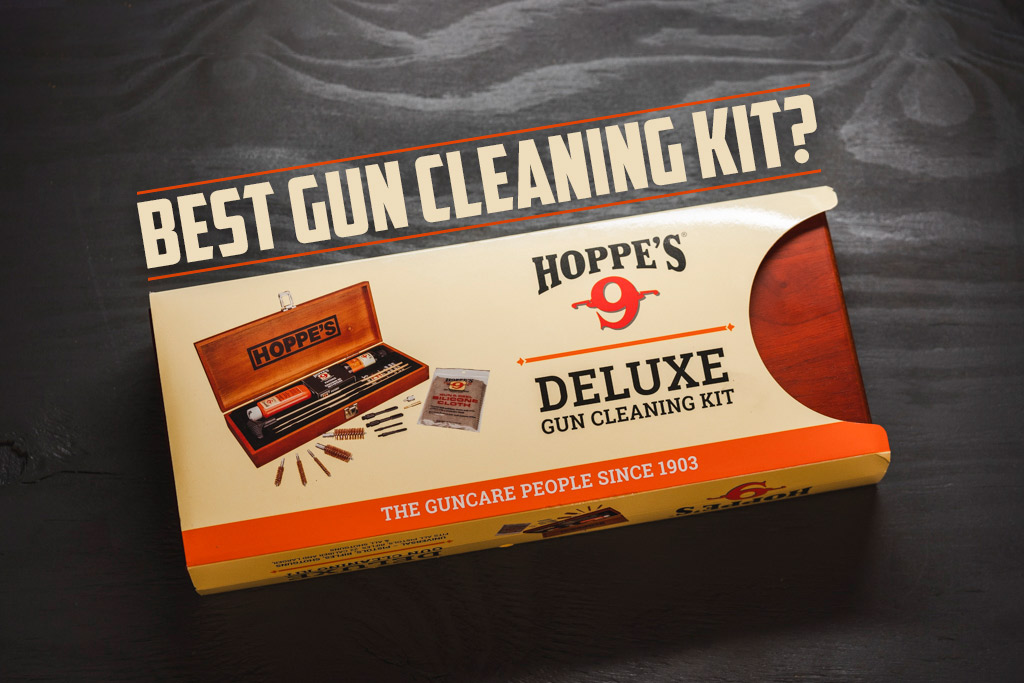 Best Gun Cleaning Kit
Disclaimer: This page contains affiliate links, meaning we receive commissions for any purchases made through the links on this page.
Keeping your firearm clean will improve its longevity, reliability, and, most importantly, safety. In this guide to the best gun cleaning kit, we'll talk about the top options from a maker with over 100 years of experience.
Hoppe's sells gun cleaning kits and has been in the business since 1903. Today, we'll review the standard Hoppe's No. 9 Deluxe Gun Kit (probably their most popular model). We'll also talk about their larger and smaller versions. This guide will cover each kit's features, pros, and cons. By the end, you'll know which gun cleaning kit deserves a place atop your firearm safe. 
What's The Best Gun Cleaning Kit?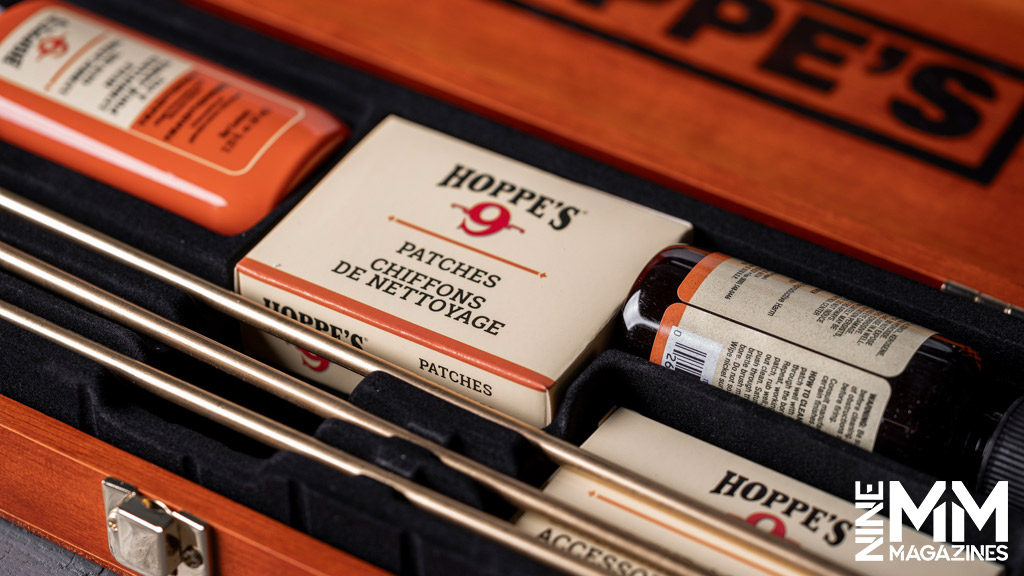 The standard Hoppe's deluxe gun cleaning kit is arguably the best kit you can buy. It's been a top seller for many years and has served civilians and soldiers alike. However, while this gun cleaning kit is one of the most well-loved, a few other options in the Hoppe's line-up deserve consideration.
Before we get into more details, let's look at a quick overview of gun kit sizes, prices, and options. Then, we'll discuss what you get and help you decide which kit is right for you.
Here's a table that explains each of the kits:
| | | | | | |
| --- | --- | --- | --- | --- | --- |
| Hoppes Kit/Model | Cleaning Rods | Cleaner and Oil | Bronze Brushes | Cleaning patches | MSRP |
| Small/Replacement | None | Included | None | Included | $22.45 |
| Standard | One set | Included | Yes, 5 sizes | Included | $38.00 |
| Large | Two sets | Included | Yes, 14 sizes | Yes, extra | $59.79 |
Now we'll look at each kit in more depth. First, let's start with the standard kit, and then we'll talk about the small and larger versions. 
Standard Hoppes Gun Cleaning Kit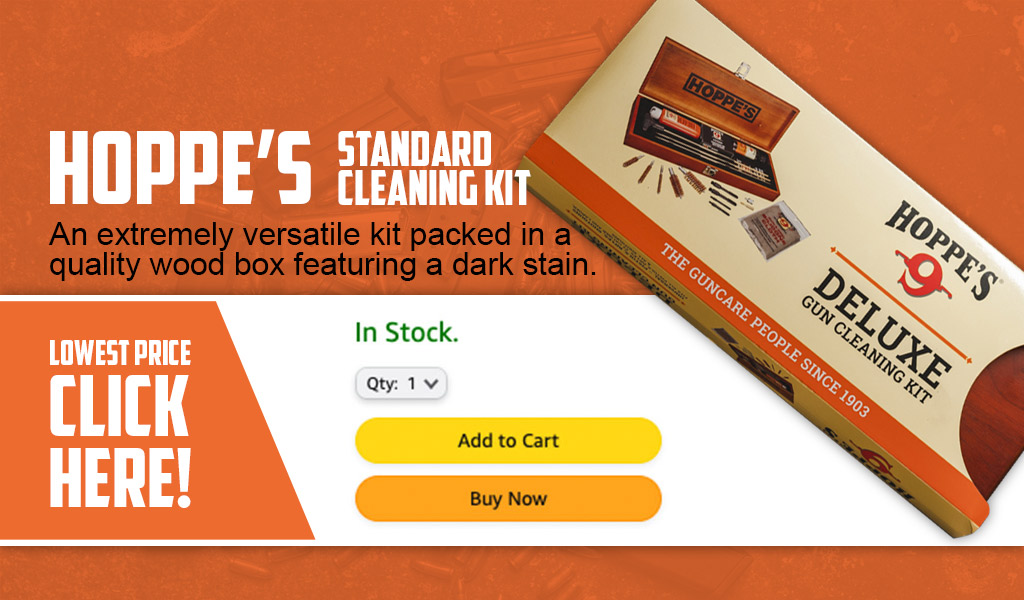 The standard kit, also known as the HOPPE'S No.9 Deluxe, has everything you need to get started. The kit comes in a wooden box with a cardboard slip-sleeve. Inside the box, you'll find the three-part cleaning rod, lubricant and bore cleaner, and the end attachments (several bronze brushes and a few for the cloths). 
The kit also comes with a silicone cloth and an instruction manual. Everything has a place in a velvet-lined plastic insert, which you can easily remove if needed. The only free-floating items are the silicone cloth and the owner's manual (which you can stow under the insert). 
Who Is This Gun Kit For? 
The standard kit is great for those who want a sort of "base model" gun cleaning kit. This set is designed for cleaning all gun types: shotguns, rifles, and pistols. Most firearm users will find that this kit is all they need to keep their guns in safe working order. 
With that said, if you have an extensive collection of firearms (or use guns regularly), you may want a few additional features. Let's talk about the pros and cons for the standard kit.
Kit Pros:
This kit has everything you need to get started. It's portable and well-rounded. At around $38, it's not a big investment to ensure you have what you need to maintain your firearms. 
Kit Cons:
There aren't many cons; however, if you have a vast collection of firearms (of all different sizes and calibers), you might want a few extra features (available in the large edition we'll discuss later). 
Hoppe's Gun Cleaning Kit (Small)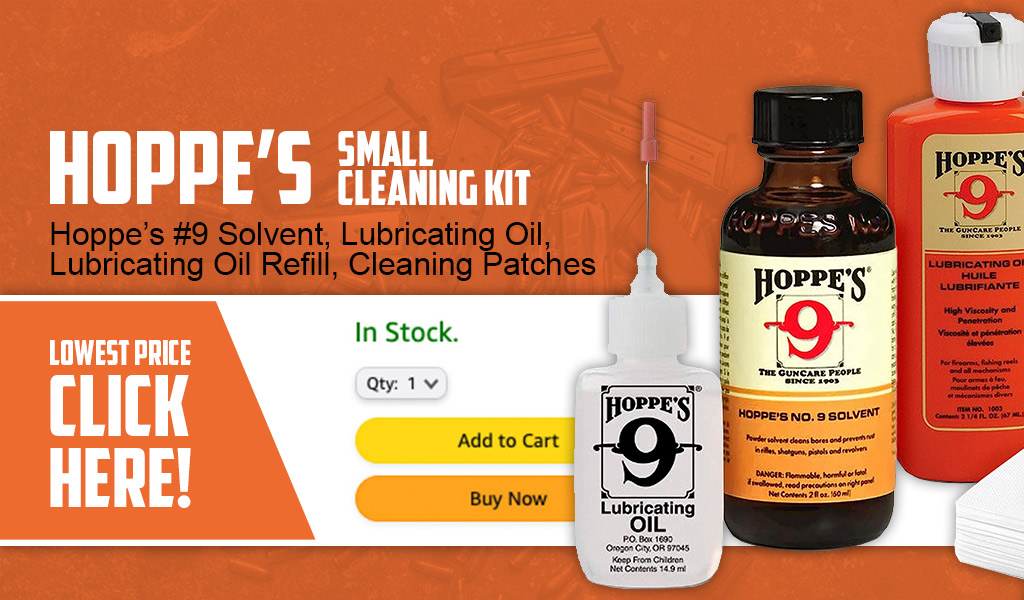 The small kit could also be called a replacement kit. This little parcel of gun cleaning goodies comes with the Gun Pore Cleaner, the Lubricating Oil (and a smaller applicator), and a 40-count of cleaning patches of various sizes. 
Who Is The Small Kit For? 
If you don't want a special box for your cleaning kit, you could buy the small kit and a separate cleaning rod. Otherwise, this will be a good replacement kit for those who already have cleaning rods (or a larger set). 
Kit Pros:
It's an inexpensive replacement kit. A great option to keep your main gun cleaning kit well-stocked. 
Kit Cons:
You'll need to buy some extra tools to use it effectively, as it does not come with a cleaning rod. 
Hoppe's 9 Deluxe Kit Review (Large)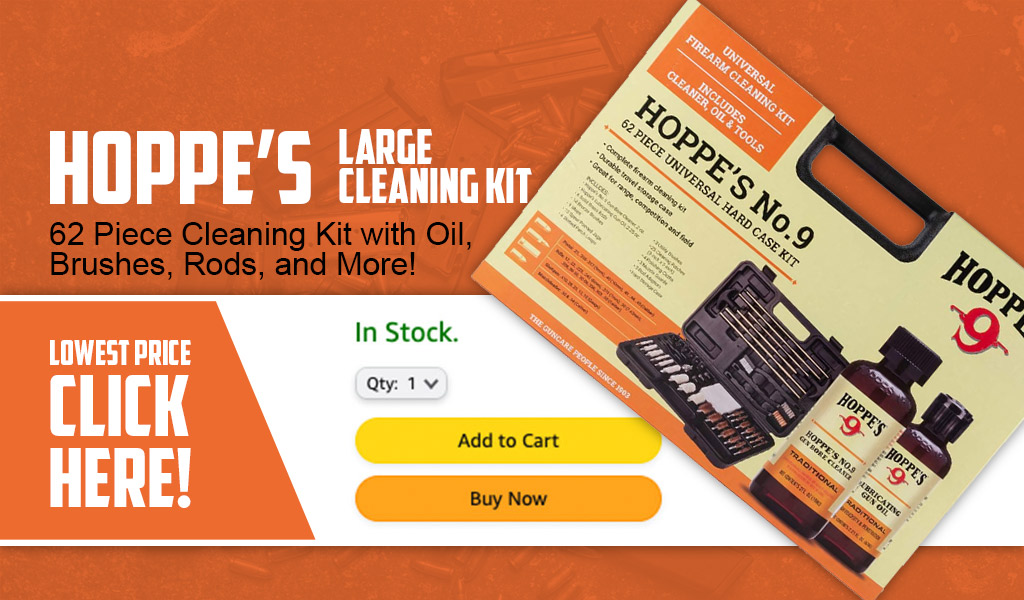 For those who want a more comprehensive gun cleaning kit, then the large Hoppe's Deluxe cleaning kit (with 62 pieces) is a great option. With this kit, you get a durable container that stores all the cleaning supplies in secure locations. 
When you buy this larger kit, you get everything from the previous two kits and quite a bit more. Here are a few additions to this kit.
Additional Items Included In The Large Cleaning Kit: 
Extra cleaning rod:

This kit offers an extra cleaning rod. This extra rod can make cleaning faster, as you can have one preloaded with a patch. Also, you can use the kit to clean more than one gun at a time (if you have another person with you). 

Cleaning utility brushes (with various bristle types):

This is the only kit that comes with cleaning brushes (these look like heavy-duty toothbrushes). These brushes come in very handy when cleaning out an action's crevices. There are three brushes with bronze and nylon bristles. 

Extra sizes of bronze bore brushes:

Finally, there are many more sizes of bronze brushes for bore cleaning. These additional sizes ensure you can clean any firearm in your inventory. 
Kit Pros:
It costs more, but you get more, and the additional items (if you need them) are well-made and will last for dozens of cleanings, if not longer. 
Kit Cons:
Not all gun owners will need the additional items in this kit.  
As you can see, there are some advantages to the sizeable deluxe kit; however, many people will get by just fine with the standard version. 
Conclusion: The Best Gun Cleaning Kit Money Can Buy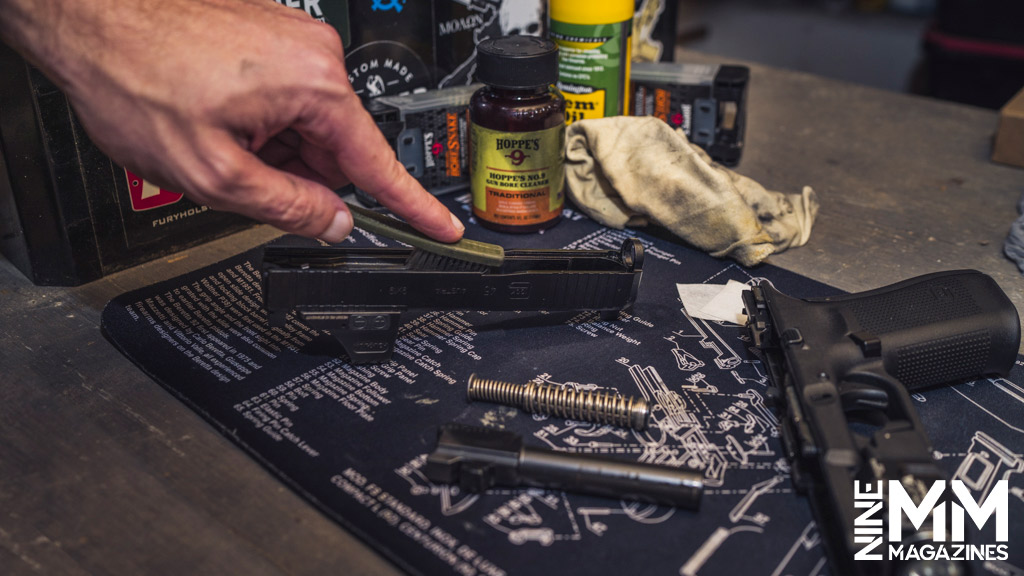 Overall, the Deluxe Hoppe's Gun cleaning kit is just about the best firearm cleaning kit you can buy. This gun cleaning kit works for pistols, shotguns, and rifles. If you need replacement tools, go for the smaller Hoppes kit. If you have a larger firearm collection and need extra sizes and attachments, go with the large deluxe Hoppe's kit. 
The best thing you can do is get your hands on one of these kits and see what works for you. One thing is for sure: It's important to take firearm maintenance seriously: and that means regular gun cleaning. Many suggest you clean and inspect your firearm after each use or twice a week if you carry your firearm daily. 
The Hoppe's gun cleaning kit has been a winner for over 120 years.
My overall rating of the Hoppe's 9 Deluxe Cleaning Kit: 5/5

Now that you have a good gun cleaning kit, take some time to find the right Bore Snake!
Guest writer Gideon Zielinski is a nationally registered paramedic.